Trade Minister Andrew Robb lashes out at free trade scaremongering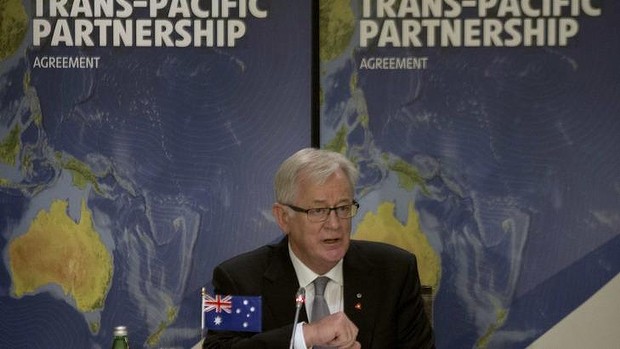 Sydney Morning Herald | 25 October 2014
Trade Minister Andrew Robb lashes out at free trade scaremongering
Trade Minister Andrew Robb speaks during the Trans-Pacific Partnership meeting of trade representatives in Sydney.
Trade Minister Andrew Robb has hosed down fears the price of medicines will skyrocket with the signing of what has been dubbed the world's largest free trade deal, saying it is "not the intention or the outcome".
Mr Robb lashed out at consumer groups and the Greens for spreading misinformation about the Trans-Pacific Partnership, before walking into a meeting with 11 trade counterparts in Sydney on Saturday to finalise the "basic elements" of the deal.
"Those who are opposed to this scheme for all sorts of reasons are peddling a lot of misinformation, saying pharmacy costs will go up," he said on ABC Radio.
"This is not the intention or the outcome that will occur with this particular 21st century agreement."
Mr Robb's words back up assurances by Finance Minister Matthias Cormann this week that the government would not support an outcome that sees medicine costs pushed up.
But consumer advocacy group Choice claims the trade deal includes provisions to stretch patents on some life-saving drugs for an extra 12 years. Prices usually drop 16 per cent once the patent expires.
"If the TPP extends patents we'll be paying higher prices for some medicines over a longer period of time," said Choice's campaign manager Erin Turner.
Greens spokesperson for trade, Peter Whish-Wilson, criticised the government for holding international talks behind closed doors, shrouding the contents of the deal in secrecy.
"Last night in Senate Estimates, DFAT refused to answer even the most basic questions about what we're trading away," he said.
"They refused to rule out that new medicines under development, such as cancer drugs and vaccines, would become more expensive in the future as a result of the TPP."
Choice and the Greens have used leaked copies of the deal, via WikiLeaks, to also raise concerns about harsher criminal penalties, including ones for online copyright infringement far surpassing what the Australian law requires.
"Downloading a single song, for instance, could lead to serious criminal penalties," Ms Turner said.
Leaked copies show the right for big businesses to sue governments if policy and legislative changes hit their profits.
Mr Robb rejected the accusations, saying he was not engaging in an exercise to increase costs.
The trans-pacific negotiations began in 2008 with the aim of boosting market access to member countries. It will encompass 40 per cent of the world's GDP.
"It sets standards, it sets understanding on things like mutual recognition and qualifications, all these things that are trade barriers," he said on ABC Radio.
"This agreement [allows us] to have a more seamless level of business going on with less regulation, less protection, mutual recognition of standards, reducing approval times. All these things will reduce costs."
The countries involved in the trade deal are Australia, Brunei, Canada, Chile, Japan, Malaysia, Mexico, Peru, New Zealand, Singapore, the United States of America and Vietnam.
---