UK agrees 'immediate' post-Brexit talks with US, leaving EU high and dry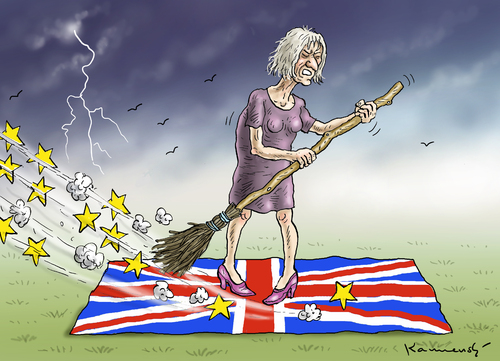 EurActiv | 29 Januray 2017
UK agrees 'immediate' post-Brexit talks with US, leaving EU high and dry

US President Donald Trump has agreed to start immediate trade talks with Britain with the goal of preserving current arrangements when it leaves the European Union, Downing Street said Saturday (28 January), setting the UK on a collision course with its EU commitments.
The "high-level talks", agreed during Prime Minister Theresa May's visit to the White House on Friday, risk antagonising EU leaders, who have warned London cannot start negotiations with other countries until it exits the bloc.
Switzerland took a similar course of action on Sunday, when its economy minister said he wants to have "background" talks with Britain so that a trade deal can be in place as soon as the UK leaves the European Union.
"My objective is clear. Not one day should pass after Britain's exit (from the EU) without new regulations in place," Johann Schneider-Ammann told Blick daily.
Negotiations with Britain could take place "in the background and in parallel with the exit discussions" with the EU, the Swiss minister added, raising pressure on Brussels to loosen its negotiating stance with the UK.
Joint US-UK working groups

Meanwhile, the bilateral US-UK talks include setting up joint working groups, which are aimed at laying the groundwork for a new deal that can be signed as soon as possible after Brexit.
"The first step towards achieving this will be a new Trade Negotiation Agreement (TNA) which will see high-level talks between the two nations beginning immediately," a Downing Street spokesman said.
The agreement came in a working lunch with Trump in Washington, where May became the first foreign leader to meet the new US president following his inauguration.
May refuses to condemn Trump's refugee policy

May was keen to secure an early commitment to the UK-US "special relationship" from Trump, who has alarmed America's allies with his criticism of NATO and the EU.
She has promised to be "frank" with the president, but drew criticism at home when, during a trip to Turkey on Saturday, she refused to condemn Trump's refugee policy.
Asked three times at a press conference about the executive order suspending refugee arrivals, May replied: "The United States is responsible for the United States' policy on refugees."
She flew back home into a deepening diplomatic storm after it emerged her own MP Nadhim Zahawi would be barred under the clampdown having being born in Iraq, despite holding a British passport, raising calls for her to speak on behalf of affected British citizens.
Germany and France have expressed concern about the policy, while the United Nations said it hoped it was only temporary.
Giving businesses confidence

Securing the promise of early trade talks was a key goal for the Washington trip, amid concerns at home of the economic impact of withdrawing from Europe's single market.
Downing Street said Trump had pledged to ensure that the trade agreements Britain currently has with the US through its EU membership would continue after it leaves.
"This is the first step leading to a future trade deal with the US which could provide huge benefits to our economic muscle and will give businesses additional certainty and confidence," May said.
The talks will also look at removing non-tariff barriers blocking British exports of food and agriculture to the United States, and the mutual recognition of professional qualifications to make it easier for people in both countries to do business.
Bilateral trade is currently worth more than £150 billion ($188 billion, 176 billion euros) and the United States is the single biggest source of inward investment in Britain.
May has promised to start the two-year process of leaving the EU by the end of March, but her government has already had informal trade discussions with India, Australia and New Zealand.
The European Commission warned London this week against any third-party trade negotiations before Brexit.
"If they talk about this, that's fine, but they cannot start negotiating until they have left," trade commissioner Cecilia Malmström said.
'He offered his hand'

Earlier, Downing Street sought to play down a moment in Trump's meeting with May where he briefly held her hand as they walked down the West Wing colonnade.
A spokeswoman said there was an "unseen ramp – he offered his hand, which she took".
She also revealed that over their lunch of braised beef shortribs, Trump said he wanted their relationship to be even closer than that of Margaret Thatcher and Ronald Reagan during the Cold War.
The president also kept the menu, the spokeswoman said, a habit he apparently has to remember significant moments. "Keep that safe," he told a staff member. "I had lunch with the prime minister."
---