Unions call on government of India to withdraw from mega economic treaty RCEP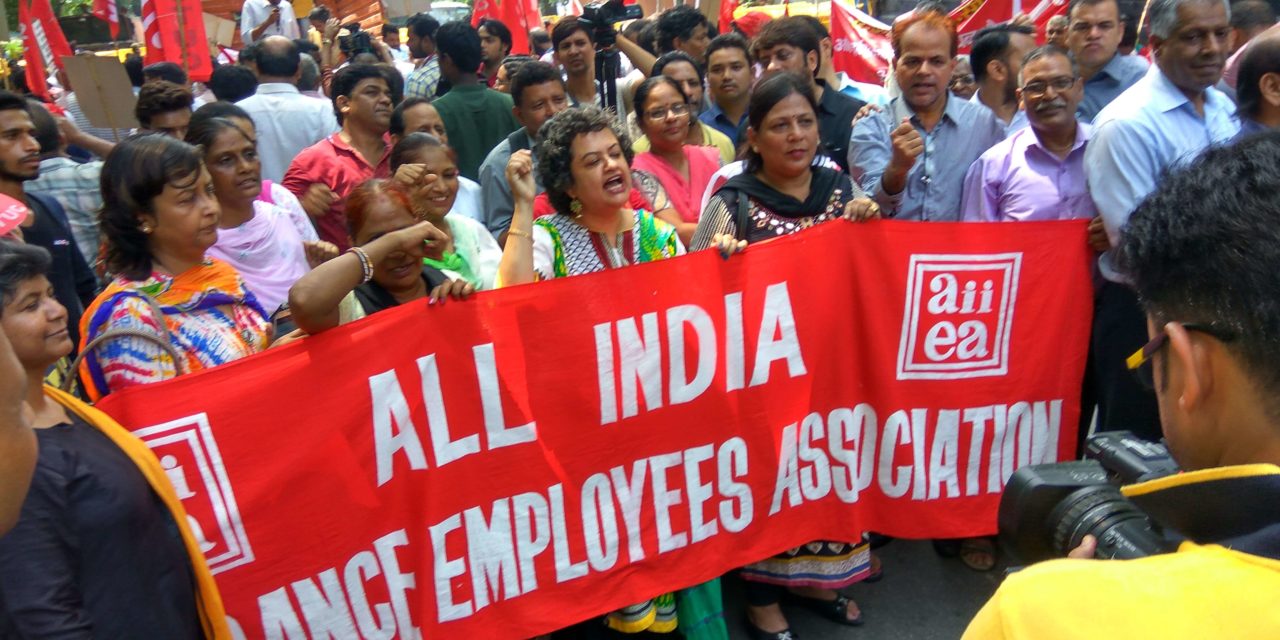 Trade Justice Unions - 01 November 2019
Unions call on government of India to withdraw from mega economic treaty RCEP
1 Nov 2019, New Delhi: As Ministers from 16 countries part of the negotiations for a Regional Comprehensive Economic Partnership (RCEP) prepare for yet another high profile meeting thisyear on 4 November in Bangkok, ten Central Trade Unions (CTUs) have called on the Government to withdraw from the negotiations due to concerns over its possible negative impacts on workers and the economy. The Bangkok meeting is seen as a last ditch effort to conclude the RCEP by 2019.
In a memorandum submitted to the Government, the unions highlight that India is facing an economic slowdown with its growth rate declining in each of the past five quarters and that unemployment soaring. "Ever-increasing uncertainties in the global economy that is sleepwalking to another crisis, are not rooted in a lack of economic integration but deficits in our national economic model that fails to ensure economic justice," said Sanjeeva Reddy from Indian National Trade Union Congress (INTUC).
"Global integration has come hand in hand with informality and precarity in employment, continued downward pressure on wages and deterioration of working conditions. It is time to take corrective steps and look at wage-led development and progressive economic cooperation instead of more of the same failed model that RCEP represents," said Amarjeet Kaur from the All India Trade Union Congress (AITUC).
While civil society, including patients and farmers, have raised the alarm bells for several years, in the last year industry associations and key ministries have also joined. "Concerns have been expressed from all quarters. Most recently, State governments have expressed concerns such as in the case of Punjab and Kerala. It is puzzling to know where Government is getting its mandate to go ahead with this destructive agenda," said Harbhajan Singh Sidhu, from Hind Mazdoor Sabha
(HMS).
RCEP countries account for 61% of India's overall trade deficit, amounting to US$ 112 billion in 2018-19. RCEP proposes to create a quasi-free trade area with 15 countries, including China.
"Overcapacity in steel products in China contributed to the decline in global price in the commodity from 2011 onwards. By July 2015, prices had fallen by 50% compared to January 2011. Indian companies were affected by the surge in imports that led to weak pricing conditions, low profitability, lower capacity utilisation and even closure of capacities. Workers in the industry were affected too. Drastic cuts in tariffs in steel and other sectors will make our economy vulnerable to a similar situation at a time where the economy is at a low. This is suicidal," said Tapan Sen from Centre of Indian Trade Unions (CITU).
The implications of import duty cuts on the ability of the government to raise taxes are another concern raised by the Unions. Considering the current value of imports from RCEP countries, the potential loss of government revenue due to the proposed cuts in duties is estimated at US$ 8.5 billion (Times of India, 29 July 2019).
"We cannot afford to lose this tax money that is urgently required to strengthen the provision of quality public services for workers and the poor at a time when tax collection is low despite the government's big drums around the regressive General Service Taxes (GST) and a new cut in Corporate Taxes from 30% to 22%," said Shankar Saha from The All India United Trade Union Centre (AIUTUC).
While issues of taxation in the digital economy are being debated in policy circles, digital monopolies are aiming to block future avenues for regulation through e-commerce chapters in trade agreements, such as RCEP. Industrial relations also stand to be impacted. "Proposals for ecommerce chapters to ban requirements for local registration of digital services providers, requirements for localisation of servers and requirements for disclosure of source codes and algorithms would have implications for industrial relations in digitally-enabled sectors where employment relationships are already contested. If a logarithm calculates wages and stores them in a server that neither the worker, the union nor the labour ministry has access to, how do we prove wage theft or even gender based discrimination? And where will we bring the dispute if there is no local registration of the company? These proposals are unacceptable to the trade union movement," said Shivshankar from Trade Union Coordination Centre (TUCC).
Over the last few days, women workers and other women's groups have raised their voices in the region regarding the negative impacts to be expected from RCEP. The participation of women in the workforce in India is one of the lowest in the world with some reports placing it at 18% in 2017-18 (NSSO data). Studies show that women earn 62% of what their male colleagues earn performing work that requires similar skills.
"The wage gap will only expand with increased competition in sectors where the women workforce is larger, such as agriculture, garment and electronics, and lesser revenues to invest in sectors where women dominate, such as education and healthcare," said Renana Jhabvala from Self Employed Women's Association (SEWA).
Reports from the negotiations that took place in October 2019 indicate that the controversial arbitration system that allows investors to sue governments in secret tribunals known as ISDS (Investor-State Dispute Settlement) mechanism, might be off the table for now. Yet, concerns remain with the rest of the provisions linked to investment. "Investment agreements, whether stand alone or as chapters of FTAs such as RCEP, are skewed against the public interest and the interests of host governments, particularly in the developing world. These agreements guarantee rights of investors and impose obligations on host countries to guarantee these investor rights. Such provisions are harmful for workers and for the national economy," said Rajiv Dimri from All India Central Council of Trade Unions (AICCTU).
"We are concerned that the Government of India is involved in negotiating away the future of the country in a most secretive manner. Negotiating positions and draft texts have been kept away from trade unions, the public, elected representatives, and state governments despite 30 rounds of negotiation since 2013," said Abany Roy from United Trade Union Congress (UTUC).
On 30 September, Trade Union Centers held a National Convention in New Delhi in which RCEP was on the agenda. "Indian trade unions have taken note of the governments rush to finalise RCEP. We will see the outcome of the November 4 RCEP Summit and continue our struggle and agitation until the deal is scrapped. We have resolved to do so in our Joint Convention on 30 September and will be raising our concerns until we succeed," said M Shanmugam, from the Labour Progressive Front (LPF).
Earlier in September, ten CTUs had submitted a Memorandum on RCEP to the Ministry of Commerce, including AICCTU, AITUC, AIUTUC, CITU, HMS, INTUC, LPF, SEWA, TUCC, and UTUC.
---