US pork wants market access back in China and Russia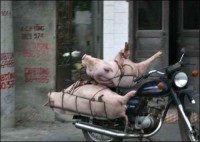 AgriNews | 4 February 2010
U.S. pork wants market access back in China and Russia
By Heather Thorstensen
MINNEAPOLIS – The National Pork Producers Council is focusing most of its trade efforts on re-establishing markets in China and Russia, says the council's Nick Giordano.
Giordano, NPPC vice president and counsel for international affairs, presented a trade update at Minnesota Pork Congress Jan. 20 in Minneapolis.
He told attendees there is no greater money-making opportunity for U.S. pork than China.
"Everything pales in comparison to China," he said, calling it the "mother load."
Trade challenges include the Chinese government's huge subsidies, the country's ban on the feed additive ractopamine and the ban on U.S. pork put in place last year in response to the H1N1 virus.
The country will eventually become open to trade again, Giordano said, because it has a lot of people but not much arable land. The U.S. is well positioned because it offers the safest pork in the world for the lowest cost.
"Their costs will go up," he said, adding: "There's only so long you can fight the forces of economics."
U.S. pork isn't getting to Russia primarily because of the country's allegations of tetracycline residue, but Giordano said these claims have no basis. NPPC wants to not only reach an agreement with Russia, it wants to increase the U.S. quota share as a condition of World Trade Organization accession.
NPPC also wants to protect existing trade relationships and is working with countries that have potential for export growth, such asSouth Korea, Australia, Russia, Canada and Mexico. There is potential to increase sales to Cuba if legislation that removes travel and financial restrictions passes in Congress.
Pork producers would benefit if Congress also passed pending free trade agreements with the Republic of Korea, Colombia and Panama. The Republic of Korea FTA could be the single, most important trade agreement ever, even exceeding the North American Free Trade Agreement, Giordano said. The country will drop tariffs on all frozen and processed pork products by 2014 and fresh, chilled pork will be duty-free 10 years after the FTA is implemented with a safeguard.
Dermot Hayes, an Iowa State University economist, estimates a fully-implemented FTA with Korea would cause U.S. hog prices to be $10 higher than would otherwise be the case. With Colombia, it's $1.16 and Panama's estimate is 20 cents a hog.
A successful WTO Doha Round agreement with gains for U.S. market access in the European Union and Japan would also add significant value to the U.S. pork industry.
There were successes in 2009 for pork trade policy, Giordano said. The industry avoided Mexico's retaliation of tariffs after the U.S. stopped a program that allowed Mexican truckers on U.S. highways. The Philippines withdrew a proposal that would have created quotas that NPPC considered prejudicial against American exports. Most countries that had a ban on U.S. pork due to H1N1 have removed their restrictions, andRussia doubled the size of their quotas, although now the U.S. is out of their market.
Additionally, the Obama administration is pursuing a trade partnership known as the Trans-Pacific Strategic Economic Partnership Agreement. This would bring the United States, Australia, Peru and Vietnam into an existing agreement between Brunei, Singapore, Chile, and New Zealand. Trade relationships already exist for the U.S. with some of these countries, but the big prize is an agreement with Vietnam, Giordano said.
He listed the European Union, Canada and Brazil as the U.S. pork industry's biggest export competitors.
There is a clear trend of increasing U.S. pork exports, he said. Last year was the second largest year on record for pork exports, after 2008, which had a 50 percent jump over 2007.
The differences between exports in 2008 and 2009 were primarily made in China/Hong Kong and Russia.
---