US seeking control over UK's trade sovereignty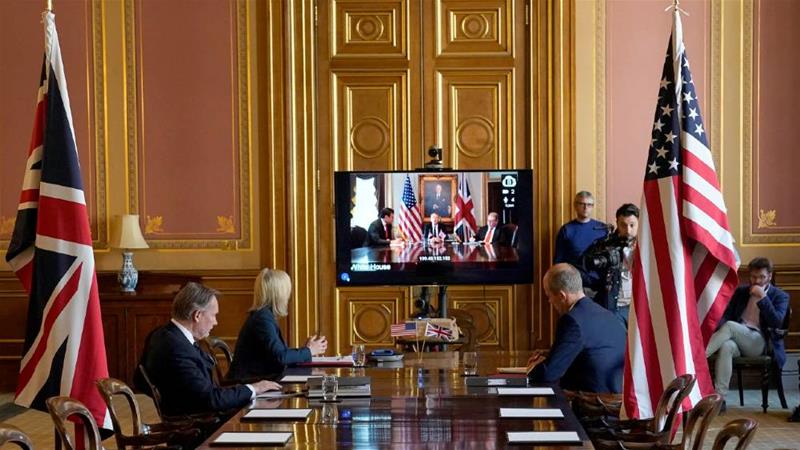 CGTN | 11 May 2020
US seeking control over UK's trade sovereignty
by Tom Fowdy
Tom Fowdy is a British political and international relations analyst and a graduate of Durham and Oxford universities. He writes on topics pertaining to China, the DPRK, Britain and the U.S. The article reflects the author's opinions and not necessarily the views of CGTN.
Despite the global COVID-19 pandemic dominating headlines, a piece of more subtle news emerged last week that the United Kingdom and the United States had officially begun talks over a post-Brexit trade agreement.
The dialogue, via video calls, was initially timed by London to gain leverage over the European Union, with simultaneous talks taking place concerning Britain's future relationship with the bloc.
However, with the commencement of UK-U.S. talks, a specific demand was cited in a BBC report, which largely went unnoticed by the public. The Donald Trump administration is demanding that London submit to what is known as a "poison pill" clause that gives the United States an exclusive right to void any agreement made with Britain should the UK sign another agreement with what America considers to be a "non-market economy."
It's not hard to see which country that clause is aimed at with Washington having already forced this principle into a renegotiation of the North American Free Trade Agreement last year, thus gaining a right of veto over China-Canada and China-Mexico deals.
The move is an unacceptable attempt to infringe on Britain's national sovereignty and, ironically, contradicts the very trading principles those supporting Brexit have aspired to.
Right now, the debate on China in the United Kingdom is toxic, owing to the influence of right-wing media. However, the government has otherwise sustained careful reason in its dealings between the U.S. and China.
In doing so, Britain must look for balance, and like with Huawei, recognize that total submission to Washington is not in the national interest. To squander free trade opportunities with the world's second-largest economy would be a disastrous outcome.
These days mainstream media only wants to talk about the apparent vices of trade with China, and many pushing this line in British media and parliament seem to think we ought to deepen our ties to the United States in the name of romanticized Anglophone exceptionalism, or "The Special Relationship" as it is otherwise known.
Yet prior to the hysteria whipped up by the COVID-19 epidemic, there was good reason for UK Prime Minister Boris Johnson's skepticism toward the economic benefits Washington can offer, which saw him tilt toward Beijing. On February 18, as China was battling the virus, Boris phoned Chinese President Xi Jinping and pledged "closer economic ties."
This corresponded with his unwillingness to ban Huawei from Britain's 5G networks and his interest in the Belt and Road Initiative. Why so? Because while Britain was not rejecting the United States as an economic partner, the government had nevertheless astutely judged that Washington, especially in its current form, was extremely unreliable.
Conducting all its business in the name of "America First," the Trump administration has sought to bully and coerce other countries into making economic concessions through the use of tariffs and protectionism. Given this, it is absolutely no surprise that it has opened trade talks with Britain based on ludicrous, one-sided demands such as surrendering trade sovereignty to Washington's whim.
The British government is clearly under pressure from voices to the right over its ties with China. However, this does not change the strategic realities under which the United Kingdom operates, so Beijing will remain an essential economic partner.
Therefore, the government must proceed in trade talks with the United States with prudence and reason. To surrender its ability to make a free trade deal with China to Washington would be an embarrassing capitulation and betray the principles Brexit supporters advocate. Brexit was initially launched to take trade sovereignty back from Europe.
Any potential trade deal with Washington will also be more about what the U.S. can take from Britain's markets rather than what it will give, with big pushes to open up agricultural and pharmaceutical sectors to American businesses.
Given this, is such agreement worth the price of surrendering British sovereignty to the United States? Absolutely not. Irrespective of what some might believe, the national interests of the United Kingdom rely on striking a balance between China and the United States.
Before the COVID-19 disruptions began, this was something strongly recognized by the government. Short-term anger and the politics of blame are simply not worth the price of allowing the United States to dictate Britain's long-term trade interests at the behest of its own strategic ambitions. This would be a horrendous mistake by Downing Street.
---