Vivian Balakrishnan, Wang Yi stress importance of upholding free trade
All the versions of this article: [English] [français]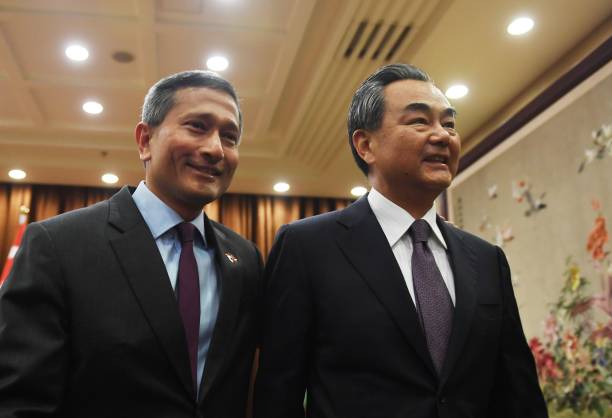 Channel News Asia | 8 April 2018
Vivian Balakrishnan, Wang Yi stress importance of upholding free trade
by Fann Sim
Beijing: Foreign Affairs Minister Vivian Balakrishnan met his Chinese counterpart Wang Yi in Beijing on Sunday (8 Apr), with both reaffirming bilateral ties and stressing the importance of upholding free trade.
Dr Balakrishnan said he looks forward to the upgrade of the Singapore-China Free Trade Agreement that is expected to conclude later this year.
"This is a time where the temptation to embark on unilateralism and protectionism, unfortunately, is rising," Dr Balakrishnan said.
"I think it's all the more important that China and Singapore double down on the importance of free trade and economic liberalisation. Our ability to upgrade the China-Singapore Free Trade Agreement will send a very positive message as well," he added.
Mr Wang, who was recently promoted to State Councillor, added that Singapore has always been a supporter of free trade and it is something that can be learnt by others.
This year marks 40 years since China's opening-up and reform, and a visit to Singapore from then paramount leader Deng Xiaoping.
Dr Balakrishnan said that there have been many opportunities for Singapore and China to learn from each other since then, with both countries being able to cooperate effectively at different stages of development.
The two ministers met six times last year, most recently on the sidelines of the Asia-Europe Foreign Ministers' Meeting in November.
---