We don't need trade pact to draw investors, says Santiago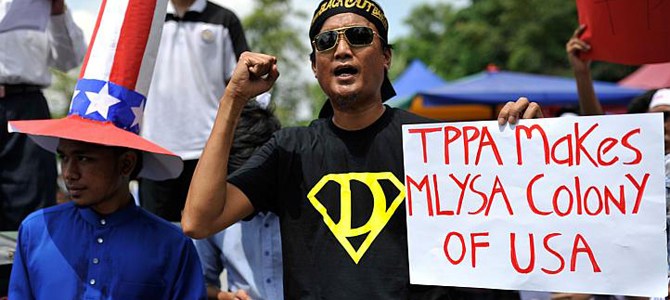 Free Malaysia Today, Malaysia
We don't need trade pact to draw investors, says Santiago
By Robin Augustin
11 October 2018
PETALING JAYA: An MP has dismissed a trade advocacy group's claim that Malaysia will lose out to Vietnam if it does not ratify the Comprehensive and Progressive Agreement for Trans-Pacific Partnership (CPTPP).
Speaking to FMT, Klang MP Charles Santiago, an economist by training, said free trade agreements (FTAs) like the CPTPP were not a primary or deciding factor for investors.
He said various studies showed that investors would normally look for regulatory stability, infrastructure, enforcement of law, an educated and skilled workforce as well as the independence of key institutions.
"If we talk about regulatory stability, it means the government doesn't simply change or flip-flop on policies.
"Where infrastructure is concerned, there must be good connectivity and internet access, and a banking system which works."
Santiago said companies also wanted to see that the government and institutions like the judiciary were independent and followed the law.
He was commenting on Asian Trade Centre executive director Deborah Elms's recent remarks that Malaysia would lose out to Vietnam if it didn't ratify the CPTPP due to the agreement's tariff benefits, which come as companies are moving production out of China.
Malaysia was among the 11 Trans-Pacific Partnership member countries that signed the CPTPP on March 8 this year. The others were Australia, Brunei, Canada, Chile, Japan, Mexico, New Zealand, Peru, Singapore and Vietnam.
Santiago said most investors did not look at FTAs as they were often related to lowering tariffs.
"In Southeast Asia, most tariffs are already very low due to the Asean FTA and other trade agreements.
"If you look at Brazil, it doesn't have a single FTA, yet it is doing very well.
"South Africa is letting existing FTAs expire because they don't see the need for them anymore as they are drawing investors based on other factors."
Santiago also said it was a fallacy that FTAs, through the reduction or elimination of tariffs, automatically lead to lower prices.
He said production and distribution costs were determined by other factors and were out of the government's control.
"And we shouldn't aim to compete with Vietnam because doing so means we want to compete on low wages, and that's a step back to the 1980s," said Santiago, who previously warned that the CPTPP would bring more risk than gain to Malaysia.
Instead, Santiago said, Malaysia should compete with more advanced countries based on the development of new technologies, products and processes driven by a highly-educated and highly-skilled talent pool.
In Malaysia's case, he said, the CPTPP wasn't a priority. He recommended that the country focus on building its talent pool, speeding up institutional reforms and laying out long-term economic plans for investors to see the new government's direction.
"Hopefully, after the mid-term review of the 11th Malaysia Plan, we can get a clear picture of where the economy is headed and the government's long-term economic policies. That will be good for investors."
---