Will new trade agreements reduce dependence on US?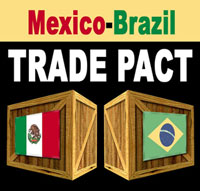 The Final Call | 3 September 2009
Will new trade agreements reduce dependence on U.S.?
By Fabiana Frayssinet
RIO DE JANEIRO (IPS/GIN) — Presidents Luiz Inacio Lula da Silva of Brazil and Felipe Calderón of Mexico agreed recently to explore the possibility of a free trade agreement as part of a strategy to reduce their dependence on the industrialized world.
"A market of 300 million people is better than one of 110 million, in the case of Mexico," President Calderón said at the end of his Aug. 17 meeting with President Lula in Brasilia, the capital.
He also underlined that the two nations together represent half of the territory of Latin America and 70 percent of the region's GDP. Mexico has a population of 107 million while Brazilians number nearly 190 million.
"Our heavy dependence on the American economy explains why Mexico was hit so hard by this global crisis, whose epicenter is in the United States," said Mr. Calderón, explaining his aim of diversifying trade and intensifying his country's relations with Brazil.
According to the Mexican leader, the crisis makes it, more than ever, necessary to strengthen and expand trade agreements among developing countries. "It is foreseeable that growth will not come from the developed economies. It will come from emerging economies like China, Brazil, India and Mexico," he said.
At the press conference offered after the meeting between Presidents Lula and Calderón, the Mexican president reiterated his interest in signing a free trade deal with Brazil in the future—a possibility to which he also made reference days earlier while addressing a meeting of members of FIESP, the industrial federation of Sao Paulo, the country's industrial heartland.
When the proposal was originally set forth by FIESP, Mr. Calderón responded "with great interest."
"We have to overcome our fears and prejudices, which is why I am proposing this bilateral accord to the business community and economic, political and social sectors in my country," he said.
According to Brazil's Foreign Ministry, bilateral trade stood at $7.4 billion in 2008, with a $1.16 billion trade surplus in favor of Brazil.
By contrast, trade between Brazil and Mexico amounted to just $2.5 billion in 2000.
The presidents stressed that Mexico's investments in Brazil—its largest in Latin America—reached $16 billion, while Brazil's investments in Mexico totaled $2 billion.
Pointing out that trade with South America's giant represents a mere one percent of Mexico's total trade with the world, Mr. Calderón said this was "inconceivable" for "such large economies, with similar per capita incomes and somewhat similarly sized economies."
"Although Brazil is our main trading partner in the Latin American region, it is only the seventh in relation to the rest of the world," said Mr. Calderón.
The two leaders committed to "deepening trade relations and investment" between Brazil and Mexico, Latin America's first and third largest countries in territory and first and second largest in population.
Emphasizing that "Brazil and Mexico are Latin America's two biggest economies," the presidents instructed the relevant authorities to meet shortly to draw up a timeline and terms for negotiations.
The Brazilian leader said he was interested in expanding trade with Mexico—an aim that he said would be reinforced by an extension of the association agreement between Mexico and the Mercosur (Southern Common Market) trade bloc made up of Argentina, Brazil, Paraguay and Uruguay, with Venezuela in the process of becoming the fifth full member.
"This crisis has demonstrated that the more we diversify our trade balance and interact with other countries, the less dependent we will be on one single economy. Brazil no longer depends solely on the United States or the European Union," said President Lula.
"This is of interest to both countries," said José Augusto de Castro, president of Brazil's foreign trade association, in an interview with IPS.
"On one hand, 80 percent of Mexico's exports go to the United States, and an agreement like this would reduce its dependence on that country," he said. On the other hand, "Brazil would gain access to a market with a high level of purchasing power and consumption like Mexico's, which is today basically supplied by the United States."
Brazil and Mexico have signed agreements for cooperation in biotechnology and nanotechnology. But they have so far failed to fulfill the aim of expanding accords for cooperation between their state oil giants, Petrobras and Pemex.
---