Wisconsin cheese makers concerned with trade deal
WPR | Fri, 10/15/2010
Wisconsin cheese makers concerned with trade deal
By Patty Murray, Wisconsin Public Radio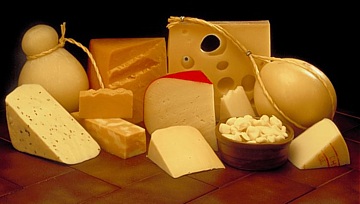 MADISON (WPR) — Wisconsin cheese makers are reacting to a free trade agreement between the European Union and South Korea. They fear the deal may require producers outside of certain geographical areas to re-name their cheeses.
A "geographical indicator" means—for example—a parmesan cheese could only be marketed by that name if it came from certain provinces in Italy. Otherwise exporters could face customs action and be turned away.
John Umhoeffer is the Executive Director of the Wisconsin Cheese Makers Association. He says Wisconsin is America's largest producer of feta which would be affected by the South Korean agreement, along with a host of others, such as, Fontina, asiago, gorgonzola, parmesan and mozzarella.
"All these Italian styles are broadly made in Wisconsin and we'd like to export them," he says.
Umhoeffer says the agreement between the EU and South Korea sets a precedent. It is the first time the geographical indicators have been applied internationally. Name usage is already restricted among EU members, where countries like Denmark have been forced to rename widely recognized cheeses.
"It's much simpler to tell a person, `This is feta and you know how to use it', continues Umhoeffer. "If you tell them it's `Mediterranean-style white cheese' you've got an uphill battle against the Greeks who'll say, `This is our feta'."
Wisconsin U.S. Rep. Tom Petri is among a group of lawmakers asking the national trade representative to protest the EU-South Korea agreement.
Information from Wisconsin Public Radio, www.wpr.org
---