Amazon plans mega-warehouse for Mexico growth spurt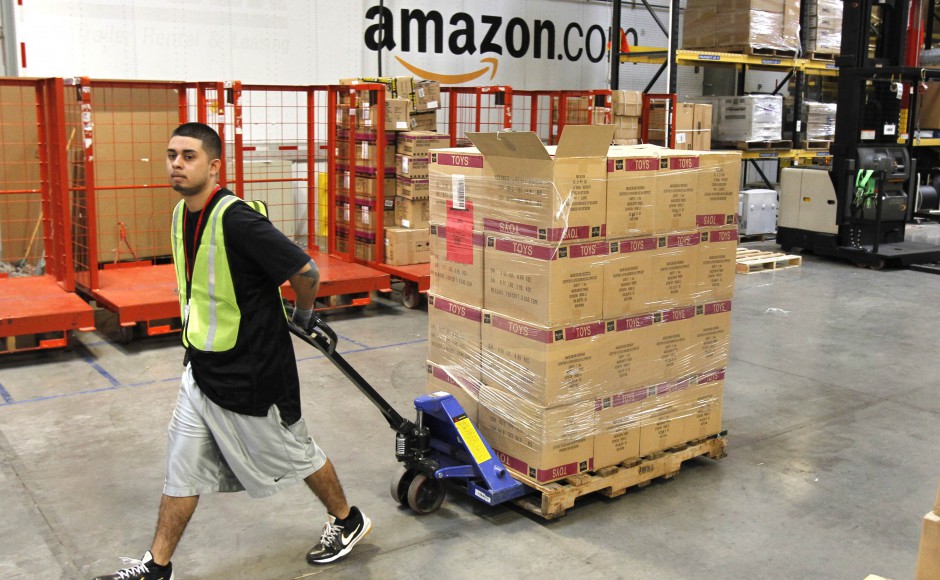 Reuters | 13 September 2017
Amazon plans mega-warehouse for Mexico growth spurt
by Daina Beth Solomon
Amazon.com Inc is preparing to open a 1 million square-foot warehouse near Mexico City, sources familiar with the project said, part of an effort to boost its presence in Mexico's nascent e-commerce industry.
The new warehouse is slated to be built in the Tepotzotlan municipality about 25 miles (40 km) north of the Mexican capital, according to four Mexico City real estate professionals familiar with the plans. Expected to be completed next year, the facility would triple Amazon's distribution space in Mexico, home to around 120 million potential customers.
Amazon's Mexico push comes amid talks to revamp the North American Free Trade Agreement, which could benefit the Seattle-based retailer if the United States persuades Mexico to raise a $50 limit on the value of online purchases that can be imported duty-free.
Amazon is a relative newcomer to Mexico; it opened its Kindle e-books site to Mexican customers in 2013 and expanded into sales of physical goods just two years ago. But it is growing much faster than rivals such as Wal-Mart Stores Inc, and is already the nation's third-largest online retailer. Amazon posted $253 million in sales in Mexico last year, more than double the year before, according to market research firm Euromonitor International.
Sharing a nearly 2,000-mile long border with the United States, Mexico would seem a logical place for Amazon to expand. But duplicating the company's U.S.-style success could prove tougher.
Online shopping comprises nearly 3 percent of all retail sales in Mexico compared with over 10 percent in the United States. Some Mexican shoppers are wary of online fraud and many do not have credit cards.
Some analysts believe Amazon is willing to take the risk as it races to bulk up in foreign markets to compete with fast-moving global competitors such as China's Alibaba Group Holding Ltd.
"Amazon is not afraid to plow into a new market in a very big way, take a big hit, but say, 10 years down the line, this is going to be big and profitable," said Neil Saunders, managing director at the GlobalData Retail research firm.
Amazon spokesman Julio Gil declined to comment on plans for a new warehouse in Mexico. He said the company's Mexican unit is aiming to expand its product offerings, offer faster deliveries and make the purchasing process as smooth and secure as possible to inspire consumer confidence.
"We're trying to eliminate any friction," Gil said.
Amazon's stock climbed more than 1 percent on Wednesday, reaching $994.10 a share by early afternoon.
FLUID LOGISTICS

Amazon currently operates two distribution centers in Mexico totaling more than 500,000 square feet (46,452 sq m), Gil said. Both are in Cuautitlan Izcalli in the state of Mexico, adjacent to the autonomous district of Mexico City, whose metro area is home to more than 20 million people.
The new warehouse will be constructed about 7 miles (11 km) from the existing facilities. All are located along the so-called "NAFTA" highway, an industrial belt that runs through Mexico's factory regions to the U.S. border.
The new facility is being built by U.S.-based industrial developer Prologis, which owns 45.9 percent of Fibra Prologis, a Mexico-based real estate investment trust that owns 34.2 million square feet (3.2 million sq m) of manufacturing and logistics space across Mexico. Fibra Prologis typically acquires properties from Prologis once they are completed. Prologis declined to comment on Amazon's tenancy, while Fibra Prologis declined interview requests.
At 1 million square feet, the new facility would be able to distribute bulky products such as furniture, as well as small items like books and microwaves, a set-up Amazon uses in other foreign countries, said Marc Wulfraat, president of the logistics consultancy firm MWPVL International.
If about 85 percent of the space is used for small products – typical of a U.S. warehouse set-up – Amazon would be able to store 15 million products and make up to 1 million deliveries a day nationwide. It would likely employ 2,000 to 3,000 people to handle the shipments, Wulfraat said.
The location could also serve as a distribution point for products going north to the United States, added Saunders from GlobalData.
"Amazon is very fluid with its logistics," he said. "As long as that border is reasonably open, Amazon is very agnostic."
MEXICAN RETICENCE ONLINE

Amazon's global operations stretch across 14 countries including Latin America's most populous nations, Brazil and Mexico. That footprint fueled $11.5 billion in net international sales in the second quarter, just over half the size of Amazon's North American sales.
Amazon's 2016 Mexico sales fell well behind the market leader, Argentina's MercadoLibre Inc, with $435 million in sales, according to Euromonitor. Still Amazon edged out No. 4 Wal-Mart and was neck-and-neck with third-place Linio, a division of Berlin-based Rocket Internet .
All are fighting for loyalty from consumers largely unaccustomed to clickable shopping and wary of credit card and mail fraud.
"Much of the reticence of Mexican shoppers to make purchases online is uncertainty," said Carlos Hermosillo Bernal, an analyst at Actinver. "Will I get the product? Is it what was being offered? What guarantee do I have?"
That reluctance may fade as Mexico's middle- and upper-class millennials gain purchasing power.
Mexico City-based college student Daniel Arturo Munoz Castro, 20, said he has purchased board games, smartphone accessories and t-shirts on Amazon's app. He appreciates the variety of products and ease of use, even though his father first thought it might be a scam.
For a graphic on Amazon's two years of growth in Mexico click tmsnrt.rs/2f3NVeN
"It's not like other web pages when you order things, and perhaps they don't arrive. It's very safe," he said.
Still, Mexico's vast wealth disparity and cultural differences lead some analysts to doubt whether Amazon can replicate a U.S. shopping concept. Amazon backed off from its investments in China, for example, after struggling to understand the local markets, said Gene Munster, managing partner at Loup Ventures.
"If they largely failed in China, why try in Mexico, Brazil or India? The answer is they haven't failed yet in those areas, and they may be able to right the ship," he said.
TWEAKING TRADE RULES

If the United States, Mexico and Canada raise the value of online purchases that can be imported duty-free as part of a modernized North American Free Trade Agreement, Amazon may be poised to reap rewards in Mexico.
The proposal, which is backed by U.S. trade representatives, would push the duty-free limit on imports to about $800 from thresholds of $50 in Mexico and C$20 ($16.5) in Canada. That would give consumers in those countries an incentive to buy big-ticket products online from the United States, an idea that President Donald Trump has championed in his "Buy American" agenda.
Mexican negotiators, however, are treading cautiously amid push-back from Mexican industries such as textiles and footwear.
"We have to find a middle point that does not damage our economies with extreme liberalization," Mexico Economy Minister Ildefonso Guajardo said at the conclusion of NAFTA talks in Mexico City early this month. The next round is scheduled for Ottawa in late September.
International trade analyst Claude Barfield of the American Enterprise Institute anticipates that even a compromise is unlikely to dash Amazon's plans for Mexico.
"I can't imagine this would be a deal-breaker," he said.
(This version of the story has been corrected to clarify Fibra Prologis relationship to warehouse project)
---