ASEAN signs FTA, investment deal with HKC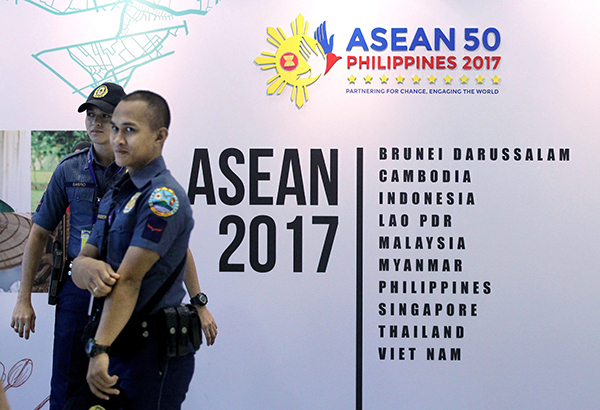 Manila Bulletin | 13 November 2017
ASEAN signs FTA, investment deal with HKC
By Bernie Cahiles-Magkilat and Ellson Quismorio
The Association of Southeast Asian Nations (ASEAN) and Hong Kong, China (HKC) yesterday signed free trade and investment agreements, the sixth economic deal entered into by the 10-member countries aimed at further strengthening trade and economic relations between the two parties.
The ASEAN-Hong Kong, China Free Trade Agreement (AHKFTA) and ASEAN – Hong Kong Investment Agreement (AHKIA) were inked Sunday, Nov. 12, at the sidelines of the 31st ASEAN Summit and Related Meetings.
The two agreements are part of the region's continuing efforts in expanding external economic relations to foster greater trade opportunities for the ASEAN Economic Community (AEC).
"This will open more opportunities for ASEAN as we ensure greater market access for our products and sustained flow of foreign direct investments (FDI)," said Secretary Ramon Lopez, this year's Chairperson of the ASEAN Economic Ministers (AEM).
Hong Kong, a special administrative region of China where ASEAN also has an existing FTA, is one of the world's leading trade powerhouses and the sixth largest trading partner of ASEAN, making the trade and investment deals strategic for both economies, particularly for the micro, small and medium enterprises in the region.
"We're proud to present – Hong Kong as the gateway to mainland China," Lopez said.
"Through these two agreements, I am confident that ASEAN and Hong Kong can unlock together the tremendous potential of regional economic integration and foster a more open opportune environment for our people and the generations to come."
For his part, Edward Yau Tang-wah, China secretary for commerce and economic development, said: "In the face of protectionistic sentiments in other parts of the world, these two agreements are in fact a loud and clear vote from all of us here for freer and more open trade."
Lopez shared that these agreements would provide job opportunities for people and enhance collaboration among businesses, particularly the micro, small, and medium enterprises (MSMEs) sector.
The AHKFTA covers trade in goods, rules of origin, non-tariff measures, customs procedures and trade facilitation, trade remedies, technical barriers to trade, sanitary and phytosanitary measures, trade in services, intellectual property rights, and economic and technical cooperation.
In the case of the Philippines (PH), which is an advocate of establishing an inclusive and innovative region, the deals provide more opportunities for MSMEs as well as to the country's export industries given HKC's role as gateway to the China market and their annual tourist arrivals.
For the first eight months of 2017, HKC was PH's third top export destination with US$5.55 billion worth of exports equivalent to 13.18 percent of the country's total exports. Meanwhile, approved investments from HKC for the first semester of 2017 amounted to $10.74 million, making it the 12th source of investments of the country.
AHKFTA is ASEAN's sixth FTA with external partners, after ASEAN-China FTA (ACFTA), ASEAN-Korea FTA (AKFTA), ASEAN-Japan Comprehensive Economic Partnership (AJCEP), ASEAN-India FTA (AIFTA), and ASEAN-Australia-New Zealand FTA (AANZFTA).
Lopsided ASEAN benefit hit

While ASEAN has been touted as an economic force to reckon with globally, the private sector in the region yesterday hit at the exclusivity of growth in favor of the large corporations and putting the micro, small and medium enterprises (MSMEs) at their mercy, and stressed that this situation cannot just be tolerated.
This was pointed out by the ASEAN Business Advisory Council (BAC) at the opening of the 2017 ASEAN Business and Investment Summit (ABIS), the private business sector counterpart of the ASEAN Leaders' Summit here in Manila.
"It's a challenge, you can see the world is controlled by a few people, large corporations still dominate that sector. It cannot just be the big guys growing and small guys staying where they are. Prosperity for all will be severely challenged," said ASEAN-BAC Chair Jose Ma. A. Concepcion III.
He also lamented the lack of inclusivity amid the much-vaunted growth and potential for the 10 ASEAN-member countries which are currently meeting here for the 50th founding anniversary of the region.
"Inclusivity in our growth, this is a problem I see in ASEAN. How can we make our MSMEs go up the value chain," pointed out Concepcion as the major issue of the region's MSMEs.
For instance, he said, SMEs account for 99.6 percent of Philippine business and yet the economy is controlled by a few powerful large companies.
The challenge, he stressed, is how to make the rest of the businessmen become part the growing economy.
To ensure the MSMEs become part of this growth, ASEAN-BAC is putting up a program to give everyone a chance to become successful entrepreneurs.
"It cannot just be the big guys growing and small guys staying where they or else prosperity for all will be severely challenged," he added.
As such, the ASEAN-BAC will launch today the ASEAN Mentorship for Entrepreneurship Network (AMEN) which aims to establish a system to certify a mentors' pool that would eventually lead a mentors' academy to shepherd MSMEs and ensure their success.
AMEN seeks to have a pool of more than a thousand mentors from all ASEAN countries who will guide MSMEs to success. There are 143 pioneer mentors to be launched today. The Philippines has over 500 mentors already engaged.
'One Belt, One Road'

Concepcion on Sunday praised China for its "One Belt, One Road" initiative, which he said the Philippines should try to emulate on a local level.
"I think as we are focusing on helping our micro and small entrepreneurs, China's program on infrastructure development with the One Belt, One Road is creating better connectivity making all the nations able to reach out in terms of transporting people and goods," he said.
"I think that is where we can follow China's strategy," Concepcion said.
China's One Belt, One Road program aims to improve the country's connectivity with the rest of the world by tapping both a physical and maritime road for economic cooperation. These traverse land routes through Central Asia to Europe; to the Middle East, and Southeast Asia; and sea routes connecting Chinese ports to Europe and to the South Pacific.
---