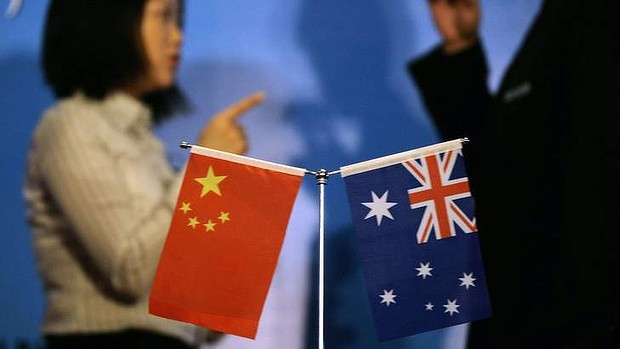 The Australian | April 19, 2013
China FTA abandoned
BY: BEN PACKHAM
Labor has rejected a Chinese request for its investments in Australia to be rubber stamped without scrutiny up to a value of $1 billion.
FTA-lite (Oz): THE Gillard government has abandoned a comprehensive free-trade agreement with China to focus on a "trimmed-down" agriculture deal, prompting Beijing to ask for its state-owned enterprises to be allowed to invest up to $1 billion in Australia without requiring Foreign Investment Review Board approval.
---
The Australian | April 19, 2013
China trade deal scaled back as Beijing seeks $1bn investment approval threshold
BY:ROWAN CALLICK AND DAMON KITNEY
THE Gillard government has abandoned a comprehensive free-trade agreement with China to focus on a "trimmed-down" agriculture deal, prompting Beijing to ask for its state-owned enterprises to be allowed to invest up to $1 billion in Australia without requiring Foreign Investment Review Board approval.
Trade Minister Craig Emerson said yesterday the government could not agree to the Chinese demand, which was in response to the federal government's new approach to the free-trade agreement negotiations, now entering their ninth year.
At present, the FIRB must review every investment by a state-owned enterprise from any country, including China.
For the private sector, the general threshold for having to seek approval is $248 million, while US and New Zealand companies have a higher threshold of $1.078bn.
After revealing China's push for FIRB exemptions, Dr Emerson said: "Now, we can't do that. The community would not accept that, and frankly nor would the Coalition."
Dr Emerson told the inaugural Global Food Forum, hosted by The Australian and The Wall Street Journal in Melbourne yesterday, that a comprehensive trade deal with China was "just beyond both countries" and the government was instead looking to "build a foundation".
He compared the new, farm-focused deal the Gillard government was seeking to the free-trade agreement New Zealand signed with Beijing five years ago, which led to a tripling of its exports to China, led by dairy produce.
While he said "there was no response for a while" from Beijing to the so-called FTA-lite plan, more recently China's reaction had been "very positive" to the approach, which he described as "pragmatic".
Dr Emerson said the two countries were planning a further round of negotiations this weekend in Surabaya, Indonesia, at China's request.
The government's inability to conclude a deal with China has frustrated big business.
Billionaire paper, packaging and recycling magnate Anthony Pratt yesterday urged the food business sector to become more proactive in helping governments "find their way through the inevitable compromises" in trade talks.
Cattle baron Peter Hughes, of the giant Hughes Pastoral Group, told The Australian yesterday: "We have to have free trade. We have to get our foot in the door, even if it is not perfect."
Asked about the lack of an agreement after almost a decade of negotiations, Mr Hughes, whose family wealth is estimated by BRW at $315m, said: "It worries me tremendously. To me it seems they are just too lazy and too incompetent. It doesn't mean enough to them. Send me over there, I will negotiate something." Yesterday's food forum also discussed the challenges of the politics around foreign investment in the agricultural sector and means to address the lack of investment in innovation across the food-manufacturing industry.
It also addressed the funding crisis in rural Australia, which has been caused by the reluctance of farmers to partner with professional investors, alienating domestic superannuation funds from investing in the sector.
Dr Emerson said yesterday that Australia was already "selling enormous quantities of food into China, with beef exports growing particularly fast".
"Food tariffs into China are typically 15 per cent," the Trade Minister said. "China is not saying it's not going to do anything until it gets that FTA."
He said he was "incredibly optimistic" about the opportunities for food sales into China.
On his recent visit to China with Julia Gillard, Dr Emerson said he had met many Chinese political leaders and told them that all 380 investment applications from their country had been approved since he had become Trade Minister.
He also said the scrutiny process helped ensure that the Australian public was convinced that Chinese investment was in its interest.
"That's where we are," he said.
Opposition finance spokesman Andrew Robb said the new thrust announced by Dr Emerson was "just a clamouring at the end of their term in government, to give the impression of working with the region, when the relationship with so many countries has floundered".
He said the government had signed only one FTA, with Malaysia, in its five years.
"It has not been a priority for Labor, to our enormous disadvantage," Mr Robb said. "A whole lot of business relationships are born out of these agreements, and business is about trust."
The government, he said, had been more focused on regional architecture.
"It would like to see a European Union for Asia — but that has been to the great detriment of our bilateral relationships, which would be a very high priority in our first term if we get into government," Mr Robb said.
He supported the move to "get something done, if that means a trimmed-down agreement".
"If we can't get a Rolls-Royce, we should build on a decent Holden model and make a Rolls-Royce over time," he said.
Stephen Loosley, strategic counsel at Minter Ellison, told the forum that China's request for a new $1bn threshold was "an opening gambit claim that needs to be negotiated".
He said "hard bargaining" needed to produce "something the Australian parliament and people will accept".
Paul Glasson, the Shanghai-based national vice-president of the Australia China Business Council and a major deal-broker on Chinese investments in Australia, asked: "Why do both Australian and Chinese companies hold the view that approvals are a great hurdle when, in fact, we are approving all of the investment and Australians are overwhelmingly supportive of Chinese investment?
"Both Australian and Chinese media and companies need to better understand what the reality is, and help promote this truth to create a more conducive environment for investment co-operation in Australia."
He said that "Chinese investment delivers jobs, communities, tax receipts and the like" and that increased resources for the FIRB would enable faster decision-making.
Australian Chamber of Commerce and Industry director Bryan Clark said the FIRB requirement should be the same for all countries.
---