China's 'New Silk Road' goes straight through the Caucasus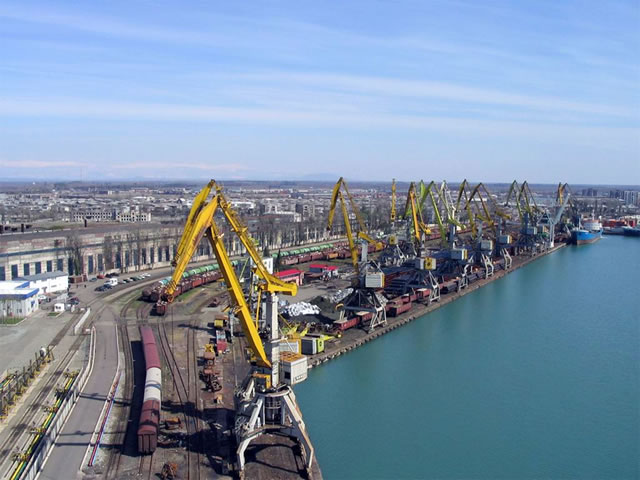 Deutsch Welle | 26 December 2017
China's 'New Silk Road' goes straight through the Caucasus
by Miodrag Soric
When it comes to the economy, the Chinese government thinks and acts quickly. And the same is true of China's exports. Currently most products exported to Europe are transported by sea, but Beijing is looking for alternatives, and has its eyes set on new land routes.
Four years ago, the Chinese President Xi Jingping announced the mega-initiative "New Silk Road" (One Belt and One Road, or OBOR for short). This project involves various transport corridors from China to the west - for example through Russia and Belarus; or along roads and railways through Central Asia, Azerbaijan, Georgia, and Turkey; or on alternative routes through Pakistan to the Indian Ocean, and from there by ship.
Beijing has chosen several routes so it can pick the most favorable, and play the different countries along the new Silk Road off against each other.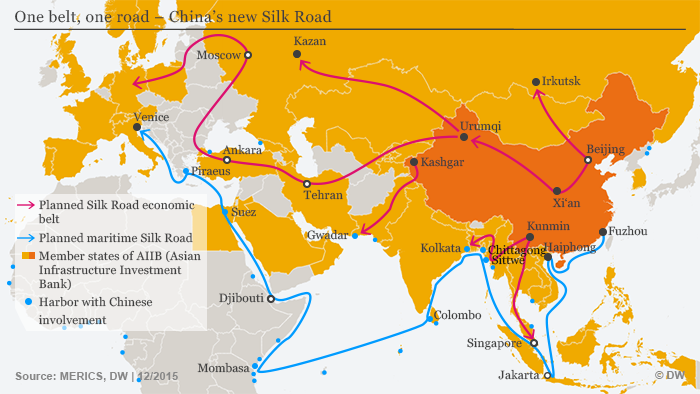 Much welcome investment
But we are not there yet. First, Beijing has to invest a great deal of money in the New Silk Road. Recently, China's Premier Li Keqiang promised investments in infrastructure at a meeting with 16 of his counterparts from Central and Southeastern Europe, amounting to about $3 billion over the coming years. These countries are in dire need of cash and eager to take Beijing's money. Many in the Balkans, in particular, feel forgotten by the European Union, and closer economic relations with China, while not an alternative to the EU, are helpful.
In Beijing's consideration of which transport corridors should be developed, Georgia has played a key role. It will become a hub for Chinese products - and not only because of its central geographical location. According to the World Bank, Georgia now offers excellent conditions for foreign investors: little bureaucracy, functioning institutions, low levels of corruption, and steady growth.
In June 2014, Tbilisi signed an association agreement with the European Union. Since May of this year, it is also linked to Beijing through a free trade agreement. Now Georgia has a unique selling point, at least among its neighbors: Close trade relations with the Middle Kingdom and with the EU.
Ports, buildings and everything
Beijing is spending millions tying to bind Tbilisi closer to China. The Hualing Group is the largest single investor in Georgia. In a suburb of the Georgian capital, a special economic zone with hotels, the largest shopping center in the Caucasus, an amusement park, new streets, and multi-story residential buildings is being built.
China is also building in other cities in the Caucasus region. The acquisition and expansion of a port in Poti on Georgia's Black Sea coast was of special strategic importance. In the future, larger ships that require a deep-sea port will be able to dock there.
A few days ago, China's ambassador spoke at a conference in Tbilisi about "geopolitics." His government has invited Georgia to be the only guest to present at the China International Fair of Investment and Trade in Xiamen. Meanwhile, China has become Georgia's third most important trading partner.
However much China is involved in Georgia, other countries are also entering the region. German companies like Knauf or Heidelberg Cement are doing good business and hiring more and more employees, according to some who attended festivities put on by the German Business Association (DWV) in Tbilisi in mid-December. Oliver Regner from DWV praises the Georgian government for its pro-business policies.
The old quarrel between Moscow and Tbilisi
Investments have also come from neighboring Turkey, Iran, and even Russia, though relations with its big neighbor to the north have been burdened since 2008, when the then Georgian President Mikhail Saakashvili sent his military to try to bring the breakaway region of South Ossetia under his control. But Georgia's army was no match against Russia's, and a long, frosty silence descended between the two countries.
Moscow has denounced the Georgian government for tilting toward the West and feels "betrayed" by its traditional ally. Even today, it is difficult for Georgians to get a visa for Russia. Russian citizens, on the other hand, can easily enter Georgia. Yet the government in Tbilisi is sticking to its pro-Western course, while simultaneously dealing with Russia in a pragmatic way — especially when Russians invest in the country.
---