China says it's 'always ready' to restart free trade talks with Canada
All the versions of this article: [English] [français]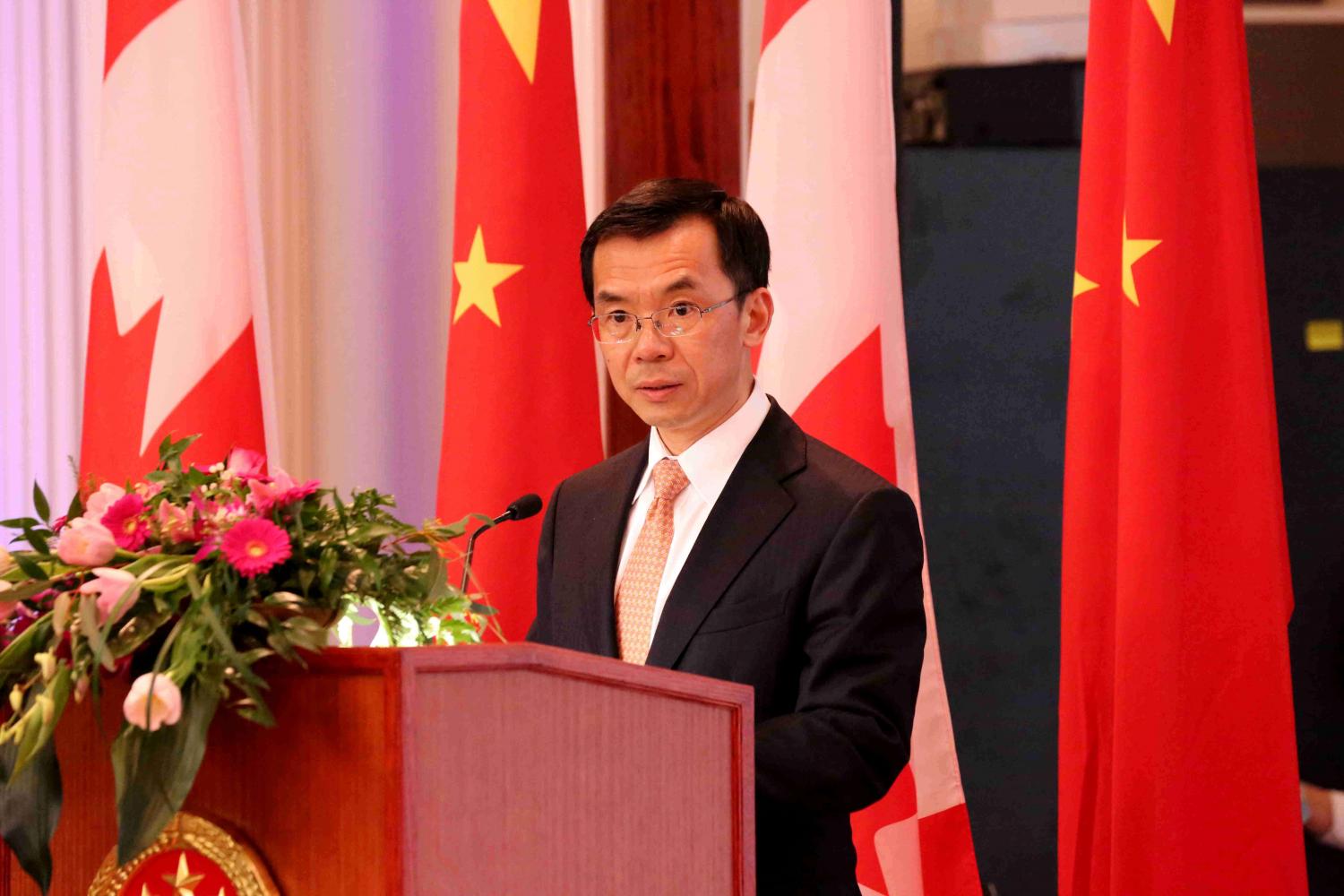 Financial Post | 20 August 2018
China says it's 'always ready' to restart free trade talks with Canada
by Naomi Powell
China's envoy in Ottawa says free trade talks between Canada and China have stalled partly due to Canada's focus on renegotiating the North American Free Trade Agreement.
"It is true now that the FTA negotiations between our two sides have stalled but this is affected by many factors," Ambassador Lu Shaye told the Financial Post through an interpreter. "We understand Canada is now facing ulterior challenges, including the renegotiation of NAFTA with the U.S. and Mexico."
Asked if the NAFTA talks had delayed a Canada-China free trade deal, Lu said: "Maybe it is not delaying but the focus of the Canadian government, I think it has shifted from negotiations with China."
Blocked Aecon deal casts chill on China trade talks
Despite the lack of progress, China remains hopeful and "always ready" to restart talks with Canada at any time, said Lu, who has emphasized the need for free trade pacts as a counter to emerging global protectionism.
Canada and China — currently locked in separate trade disputes with the United States – are both seeking to diversify their export markets. The U.S. has imposed 25 per cent tariffs on US$34 billion on Chinese goods with plans to levy an additional US$16 billion in tariffs next week. China has hit back with tit-for-tat retaliatory levies on a range of American imports including soybeans and pork.
This week the U.S. will launch hearings into a further US$200 billion worth of tariffs on Chinese goods with talks between U.S. and China negotiators scheduled in Washington for later in the week.
Canada's attempts to launch formal free trade talks with China faltered in December when Beijing resisted Canada's efforts to add provisions on the environment, human rights, labour and gender issues.
"China and Canada have different national conditions so we couldn't adopt the same standards," Lu said in the interview. However "where we have some different opinions on some issues we can put them aside just to reach an agreement on the parts that have consensus," he said.
Trade tensions flared between Ottawa and Beijing in May, when the federal government blocked the $1.51 billion takeover of Aecon Group Inc. by China Communications Construction Co. Ltd. (CCCC), a Chinese state-owned enterprise, citing national security concerns. The Chinese government is particularly sensitive about restrictions on state-owned firms, analysts have said.
The Aecon case "greatly damaged Chinese investors' confidence for Canadian business," Lu said in the interview.
Canada has also launched consultations with steel producers, users and the public on whether to impose unprecedented safeguard measures that would restrict imports of seven different steel products.
Analysts have said the measures — which could include quotas, tariffs or both — may assuage U.S. concerns that Canada is being used as a "back door" for cheap steel to be dumped into the American market.
Lu said China had noticed the measures though he emphasized that they were directed at no particular country and that China represents just a small proportion of steel exports to Canada.
Ramping up trade talks with China would be wise at a time when both China and Canada are experiencing difficulties with the U.S., said Gregory Chin, a professor of political economy at York University and a former Canadian diplomat in Beijing.
"U.S.-China relations aren't in the best place and at the same time, they know we're in a tough spot with NAFTA," said Chin. "If you look at it calmly, it would serve both of our interests to be talking more seriously. I don't know why that's not happening."
U.S. President Donald Trump's administration has blocked numerous takeover attempts of American firms by Chinese state-backed entities. And Trump has accused China of "unfair trade" practices particularly as they relate to the alleged theft of intellectual property.
Though China and the U.S. will both suffer because of the trade war, China had no option but to take its countermeasures after the U.S. "triggered" the dispute, Lu said.
"China will never accommodate any unilateral measures or trade bully measures adopted by the U.S. and we sincerely hope the negotiations in Washington will have a fruitful outcome."
Lu said China would protect the multilateral trade regime with the World Trade Organization at its core, describing the approach as being in the interest of not just China but other countries as well.
"China is totally against the trade war because a trade war is of no benefit to anybody," he said.
---