Critical China free trade agreement based on what?
News Weekly (Australia) | October 11, 2014
Critical China free trade agreement based on what?
by Patrick J. Byrne
How can the Commonwealth government evaluate gains to agriculture from a China free trade agreement (FTA), if it doesn't know whether the key market for Australian farmers is the domestic one or the one for exports?
Australian agriculture has benefited little from the Japan-Australia Economic Partnership Agreement concluded in April this year. It did not improve, or only marginally improved, market access for dairy, sugar, grains, pork and rice.[1]
Now there are rumblings in Canberra that negotiations may have to give more ground to Beijing on agriculture than Australian farmers will accept in the planned Australia-China free trade agreement.[2]
James Laurenceson, from the Queensland University economics department, specialises in Australia's economic relationship with China. Last year he pointed out that economic modelling of an FTA with China, by the Australia-China Business Council of Australia, showed that after 20 years the Australian economic will benefit by just 0.7 per cent. That was a "best-case" scenario (being within the statistical margin of error).
Laurencson says that the trade-weighted average duty on Australia's non-agricultural exports (mainly minerals) to China is only 0.2 per cent now. The equivalent figure for agriculture is 21.3 per cent; but agriculture is a mere 6.4 per cent of Australia's overall exports to China.
This means that the only area that Australia can extract major concessions from China is in agriculture and services, while in turn, the Chinese will want major concessions from Australians, which already has low trade barriers.[3]
Australia's political leaders argue that New Zealand's dairy exports to China increased eight-fold after the two countries signed an FTA.[4]
But there was a catch.
Laurenceson writes: "[I]n order to realise such outcomes, [NZ] agreed to the phased elimination of tariffs on all products of Chinese origin, including textiles, clothing and footwear. The FTA also made it easier for businesses to import Chinese labour."[5]
However, there is a more fundamental problem in the Australian government's approach to our farms policy.
It is focused on expanding exports, when there is serious confusion as to whether on average the primary market for framers is the export market or the domestic market.
Earlier this year, News Weekly asked, "Does Australia export 274 per cent of its wine production?"[6]
This was to highlight major inconsistencies in how the Australian Bureau of Agricultural and Resource Economics and Sciences (ABARES) calculates the value of exports. In the case of wine exports, they compared the export value of wine to the value of wine grapes to come up with an exaggerated and meaningless export figure.
In statistics, you can only compare like with like; but ABARES is comparing "apples with oranges". This is a statistical fallacy.
Since the controversy over 274 per cent of Australian wine supposedly being exported, ABARES in a recent edition of its quarterly report, Agricultural Commodities (Vol. 4, No. 2, June 2014), has modified some of its export figures to compare like with like, i.e., apples with apples.[7]
The table, "Proportion of agricultural production exported" (p.39) — reproduced below — shows wine exports measured at the farm-gate value of wine grapes; sugar exports measured at the farm-gate value of sugar cane; and exports of dairy products as valued at the price of milk.
However, for a range of other products, ABARES is still comparing apples and oranges, as well as introducing the new concept of "wholesale value".
It is still calculating some domestic production and/or export values measured at the farm gate, while calculating others at some further stage of production, or at the point of export.
For example, footnotes to the ABARES table list products at various stages of value-adding when calculating domestic and export values. These include: confectionary, biscuits, beverages, animal offal, skins and hides, sausages, and canned and preserved meat.
Further, some export values appear so inflated that exports are above 100 per cent of production:
• "Other crop exports" ($1,766 million) appear to be 166 per cent of "other crop products" ($1,065 million).
• "Other livestock exports" ($1,929 million) appear to be 244 per cent of "other livestock products" ($790 million).
Some products are valued for the domestic and export market after they have been significantly processed and value-added.
These include "beef and veal", "sheep meat", "pig meat" and "poultry" measured at the value of carcass weight, not as livestock leaving the farm gate. Carcass weight is about three times the value of livestock at the farm gate.
Cotton is valued after its been processed into lint, with no mention of cottonseed.
In conclusion, there is no consistent methodology as ABARES fails to compare like with like. It is still using flawed methodology to conclude that the "gross value" for exports is $28.8 billion or 64.5 per cent of agriculture!
The Australian Government may think it has an immediate problem with Chinese purchasing existing residential housing, but this will pale in comparison to an FTA based on a foundation of errors!
Patrick J. Byrne is national vice-president of the National Civic Council.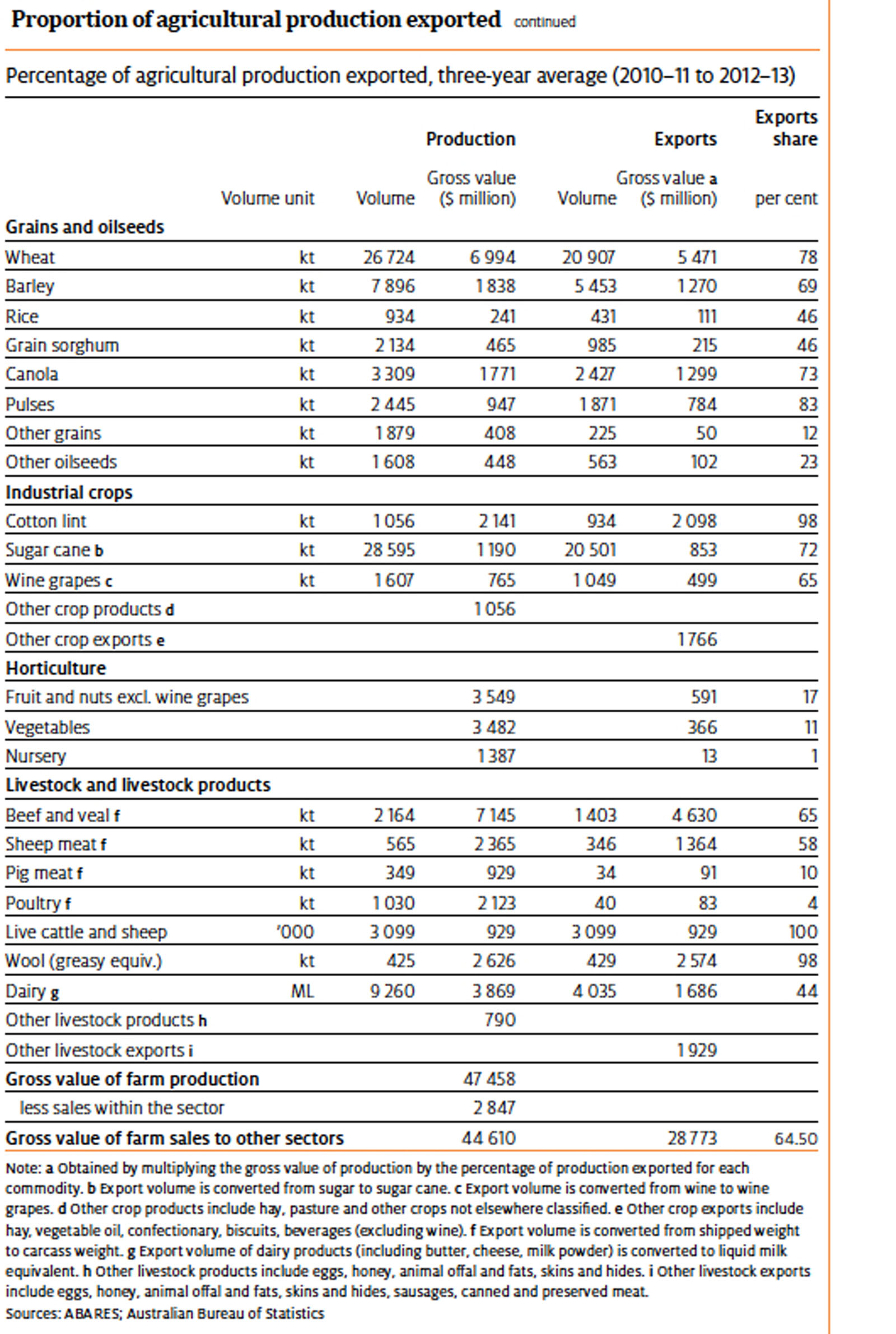 Endnotes
[1] Katie McRobert, "Japan deal not 'free trade', say Australian producers", The Land, April 8, 2014.
URL: www.theland.com.au/news/agriculture/agribusiness/general-news/
not-free-trade-producers/2694606.aspx?storypage=0
[2] Ed Gannon, "Farmers' message is that China is good for all of us", Herald Sun (Melbourne), August 29, 2014.
URL: www.heraldsun.com.au/news/opinion/farmers-message-is-that-china-is
– good-for-all-of-us/story-fni0ffsx-1227040576846
[3] James Laurenceson, "Why an FTA with China has never stacked up", The Conversation, October 22, 2013.
URL: http://theconversation.com/why-an-
australian-fta-with-china-has-never-stacked-up-19299
James Laurenceson, "Why China-Australia FTA may still be some way off", The Conversation, June 26, 2014.
URL: http://theconversation.com/why-china-
australia-fta-may-still-be-some-way-off-28334
[4] Noel Campbell, "Dairy banks on China FTA", The Australian, July 22, 2014.
URL: www.theaustralian.com.au/business/dairy-banks-
on-china-fta/story-e6frg8zx-1226996609724
[5] James Laurenceson, "Why an FTA with China has never stacked up", The Conversation, October 22, 2013.
URL: http://theconversation.com/why-an-australian-
fta-with-china-has-never-stacked-up-19299
[6] Patrick J. Byrne, "Does Australia export 274 per cent of its wine production?", News Weekly, April 26, 2014.
URL: www.newsweekly.com.au/article.php?id=56558&s=XhdXSC
Patrick J. Byrne, "Sorting out the confusion over Australia's agricultural exports," News Weekly, May 10, 2014.
URL: www.newsweekly.com.au/article.php?id=56573&s=HYEUML
[7] Agricultural Commodities, research by the Australian Bureau of Agricultural and Resource Economics and Sciences (ABARES), Department of Agriculture, Australian Government, Vol. 4, No. 2 (June quarter 2014), p.39.
URL: http://data.daff.gov.au/data/warehouse/agcomd9abcc004/agcomd9abcc0042014
06/AgCommodities2014.No2_Ver1.1.0.pdf
---