Day of action against the US trade deal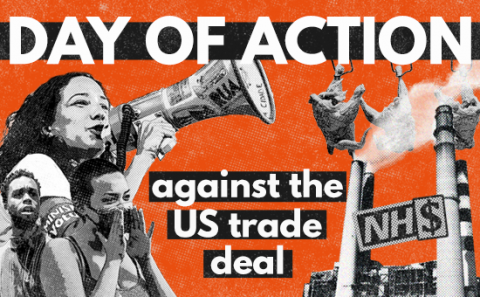 Global Justice Now | 2 October 2020
Day of action against the US trade deal
– Saturday 24 October
Take action against the US trade deal to protect services, standards, rights and democracy!
Supported by Global Justice Now, Keep Our NHS Public, War on Want, Traidcraft, We Own It, Open Rights Group, SumOfUs, Compassion in World Farming, Another Europe is Possible and the Stop Trump Coalition.
Join the day of action
The US trade deal is being used to kickstart a process that could reshape our society into a corporate marketplace. We're taking a stand together against this high risk trade deal on Saturday 24 October 2020. Let us know if you can join the day of action
Plan for the day
We're campaigning in pandemic times and things are changing fast, so this day of action will be a mix of things you can do from home, virtual online events and ideas for socially distant action outside on the streets when possible. We'll keep the plans under review as we get closer to the time. At the moment, this is the plan – there's a bit of a Halloween theme!
From home: pumpkin lanterns, photo messages and persuading organisations you are part of to take a stand against the deal. Read more.
Socially distant on the street: hold a street stall (organised in pods of up to six) with pumpkins, photo messages and a guessing game about the differences between the US and the UK on food standards, pesticides, chemicals in cosmetics and medicine prices. Read more.
In London: if you're in London, we're hoping to hold a socially distanced protest in Parliament Square with colourful Halloween stunts.
Online evening rally – we're planning a line of up of high profile speakers to wrap up the day. More information shortly.
---