DUP pledges full repeal of US FTA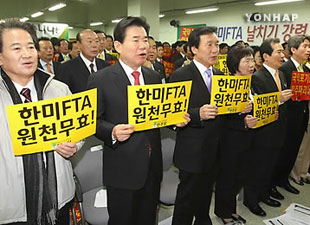 Korea Herald | 2012-01-17
DUP pledges full repeal of U.S. FTA
The newly elected Supreme Council of the main opposition Democratic United Party pledged to fully repeal the disputed Korea-U.S. Free Trade Agreement.
The announcement raised concerns that ties between the two countries could take a step back should the liberal camp take power in this year's elections.
"All council members agree that the KORUS FTA was lopsided and flawed," said Han Myeong-sook, after being elected party head on Sunday.
"We shall abolish the entire pact and restart the talks from scratch."
Councilor Moon Sung-keun urged the Lee Myung-bak administration to immediately suspend effectuation of the trade deal, while Rep. Park Young-sun advocated the "10+2" plan, calling for the revision of 10 clauses and the addition of two protective measures.
"The basics of the KORUS FTA were established under the liberal Roh Moo-hyun administration," said Rep. Yoo Ki-june, the ruling Grand National Party's negotiator for the parliamentary foreign affairs committee.
"The opposition's denial of the deal would thus be no more than self-denial."
The trade deal was approved by the National Assembly in November, with the GNP's snap-passing sparking violent opposition protests.
Should a DUP candidate be elected president in December, however, the pact could be put in jeopardy.
According to the agreement, the head of the corresponding state may discontinue the pact at any time by giving written notice to their counterpart six months prior to the desired date of termination.
"If, in any case, the next president calls off the KORUS FTA, the bilateral ties of the two states will become paralyzed," said Choi Won-mok, law professor in Ewha Womans University.
Not only would such an action hinder ongoing North Korean policies, but also blemish Korea's image in the global community, he said.
However, most experts remained skeptical of the plausibility of a total repeal.
"The KORUS FTA does not only involve the U.S. but will also affect a series of similar inter-state trade deals," said Yun Duk-min, professor at the Institute of Foreign Affairs and National Security.
"Scrapping it would mean that Korea will basically have to reestablish all of its international trade policies, which would not be an easy decision for any administration."
Yoon Pyung-joong, political philosophy professor at Hanshin University, said the DUP's plans are unfeasible.
"Despite its tough pledge, the opposition party is likely to tone down on the issue once it becomes the ruling party," said Yoon.
"The most plausible scenario is that the liberal administration, should it come into power, will exert pressure on its U.S. counterpart with the scrapping option and win some additional benefits."
Liberal policies would not bring fundamental changes to current Korea-U.S. ties, he added.
"A free trade deal is, above all, an economic contract between two states," Yoon said.
"Though the DUP's consistent resistance may add some tension to the relation, neither state is likely to totally give up on the profitable transaction because of political reasons."
By Bae Hyun-jung (tellme@heraldm.com)
---