ECOWAS civil society groups kick against trade deals with EU
Ghana News | 25 August 2008
ECOWAS civil society groups kick against trade deals with EU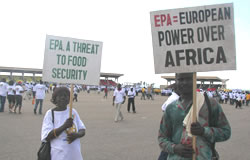 Fiifi Koomson
Civil society organisations have asked governments of ECOWAS countries to suspend all trade-related negotiations with the EU.
Representatives of the organisations speaking at the ongoing 11th African Trade Network Review and Strategy meeting in Accra said any such negotiations could put Africa on the losing side.
The conference which has brought together representatives from all ECOWAS countries and is strategising a campaign against the Economic Partnership Agreements (EPAs).
The EPAs are a scheme to create a free trade area (FTA) between the European Union and the African, Caribbean and Pacific countries. They are a response to continuing criticism that the non-reciprocal and discriminatory preferential trade agreements offered by the EU are incompatible with WTO rules.
However, most African countries have since the announcement of the programme presented stiff criticism arguing it does not serve the interest of the continent.
The groups at the Accra meeting gave a number of reasons for which African countries may have to suspend trade negotiations, especially with the EU. They argue:
The world economic order has changed. There are now new players such as China and India who seem to be shaping the direction of global trade at the expense of the traditional players like the US and Britain.
The financial crisis that has hit Europe and Northern America means Africa may not be able to secure adequate volumes of imports from these countries. The situation could also reduce the EU's loan advances to Africa and other ACP countries.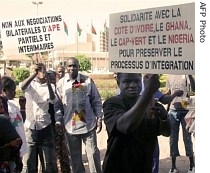 The groups also argue that the situation is even more serious considering the current high food prices in the continent. Food prices have surged a record high of 40 per cent this year on the continent, analysts say.
At the moment, Ghana has signed the "EPA light" ahead of the ECOWAS timetable, pending the implementation of a permanent deal.
Government is expected to sign the final phase of the Economic Partnership Agreement this year.
---