EU bans poultry exports from illegal Israeli settlements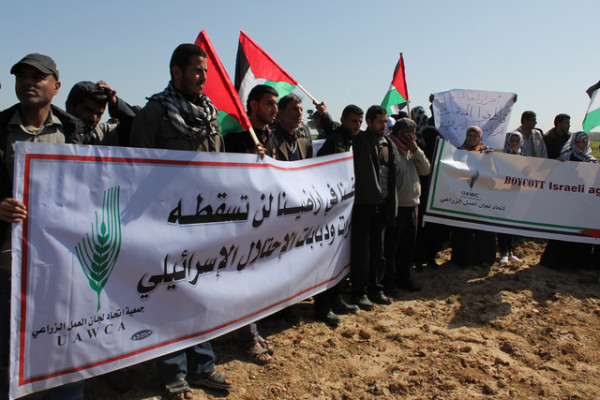 Palestinian BDS National Committee | 23 May 2014
EU bans poultry exports from illegal Israeli settlements
Palestinian civil society has today welcomed reports that the EU will no longer allow poultry and eggs from illegal Israeli settlements to enter the EU, in what amounts to the first EU ban on any Israeli products.
The EU has informed Israel that it cannot accept the Israeli Agriculture Ministry's authority to certify products in Israeli settlements, which are illegally built in the occupied Palestinian territory, and therefore cannot import poultry and eggs from settlements.
The decision is an implementation of the EU's commitment not to recognise Israeli sovereignty over occupied Palestinian territory, which was the motive behind the EU guidelines issued last June on Israel's participation in EU programs.
"Palestinian civil society welcomes this small but significant step to ensure that the EU does not provide recognition or assistance to Israel's illegal settlements in occupied Palestinian territory, which continue to expand and forcibly displace Palestinian communities," said Jamal Juma' from Stop the Wall, a member organisation of the Palestinian BDS National Committee, the largest coalition of Palestinian trade unions, campaigns, NGO networks and political parties that leads the global BDS movement.
"Israeli agricultural companies in illegal settlements are at the heart of the dispossession of Palestinian farmers, establishing farms on stolen Palestinian land and using illegally appropriated Palestinian water resources."
"But if the EU is serious about taking concrete and effective measures to meet its legal obligations and end its complicity with Israeli violations of international law, it should start by banning all trade with illegal Israeli settlements, ensuring European companies stop participating in any Israeli project in the OPT, and imposing a two way arms embargo."
"The EU-Israel Association Agreement and Horizon 2020, the main frameworks of European-Israeli cooperation, must be frozen if Europe wants to contribute to ending Israel's colonization of Palestinian land. Israel's sabotage of every effort to reach a just peace based on UN resolutions must lead to real, not just cosmetic, consequences."
​"​Free trade agreements with Israel and trade that sustains illegal Israeli settlements are a form of support for Israel's violations of international law. We call on governments around the world to start to meet their obligations under international law not to aid or assist Israel's crimes against the Palestinian people​."​
Juma' pointed out that the EU guidelines announced last June do not specifically mention trade and relate only to EU funding, but that this decision is a logical extension of the principal on which the guidelines are based, that the EU is legally obliged not to recognise Israeli sovereignty in occupied Palestinian territory. This has given hope to human rights activists around the world that the EU may extend this welcome ban to all Israeli companies operating in the OPT.
According to a brochure published by the Israeli government, Israel exported $72m of fresh meat, including poultry, in 2012. Most Israeli food exports are to EU countries.
---