Farmers' organisations call for rejecting RCEP agreement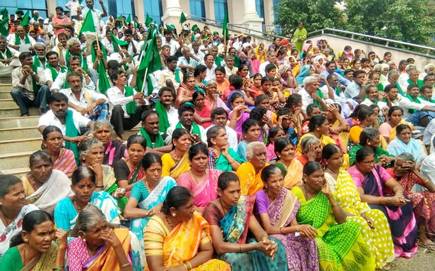 The Hindu - 26 October 2019
Farmers' organisations call for rejecting RCEP agreement
Implementation of deal will worsen farm crisis, they say
The leaders of various farmers' associations in the State have called upon the Union government to reject the proposed Regional Comprehensive Economic Partnership (RCEP) agreement aimed at facilitating free trade among 10 member countries of the Association of Southeast Asian Nations and its six free trade agreement partners.
In a joint statement issued on Saturday, they said the agreement, if implemented, would eventually end in the uncontrolled import of agricultural produce from other countries to India. It would subsequently reduce the price of domestic agricultural produce and value added products in the local markets and worsen farmers' crisis, they claimed.
Need for intervention
The leaders representing five major organisations, including the Indian Farmers Movement and the Farmers Relief Forum, said the crisis in the State's agricultural sector was continuing without any favourable intervention on the part of the State and Union governments. Between 2010 and 2018, about 39,000 farmers suffered huge agricultural losses in the State due to natural calamities and wild animal encroachment, but they were not given adequate compensation, they said.
Referring to the continuing wild animal menace in farms, they said about 1,000 farmers had lost their lives in such incidents over the last 10 years. More than 3,000 persons sustained serious injuries in man-animal conflicts, they said, and added that such issues should be addressed by the government first.
======
See also:
Farmers block Mysuru-Nanjangud highway over RCEP
State to hold convention against RCEP pact today
---