Freeland calls for NAFTA review of "unfair and illegal" US solar panel tariff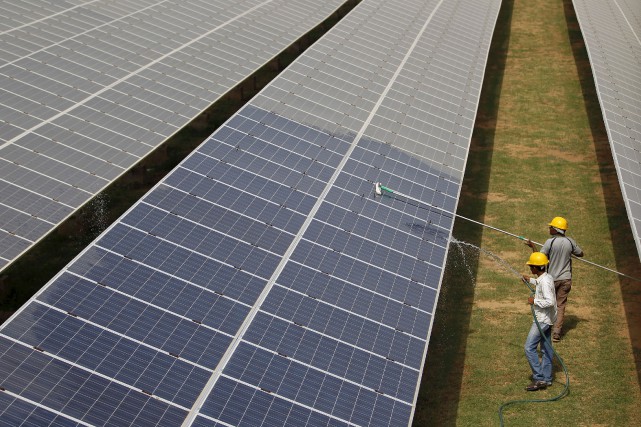 iPolitics | 23 July 2018
Freeland calls for NAFTA review of "unfair and illegal" US solar panel tariff
By Anna Desmarais
Foreign affairs minister Chrystia Freeland is asking for a NAFTA review into what she calls "unfair and illegal" 30 per cent American tariffs imposed on Canada's solar panel manufacturers.
"The U.S tariffs on Canadian solar panels have affected businesses and workers on both sides of the border," Freeland said in a statement. "The tariffs violate NAFTA rules. The Government of Canada will continue to defend its interests and workers."
The Trump administration imposed the tariff in January after the U.S International Trade Commission found that imports of crystalline silicon, one of the main components of photovoltaic technology in solar panels, cause "serious injury" to American manufacturers.
The commission recommended tariffs of between 10 and 35 per cent to be placed on crystalline silicon mostly coming from China and Mexico.
In the 2017 report, the commission found crystalline silicon imports from Canada "do not account for a substantial share of total imports and do not contribute importantly to the serious injury caused by imports."
In February, three Canadian solar panel manufacturers filed a lawsuit against the American government over the solar cell imports. Ontario-based Silfab Solar Inc., Heliene Inc. and Canadian Solar Solutions Inc., along with U.S.-based distributor Canadian Solar (USA) Inc., filed the challenge at the U.S. Court of International Trade in New York.
When asked why Freeland is only asking for the review now, Global Affairs has pointed to the same press release with Freeland's statement.
The request comes as trade tensions are heightened between Canada and the United States. Our southern neighbours also imposed 25 per cent tariffs on steel and 10 per cent imports on aluminum in June.
In response, Canada has imposed $16 billion in retaliatory tariffs on July 1 on an array of American goods, including whiskey, yogurt and felt tip pens.
In the last three weeks, the United States has also threatened to impose tariffs on Canada's automotive industry which some reports believe would cause 100,000 Canadians to lose their jobs and could launch the country's economy into recession by 2020.
Under Section 20 of the NAFTA agreement, an investigation can be launched by either party. The investigation process begins with government-to-government consultations. If the issue is not resolved, one of the parties can request a meeting of the NAFTA Free Trade Commission that will include the Canadian and American trade ministers.
If none of these steps work, Canada could also create a five-member panel to review the case. At least one hearing will take place in the next five months if Canada goes forward with the request.
The tariff on solar cells was also challenged at the World Trade Organization by the European Union, China, South Korea and Taiwan.
"Canada is using every available avenue, including the mechanisms within the NAFTA, to challenge the Trump administration's protectionism and defend Canadian interests," said Roland Paris, a University of Ottawa international relations expert and Prime Minister Justin Trudeau's former foreign affairs adviser.
The NAFTA renegotiation has been on hold since late spring because of the July 1 Mexican presidential election that will see Andres Manuel Lopez Obrador sworn in this coming December.
Obrador sent Trump a letter that urges a restart of the NAFTA renegotiations.
"I think that prolonging the uncertainty could slow down investments in the medium- and long-term, which obviously hinders economic growth in Mexico," wrote Obrador. He said his transition team members would take part in the talks with current government members.
Freeland had no immediate comment on the letter.
Freeland, Finance Minister Bill Morneau and International Trade Minister Jim Carr travel to Mexico City this week to meet the incoming Mexican leader.
Paris said Obrador's message is a welcome development, "but it won't reduce Canadians' apprehensions about President Trump and his administration."
Paris cited the results of research conducted by Earnscliffe Strategy Group for the Department of National Defence. One question asked respondents for their biggest national security concern.
The top answer was terrorism at 29 per cent. But Paris said he found it "striking" that the runaway second-place result — at 16 per cent _ was the "United States (and) Canada's proximity to the U.S."
He said the answer has less to do with traditional perceptions of threats to national security, and "reveals a more general concern about the impact of the Trump administration on Canadian interests, including our economic interests."
The research was conducted between February and April and included eight focus groups and a telephone poll of more than 1,500 respondents. It had a margin of error of 2.5 per cent.
With files from the Canadian Press
---