Front of Brazilian civil society organizations against the Mercosur-EU agreement
All the versions of this article: [Deutsch] [English] [Español] [français] [italiano] [Português]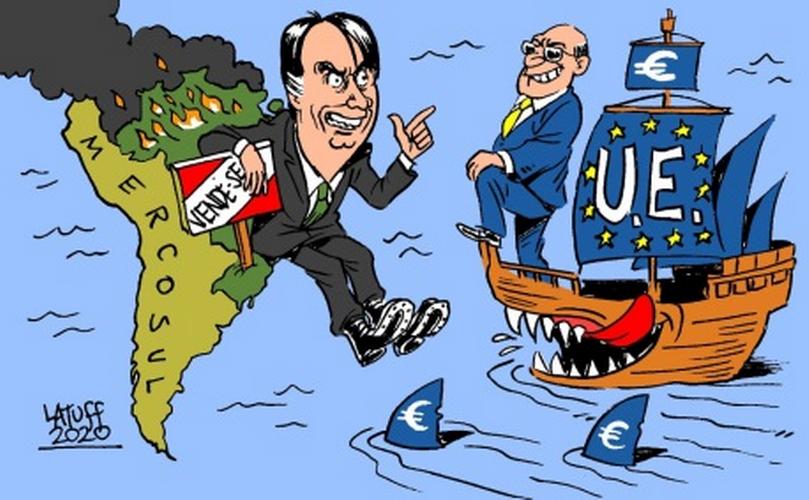 Front of Brazilian civil society organizations against the Mercosur-EU agreement
December 9, 2020
The undersigned Brazilian civil society organizations are expressing their opposition to signing the free trade agreement between Mercosur and the European Union. We are calling on the Brazilian Parliament to promote a broad debate with society about the impacts that the agreement may have on the peoples, the men and women workers and the territories of the country.
Although the Mercosur-EU Agreement is based on three pillars, we see that, based on the knowledge of other agreements signed with the European bloc around the world, the commercial and economic pillar takes precedence and the elements of protection of human and environmental rights remain in the background. We believe that the opening of trade, under the terms of this Agreement, will bring significant socioeconomic, labor, land, territorial, environmental and climatic impacts to Brazil, and the other Mercosur countries, with the main beneficiaries being transnational companies, whose interests are the importation of cheap raw materials, the privatization of services and the expansion of markets for their industrialized products.
By exchanging agricultural and mineral commodities for industrialized products with higher added value, the Agreement encourages the deepening of deindustrialization, the reprimarization of the economy, the exportation of capital and tax evasion in the Mercosur countries. The opening of the industrial sector to the countries of the European bloc will increase the import of products similar to those already made in Brazil, generating a negative impact for the sector and more unemployment. Furthermore, it will reinforce perverse competitiveness, in which the gains that agribusiness may have, will imply environmental destruction and losses for the industrial sector and for workers' rights and income, in addition to concentrating production in sectors that are intensive in energy and water.
In the service sector, in addition to turning into merchandise the right to access to essential services such as water, energy, sanitation, health and education, there is also an incentive to privatization. There are many examples of social tragedies in several Brazilian cities and states where essential services have been privatized, as in the case of water and sanitation in Manaus and the scandalous chaos that the population of the State of Amapá experienced due to the recent electricity crisis, due to lack of investment of a private company in order to guarantee more profits.
With the agreement, there is a risk of continuing to exclude an increasing portion of the population that will not be able to pay for essential services, generating family indebtedness and worsening living conditions, especially for the black, poor and peripheral population in cities and countryside, with women, the elderly and children always the most affected. The liberalization of financial services contributes to financial deregulation, which led to the previous crisis in 2008. In the context of the economic and social crisis brought about by the Covid-19 pandemic and the freezing of public spending due to the "Spending Ceiling Act" [1], this process is even more worrying.
From the point of view of the environment and the climate, the agreement contributes to the devastation of all Brazilian biomes: Amazonia, Pantanal, Cerrado, Caatinga, Atlantic Forest and Pampas, along with the semiarid region. The end of export rates for various agricultural and mineral commodities such as iron ore, and the increase in quotas for meat, ethanol and sugar, for example, will generate expansion of production and of the logistical corridors for iron ore, livestock and the soy and sugarcane complex.
The advance of agribusiness violates the ways of life of indigenous peoples and other traditional populations and their territorial rights. In this sense, it reinforces the main vectors of deforestation and fires [2] that have impaired the climate commitments taken by Brazil in the Paris Agreement and the Aichi Goals on biodiversity protection.
The chapter on trade and sustainable development does not provide enforcing mechanisms. The mention in this chapter of the mandatory implementation of the Paris Agreement is insufficient, given the non-application of dispute solutions in this chapter, the fragility of the climate agreement itself in relation to its binding measures and false solutions such as the carbon market. In addition, environmental and climate issues do not come as essential elements of this political Agreement. For this reason, the allusions to these issues sound like rhetoric, trying to camouflage, through some environmental concern, the Agreement's real objectives: to increase the business of large companies that export goods, services and capital.
The Agreement encourages the expansion of the agricultural biotechnological model based on the extensive use of pesticides. These products directly affect the health of rural workers, the population of the countryside and the city, both in Mercosur and in the EU. The case of Brazil is emblematic, where never before have so many pesticides and active ingredients been approved as in the last three years. Many of these are banned in Europe. This raises questions about the absence of the Precautionary Principle in the Mercosur-EU agreement in the chapter on sanitary and phytosanitary measures, leaving open the question whether European companies will continue with their double standards of action in countries in the South where the population is treated as second-class citizens, while European people have their consumer rights violated by lower standards of control.
In the area of ​​government procurement, the agreement stipulates that small and medium-sized local companies must compete on an equal footing with European multinationals, as if treating unequals equally were fair. It would set a precedent by which local state and municipal suppliers would face unfair competition, restricting the possibility of promoting local employment as a public policy in a country such as Brazil that recently rejoined the list of countries making up the hunger map. It may also affect negatively fundamental policies for family-based and peasant agriculture such as the Food Acquisition Program (PAA) and the National School Feeding Program (PNAE), with a profound impact on women, since most of the suppliers of these programs are female farmers.
It is a reason for worry that the agreement was negotiated by the Mercosur governments without any transparency mechanism: no impact studies were presented, and no dialogue was sought with the affected sectors or with the academy. In Europe, there are deep questions about the impact studies carried out, normally based on premises favorable to the approval of the Agreement, without analyzing the comprehensive impacts of all chapters on health, ecosystems, the world of work, human and territorial rights, women, family farmers and peasants, violating the ways of life and the socio-cultural dimension of indigenous and other traditional peoples and communities of the countryside-city-forest.
The expected results of this Agreement are so little promising, that in Europe there is a growing questioning by governments, parliaments and organized civil society about its approval. In the Mercosur countries, however, government support for the agreement is tacitly expressed and shows the lack of search for real economic integration alternatives. In Brazil, in particular, the government of Jair Bolsonaro tries to close the deal to obtain a victory in the field of foreign policy and to re-accommodate the interests of business sectors that are not committed to the good of country. The report "Sustainable Impact Assessment" (AIS) [3] published by the European Commission shows worrying results by estimating that the agreement will increase the EU's GDP by 0.1% in ten years, while decreasing Mercosur countries' GDP by 0.1%.
At a time when the crisis and recession are already installed in Mercosur countries, while facing the challenges imposed by the Covid-19 pandemic, the approval of such an asymmetric agreement, which reproduces the colonial logic of eternal suppliers of raw materials and importers of industrialized goods, would be a real disaster. We reject that Brazil signs this agreement, which will bring enormous negative socioenvironmental consequences, while representing a setback on the economic and production levels.
December 9, 2020
Plenary session of the Brazilian Front against the Mercosur-European Union and EFTA Agreement
1. ALTERNATIVAS PARA A PEQUENA AGRICULTURA NO TOCANTINS (APA TO)
2. AMIGOS DA TERRA BRASIL
3. ARTICULAÇÃO DE MULHERES BRASILEIRAS (AMB)
4. ARTICULAÇÃO DOS POVOS INDÍGENAS DO BRASIL (APIB)
5. ARTICULAÇÃO NACIONAL DE AGROECOLOGIA (ANA)
6. ARTICULAÇÃO PACARI RAIZEIRAS DO CERRADO (PACARI SE)
7. ARTICULAÇÃO ROSALINO DE POVOS E COMUNIDADES TRADICIONAIS (AR)
8. ASSOCIAÇÃO AGROECOLÓGICA TIJUPÁ
9. ASSOCIAÇÃO ALTERNATIVA TERRA AZUL (TERRAZUL)
10. ASSOCIAÇÃO BRASILEIRA DE ECONOMISTAS PELA DEMOCRACIA (ABED)
11. ASSOCIAÇÃO BRASILEIRA DE ONGS NÃO GOVERNAMENTAIS (ABONG)
12. ASSOCIAÇÃO DE ADVOGADOS (AS) DE TRABALHADORES(AS) RURAIS DA BAHIA (AATR-BA)
13. ASSOCIAÇAO DE FAVELAS DE SAO JOSÉ DOS CAMPOS (AFSJC)
14. ASSOCIAÇÃO DOS GEÓGRAFOS BRASILEIROS (AGB)
15. ASSOCIAÇÃO XARAIÉS (XARAIÉS)
16. ATIVISMO URBANO. (A.U)
17. BRIGADAS POPULARES (BPS)
18. CAMPANHA ANTIPETROLEIRA NEM UM POÇO A MAIS!
19. CAMPANHA NACIONAL EM DEFESA DO CERRADO
20. CAMPANHA PERMANENTE CONTRA OS AGROTÓXICOS E PELA VIDA
21. CASA 8 DE MARÇO - ORGANIZAÇÃO FEMINISTA DO TOCANTINS (ENCAMTO)
22. CENTRO DE AGRICULTURA ALTERNATIVA DO NORTE DE MINAS (CAA/NM)
23. CENTRO DE APOIO E PROMOÇÃO DA AGROECOLOGIA (CAPA)
24. CENTRO DE ASSESSORIA E APOIO A INICIATIVAS SOCIAIS (CAIS)
25. CENTRO DE DIREITOS HUMANOS E EMPRESAS (HOMA)
26. CENTRO DE TECNOLOGIAS ALTERNATIVAS DA ZONA DA MATA (CTA-ZM)
27. CENTRO DE TRABALHO INDIGENISTA (CTI)
28. COLETIVO MARIA FIRMINA DE SANTO AMARO (CMF – SANTO AMARO)
29. COMISSÃO PASTORAL DA TERRA (CPT)
30. COMISSÃO PRÓ-ÍNDIO DE SÃO PAULO (CPI-SP)
31. COMISSÕES PASTORAIS DA CONFEDERAÇÃO NACIONAL DOS BISPOS DO BRASIL
32. COMITÊ BELGO BRASILEIRO (CBB)
33. COMITÊ DE ENERGIA RENOVÁVEL DO SEMIÁRIDO (CERSA)
34. CONFEDERAÇÃO DOS TRABALHADORES NO SERVIÇO PÚBLICO MUNICIPAL - CUT (CONFETAM/CUT)
35. CONFEDERAÇÃO NACIONAL DOS TRABALHADORES E TRABALHADORAS NA AGRICULTURA FAMILIAR DO BRASIL (CONTRAF BRASIL)
36. CONFEDERAÇÃO NACIONAL DOS TRABALHADORES EM ESTABELECIMENTOS DE ENSINO (CONTEE)
37. CONSELHO DE MISSÃO ENTRE POVOS INDÍGENAS (CIMIN)
38. CONSELHO INDIGENISTA MISSIONÁRIO (CIMI)
39. CONSELHO NACIONAL DE IGREJAS CRISTÃS DO BRASIL (CONIC)
40. CONSELHO PASTORAL DOS PESCADORES (CPP)
41. COORDENAÇÃO NACIONAL DE ARTICULAÇÃO DAS COMUNIDADES NEGRAS RURAIS QUILOMBOLAS (CONAQ)
42. COORDENADORIA ECUMÊNICA DE SERVIÇO (CESE)
43. DEFENSORES DO PLANETA
44. FEDERAÇÃO DE ORGÃOS PARA ASSISTÊNCIA SOCIAL E EDUCACIONAL (FASE)
45. FEDERAÇÃO DOS SINDICATOS SERVIDORES PÚBLICOS NO ESTADO DE SÃO PAULO (FESSP-ESP)
46. FEDERAÇÃO DOS TRABALHADORES NA ADMINISTRAÇÃO PÚBLICA MUNICIPAL DO RIO GRANDE DO NORTE (FETAM/RN)
47. FEDERAÇÃO NACIONAL DO FISCO ESTADUAL E DISTRITAL (FENAFISCO)
48. FEDERAÇÃO NACIONAL DOS PSICÓLOGOS (FENAPSI)
49. FEDERAÇÃO NACIONAL DOS URBANITÁRIOS (FNU)
50. FÓRUM DA AMAZÔNIA ORIENTAL (FAOR)
51. FÓRUM DAS ONGS AIDS DO ESTADO DE SÃO PAULO (FOAESP)
52. FÓRUM DAS ONGS AIDS DO ESTADO DE SÃO PAULO (FOAESP)
53. FÓRUM ECUMÊNICO ACT BRASIL (FE ACT BRASIL)
54. FÓRUM MATO-GROSSENSE DE MEIO AMBIENTE E DESENVOLVIMENTO (FORMAD)
55. FÓRUM MUDANÇAS CLIMÁTICAS E JUSTIÇA SOCIOAMBIENTAL (FMCJS)
56. FÓRUM NACIONAL DA SOCIEDADE CIVIL EM COMITÊS DE BACIAS HIDROGRÁFICAS (FONASC.CBH)
57. FUNDAÇÃO LUTERANA DE DIACONIA (FLD)
58. GESTOS - SOROPOSITIVIDADE, COMUNICAÇÃO, GÊNERO
59. GRAIN
60. GRUPO CARTA DE BELÉM (GCB)
61. GRUPO DE ESTUDOS EM EDUCAÇÃO E MEIO AMBIENTE (GEEMA)
62. GRUPO DE TRABALHO SOBRE PROPRIEDADE INTELECTUAL (GTPI)
63. GRUPO SEMENTE SEMEANDO PARA O DESENVOLVIMENTO SOCIOAMBIENTAL (GRUPO SEMENTE)
64. GT BIODIVERSIDADE DA ARTICULAÇÃO NACIONAL DE AGROECOLOGIA (GTBIO)
65. INICIATIVA DIREITO À MEMÓRIA E JUSTIÇA RACIAL (IDMJR/RJ)
66. INSTITUTO AMAZÔNICO DE PLANEJAMENTO, GESTÃO URBANA E AMBIENTAL (IAGUA)
67. INSTITUTO BRASILEIRO DE ANÁLISES SOCIAIS E ECONÔMICAS (IBASE)
68. INSTITUTO CARACOL (ICARACOL)
69. INSTITUTO EQUIT- GÊNERO, ECONOMIA E CIDADANIA GLOBAL (INSTITUTO EQUIT)
70. INSTITUTO MAIS DEMOCRACIA
71. INSTITUTO POLÍTICAS ALTERNATIVAS PARA O CONE SUL (PACS)
72. INSTITUTO REGIONAL DA PEQUENA AGRICULTURA APROPRIADA (IRPAA)
73. INSTITUTOS DE ESTUDOS SOCIOECONÔMICOS (INESC)
74. INTERNACIONAL DOS SERVIÇOS PÚBLICOS (ISP)
75. INTERNATIONAL ACCOUNTABILITY PROJECT (IAP)
76. INTERNATIONAL RIVERS BRASIL
77. JUSTIÇA NOS TRILHOS
78. KOINONIA PRESENÇA ECUMÊNICA E SERVIÇO (KOINONIA)
79. MARCHA MUNDIAL DAS MULHERES (MMM)
80. MARCHA MUNDIAL DO CLIMA
81. MARCHA MUNDIAL POR JUSTIÇA CLIMÁTICA
82. MOVIMENTO DE MULHERES CAMPONESAS (MMC)
83. MOVIMENTO DE MULHERES NEGRAS DA FLORESTA - DANDARA (MMNFDANDARA)
84. MOVIMENTO DE TRABALHADORES SEM TETO (MTST)
85. MOVIMENTO DOS ATINGIDOS POR BARRAGENS (MAB)
86. MOVIMENTO DOS CONSELHOS POPULARES (MCP)
87. MOVIMENTO DOS PEQUENOS AGRICULTORES (MPA)
88. MOVIMENTO DOS PESCADORES E PESCADORAS ARTESANAIS (MPP)
89. MOVIMENTO DOS TRABALHADORES RURAIS SEM TERRA (MST)
90. MOVIMENTO NACIONAL CONTRA CORRUPÇÃO E PELA DEMOCRACIA (MNCCD)
91. MOVIMENTO PELA SOBERANIA POPULAR NA MINERAÇÃO (MAM)
92. OBSERVATÓRIO NACIONAL DOS DIREITOS A ÁGUA E AO SANEAMENTO (ONDAS)
93. OPERAÇÃO AMAZÔNICA NATIVA (OPAN)
94. ORGANIZAÇÃO PELO DIREITO HUMANO À ALIMENTAÇÃO E À NUTRIÇÃO ADEQUADAS (FIAN BRASIL)
95. PASTORAL OPERÁRIA NACIONAL
96. PROCESSO DE ARTICULACÃO E DIÁLOGO (PAD)
97. RED DE GENERO Y COMERCIO (RGYC)
98. REDE BRASILEIRA DE EDUCAÇÃO AMBIENTAL (REBEA)
99. REDE BRASILEIRA PARA INTEGRAÇÃO DOS POVOS (REBRIP)
100. REDE ECONOMIA E FEMINISMO (REF)
101. REDE EMANCIPA MOVIMENTO SOCIAL DE EDUCAÇÃO POPULAR (REDE EMANCIPA)
102. REDE JUBILEU SUL
103. REDE SOCIAL DE JUSTIÇA E DIREITOS HUMANOS (REDE SOCIAL)
104. SEMPREVIVA ORGANIZAÇÃO FEMINISTA (SOF)
105. SERVIÇO FRANCISCANO DE SOLIDARIEDADE (SEFRAS)
106. SERVIÇO PASTORAL DOS MIGRANTRES (SPM)
107. SINDICATO DAS PSICÓLOGAS E DOS PSICÓLOGOS NO ESTADO DE SÃO PAULO (SINPSI-SP)
108. SINDICATO DE SAUDE DE GUARULHOS E REGIÃO (SINDSAÚDE GUARULHOS E REGIÃO)
109. SINDICATO DOS AGENTES FISCAIS DE RENDAS DO ESTADO DE SÃO PAULO (SINAFRESP)
110. SINDICATO DOS EMPREGADOS DOS ESTABELECIMENTOS DE SERVIÇOS DE SAÚDE DE CURITIBA (SINDESC)
111. SINDICATO DOS ENFERMEIROS DO RIO GRANDE DO SUL (SERGS)
112. SINDICATO DOS ENFERNMEIROS DO ESTADO DE SÃO PAULO (SEESP)
113. SINDICATO DOS METALÚGICOS DO ABC (SMABC)
114. SINDICATO DOS TRABALHADORES EM SAÚDE NO ESTADO DO PARÁ (SINDSAÚDE/PA)
115. SINDICATO DOS TRABALHADORES NAS INDÚSTRIAS DA PURIFICAÇÃO E DISTRIBUIÇÃO DE ÁGUA E EM SERVIÇOS DE ESGOTO DO ESTADO DO RIO GRANDE DO SUL (SINDIÁGUA/RS)
116. SINDICATO DOS TRABALHADORES PÚBLICOS DA SAÚDE NO ESTADO DE SÃO PAULO (SINDSAÚDE-SP)
117. SOS CORPO INSTITUTO FEMINISTA PARA A DEMOCRACIA (SOS CORPO)
118. TERRA DE DIREITOS
119. UNIVERSIDADE ESTADUAL PAULISTA "JÚLIO DE MESQUITA FILHO" (UNESP)
120. VIA CAMPESINA BRASIL
Footnotes:
[1] Referring to PEC 55/2016, a Constitutional Amendment approved in 2016 which froze public spending for 20 years.
[2] Data by PRODES-INPE, a satellite monitoring system for deforestation in the Amazon, released in early December 2020, show a 9.5% increase in forest destruction between August 2019 and July 2020.
[3] Produced by the London School of Economics (LSE) and published in July 2020. See: https://www.lse.ac.uk/business and-consultancy/consulting/news/website-launch-sia-eu-mercosur
---