German activists take EU-Canada trade deal to Constitutional Court
All the versions of this article: [English] [français]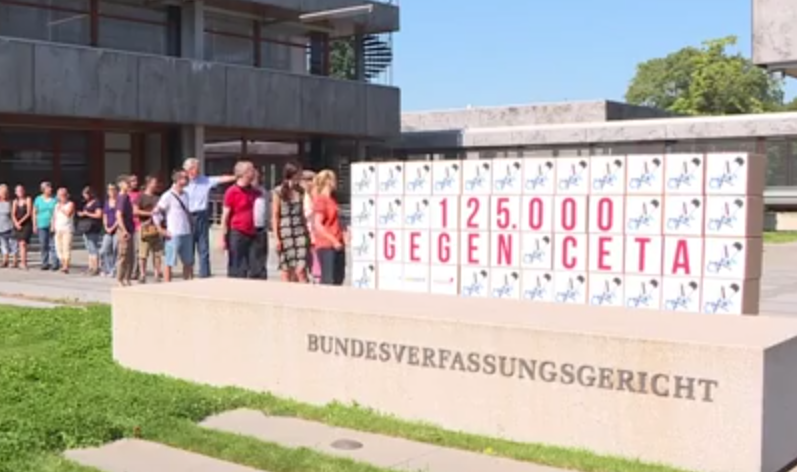 Reuters | 31 August 2016
German activists take EU-Canada trade deal to Constitutional Court
Activists delivered what they said was Germany's biggest-ever public complaint to the Constitutional Court on Wednesday, hoping it will scupper a trade agreement between the European Union and Canada.
The deal, which some see as a template for an EU-U.S. agreement still being negotiated, is the EU's most ambitious trade pact to date and could increase trade between the two areas by some 20 percent.
It would eliminate tariffs on 98 percent of goods immediately. It also would encompass regulatory cooperation, shipping, sustainable development and access to government tenders. But its ratification faces obstacles.
Although proponents say it could add some 11.6 billion euros a year to the EU economy, many EU voters are skeptical about the benefits and fear it would give multinational corporations greater access to European markets without creating jobs.
The three German groups - Campact, foodwatch and More Democracy - arrived at the Karlsruhe court with a lorry containing 70 boxes of documents with 125,000 signatures.
They argue the Comprehensive Economic and Trade Agreement (CETA) breaches Germany's constitution and want the court in Karlsruhe to stop the implementation of the deal before (official) ratification by EU states.
The European Commission hopes that the governments of the EU states can approve it before a planned EU-Canada summit at the end of October. The European Parliament would also need to vote to allow it to enter force provisionally next year.
But national, and some regional, parliaments would still need to ratify it. A trade agreement with Korea took effect provisionally in 2011 but was not fully ratified until four years later.
The German groups insist this process undermines democracy because citizens would be excluded from the decision-making.
"The temporary implementation of CETA is immensely dangerous because it creates a reality," said the groups.
"Democratically non-legitimate committees and investor- friendly mediation courts would start work ... all without the agreement of the lower house of parliament," they added.
They also argue that the agreement would make it more difficult to improve environmental or health protection.
Economy Minister Sigmar Gabriel, leader of the Social Democrats (SPD), who share power with Chancellor Angela Merkel's conservatives, has said the EU-U.S. trade deal has effectively failed, but he backs CETA.
France also has doubts about the future of a U.S. agreement, although it supports CETA, which includes an EU proposal on the contentious issue of settling investor-state disputes.
Gabriel's Social Democrats vote on the EU-Canada deal on Sept. 19. If they reject the agreement, it might be difficult for Gabriel, who is expected to run against Merkel in next year's election, to support it at a meeting of trade ministers in Bratislava four days later.
Merkel supports continuing the TTIP talks.
(Additional reporting by Gernot Heller and Philip Blenkinsop in Brussels; Writing by Madeline Chambers; Editing by Larry King)
---