Jordan QIZ workers face "undignified" conditions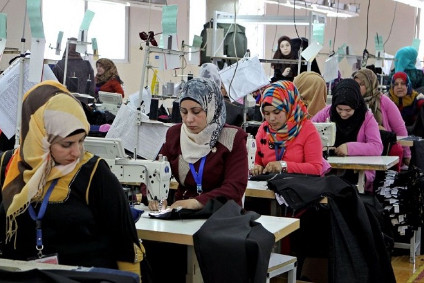 Just Style | 3 Aug2016
Jordan QIZ workers face "undignified" conditions
A human rights organisation has condemned what it describes as "undignified" conditions faced by workers in Jordan's Qualified Industrial Zones (QIZ), as well as violations at some textile factories outside these zones.
Tamkeen Fields for Aid says it has received "hundreds of complaints" from migrant workers in several small, medium and large factories whose passports have been withheld, and who are forced to work long hours without overtime.
"The workers were operating in the month of Ramadan from 7am till 23:00 and were given 45 minutes break at the time of Iftar," the group says.
In addition, some employers refused to renew work and residency permits for workers, most of whom are from south Asian countries such as Bangladesh and India, "which exposes [them] to irregular situation."
It was also noted that most workers do not have copies of their contracts apart from those they signed prior to travelling to Jordan, despite the fact that the contracts are changed upon arriving in the country.
Violations also include verbal or physical abuse, while worker accommodation is overcrowded and lacks minimum public health and safety requirements.
Jordan's US$1.34bn garment sector has been working to improve labour conditions through Better Work Jordan, an initiative that is part of the Better Work global programme, working with the International Labour Organization (ILO) and the International Finance Corporation (IFC), of the World Bank. It has so far worked with 65 Jordanian factories, including clothing manufacturers.
But Tamkeen Fields for Aid says that despite international conventions and standards that are ratified by Jordan to maintain workers' rights, its investigation confirms that poor working conditions still exist.
The centre is calling on authorities to increase efforts to protect workers in the Qualified Industrial Zones, and to increase inspection campaigns, as well to punish perpetrators.
Around 90% of Jordan's exports are to the United States, driven by a US-Jordan free trade agreement (FTA) that came into force in 2001 and allows Jordanian-made garments to enter North America — including Canada as of 2012 — duty free.
---