Kang: Will fight Korea-US FTA to the end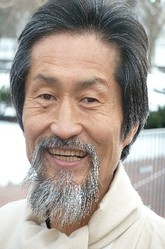 Wall St Journal | November 10, 2011
Kang: Will fight Korea-US FTA to the end
By Evan Ramstad
Kang Ki-kab has been in South Korea's National Assembly for seven years. And he estimates he has spent more than half of his time and energy fighting South Korea's effort to create a free trade agreement with the United States.
With a ratification vote edging closer for members of parliament, his battle is drawing to a climax and Mr. Kang says he won't give up trying to stop the treaty from taking effect.
Mr. Kang, a farmer from Sacheon, South Gyeongsang province, is one of the most recognizable members of the 299-seat parliament. He almost always wears a traditional hanbok, stands on the front line of every protest that his Democratic Labor Party supports and is willing to resort to shoving, fisticuffs and other minor violence to make his point. He has staged weeks-long hunger strikes and chained himself to the door of the main assembly chamber.
Now, the DLP and other opposition parties (including the biggest, Democratic Party) continue to resist any type of compromise with the ruling Grand National Party over the Korea-U.S. FTA. On Thursday, for the second week in a row, the ruling party canceled a plenary session. The next plenary is set for Nov. 24, which gives the parties two more weeks to argue over the FTA.
The U.S. Congress ratified it last month, more than four years after trade negotiators from the two countries struck the deal.
In an interview in his office, Mr. Kang made clear that he remains steadfastly opposed to the free trade agreement, as he is to almost any type of trade liberalization, such as WTO treaties, that might create change or hardship for Korea's farmers.
And he's ready to fight. Last week, Korean newspaper photographers snapped pictures of Mr. Kang trying to cover up closed-circuit TV cameras to prevent a recording of a potential ruckus when the assembly's foreign affairs committee attempted to discuss the pact.
In one instance, Mr. Kang describes the roots of his political beliefs in idealistic terms.
"True happiness can be found in mutual help, mutual assistance among people instead of competing. True happiness can come only when we extend the helping hand to the less fortunate," he said. "That's why I resist the FTAs and WTO and I believe that blocking them brings happiness to the entire human community."
In another instance, Mr. Kang says he believes the intentions of the U.S. border on malevolent.
"Monopolistic capitalists and multinational corporations are damaging our environment and causing climate change only for the benefit of their profits," he said. "They forcibly lower the subsistence rates of developing countries by unscrupulously making their agriculture industries uncompetitive. At the forefront of these monopolistic capitalists is the United States."
Mr. Kang said that he opposes all free trade pacts but he believes South Korea's deal with the U.S. was unfair from the start because Washington asked Seoul to make big changes in rules or barriers on beef, movies, pharmaceuticals and automobiles.
He said he could live with a trade agreement that reduced "merchandise tariffs" but excluded agriculture and products that involve the environment and culture. And he underscored what has emerged as the main objection of Korea's opposition parties in recent weeks: that using an international panel to settle investor disputes in the future is disadvantageous to Korea. Supporters of the pact note that this is a standard method for resolving disputes in most trade agreements.
"I believe the Korea-U.S. FTA is a clear infringement on Korea's sovereignty," he said. "Foreign investors will, I would say, rule the country. We might have a future where we might have to bow our heads to foreign investors who are only focusing on the return on their investment."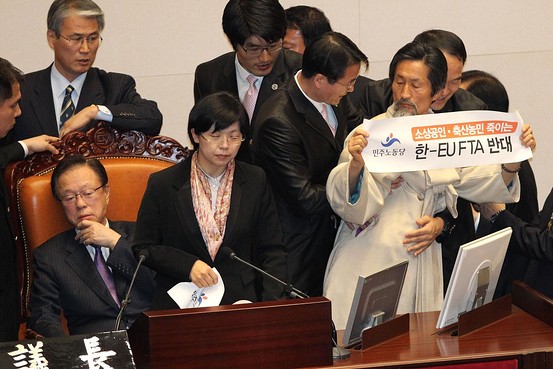 And what about the prospect of fistfights, shoving and other violence?
Mr. Kang says he doesn't like violence and blames the ruling GNP as much as himself when it happens.
"The Grand National Party doesn't examine the voices of the few. They just try to railroad the legislation they believe is right," he said. "We have no other options but to wield our physical power."
He added, "I have a strong conviction that politicians are supposed to work for the majority of the working people. Even though I know that I will be attacked and criticized about my behavior, even though I feel the pain, I oftentimes have to get involved with physical scuffles."
---