Korea-China free trade deal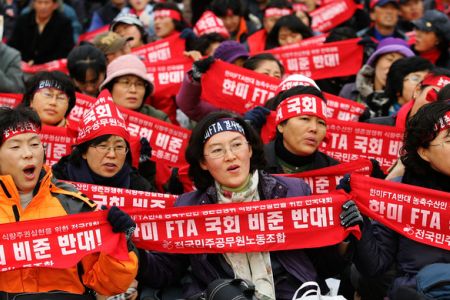 Korea Times 2012-05-03
Korea-China free trade deal
Active, careful preparations needed
On Thursday, a group of farmers, fishermen and livestock raisers staged performances in front of the Ministry of Foreign Affairs and Trade building in central Seoul, condemning the official start of free trade negotiations between Korea and China.
Their protests may be a bad omen for the country, which has already experienced serious national division owing to the Korea-U.S. free trade agreement (FTA). Trade experts say the Korea-China FTA will bring a far-reaching impact on Korea that deals with the United States and the European Union. If signed, Korea would be the only Asian country to have free trade deals with the world's three largest economic blocs.
Hopes and concerns co-exist on the proposed deal. Proponents stress its inevitability, citing the need for Korea's sustainable growth and development. More than anything else, they claim, the pact is urgently needed to make faster forays into the world's second-largest market than rivals such as Taiwan that signed a landmark pact with China in 2010.
The FTA would prompt Korean companies to gain wider market access to China thanks to lowered tariffs. Given China's clout in the Korean economy, the pact will serve as a valuable occasion for Korea to leap forward. China is Korea's largest trading partner with exports to the world's most populous country accounting for one quarter of its total shipments. China accounts for 17 percent of Korea's total imports.
According to the state-funded Korea Institute for International Economic Policy (KIEP), the Korea-China FTA would result in Korea's gross domestic product rising by 2.3 to 3 percent in 10 years and could generate employment for 240,000 to 330,000 people.
The FTA would also present Korea with tough challenges. The agricultural sector is expected to be most vulnerable as cheap farm, fisheries and livestock products would flood the domestic market. In contrast, China is sensitive to such manufacturing industries as automobiles, machinery and chemicals. The state-funded Korea Rural Economics Institute (KREI) forecasts that if the bilateral trade deal takes effect, agricultural imports from China would soar by $10.8 billion and agricultural output would dip by 14.7 percent.
Unlike previous FTAs with the United States and the European Union, negotiations with China will proceed in two stages. First would be the sensitive agricultural sector and then other segments such as merchandise, services and investment.
A Korea-China FTA would have profound political implications in that it could develop into a trilateral free trade deal involving Japan. At the same time, it might enable Korea to secure more political leeway between the United States and China.
At any rate, there is a long way to go before the pact is signed. Our trade authorities will need to make active and careful preparations for the first meeting to be held this month. Of course, they have to make a bold decision to halt the talks if serious problems arise in the negotiations.
---