Korea, US to hold 2nd round of FTA renegotiation talks next week
All the versions of this article: [English] [français]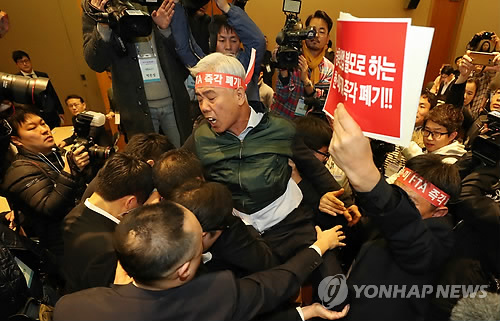 Yonhap | 26 January 2018
Korea, US to hold 2nd round of FTA renegotiation talks next week
South Korea and the United States plan to hold the second round of talks to amend their free trade pact in Seoul next week, Seoul's trade ministry said Friday, amid mounting U.S. trade pressure.
The two-day talks — set to begin Wednesday — come days after U.S. President Donald Trump again denounced the free trade deal as "a disaster" for the U.S., claiming the deal cost 200,000 American jobs.
Trump signed a set of safeguard measures earlier this week against imported large residential washing machines and solar cells, including those from South Korea.
Seoul and Washington held their first round of renegotiation talks in Washington earlier this month to revise the 5-year-old deal, but the two sides failed to narrow differences on key issues, such as automotive parts.
Kim Hyun-chong, Seoul's trade minister, said earlier he expects growing pressure from the U.S. in the upcoming negotiations, but stressed that Seoul will seek to revise the investor-state dispute settlement (ISDS) clause and explore ways to protect the agriculture industry, which has suffered since the implementation of the FTA.
With the ISDS provision, investors can sue countries for alleged discriminatory practices through international arbitration bodies. Local experts have expressed concerns that large multinational companies could exploit the clause, leading to the infringement of South Korea's judicial sovereignty.
Seoul officials also anticipate increased pressure on the auto industry, which accounts for a large part of the trade surplus with the U.S. About 80 percent of South Korea's trade surplus came from the auto sector in 2016.
Industry officials said the percentage of U.S. auto parts used by South Korean carmakers could become an important issue. This is also a thorny issue for the U.S. in ongoing North American Free Trade Agreement negotiations with Canada and Mexico.
While the FTA has boosted auto trade between the two nations, South Korean companies have enjoyed greater benefits thanks to the bigger size of the U.S. auto market, which is about 10 times that of the domestic market.
South Korea's auto exports to the U.S. jumped 80 percent from 2011 to $18.49 billion in 2015, while its imports of American-made cars soared 380 percent from 2011 to $1.68 billion in 2015, according to government data.
---