Minister assesses trade motives of China, US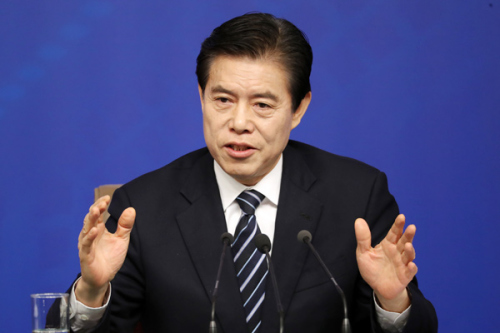 China Daily | 12 March 2018
Minister assesses trade motives of China, US
China has no intention to start a trade war with the United States and will not initiate one, but the country can cope with any challenge and will defend its national interests, China's top commerce official said on Sunday.
Trade wars can result in no winners, but only disasters for the two countries and the rest of the world, Minister of Commerce Zhong Shan said at a news conference during the ongoing 13th National People's Congress.
On Thursday, the US government imposed a 25 percent tariff on steel imports and 10 percent on aluminum from countries including China, Brazil and Australia, with initial exemptions for Canada and Mexico.
Zhong, citing research by a joint work group comparing the two countries' trade figures, said the use of different statistical methods widens the US trade deficit with China by around 20 percent.
China's trade surplus with the US rose 13 percent year-on-year to 1.87 trillion yuan ($295.49 billion) in 2017, according to the ministry.
"The trade imbalance between the two countries is also structural," he said. "China has a surplus in commodity trading with the US, while the US has a surplus in service trade. The trade competition is essentially a competition between those industries."
The US dominance of high-tech exports to China also contributes to the bilateral trade imbalance, he said. A US study found that if US restrictions on exports to China were relaxed, the trade deficit with China could be reduced by 35 percent.
The two countries have different demands in opening up markets in the financial, telecommunications, automobile, agricultural and some other sectors because of different national conditions, Zhong said.
Different views on internet security and intellectual property rights also affect bilateral trade and investment, he added.
"The restart of the US-China Bilateral Investment Treaty would be a good start to push a bilateral economic agenda, effectively reducing investment restrictions-including equity caps and partnership requirements-and assist trade activities," said Wang Zhile, a senior researcher at the Chinese Academy of International Trade and Economic Cooperation in Beijing.
Wang said a closer bilateral economic relationship will contribute substantially to advancing global and regional economic integration.
To attract more direct investment, Commerce Minister Zhong said China will further expand market access for foreign investment and treat foreign companies the same as domestic ones to create an even more open business environment.
He said the ministry will figure out more measures to enhance incoming foreign direct investment, including granting the pre-established national treatment for foreign companies and implementing a negative list management system.
The country will continue to open its door to the world by opening up its financial sector, fully opening the general manufacturing sector and welcoming investment in fields such as healthcare, education, eldercare, telecommunication and new energy vehicles, the minister said.
"We will also push for legislative progress on the management of foreign investment," Zhong said. "Foreign companies still see China as a priority investment destination."
---