Moon sees Korea-US FTA as unfair deal: Cheong Wa Dae
All the versions of this article: [English] [français]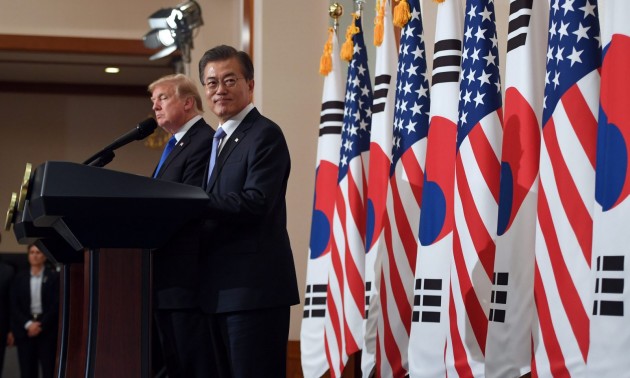 Yonhap | 19 February 2018
Moon sees Korea-US FTA as unfair deal: Cheong Wa Dae
South Korean President Moon Jae-in sees the bilateral free trade agreement (FTA) between his country and the United States as an unfair deal, a ranking official from the presidential office Cheong Wa Dae said Monday, hinting at possible South Korean efforts to revise the trade pact.
The remarks came shortly after the president told his top aides to consider filing a formal complaint with the World Trade Organization (WTO) against what he called unfair U.S. trade protectionist measures.
"I want you to confidently and resolutely deal with unfair trade protectionist measures by considering filing a formal complaint with the WTO and reviewing possible violation of the Korea-U.S. free trade agreement, and also actively point out the unfairness of such measures in negotiations to revise the Korea-U.S. FTA," Moon said in a weekly meeting with top aides held earlier in the day.
"The president believes the Korea-U.S. FTA is unfair largely in that the FTA precedes all other laws in South Korea, but in the U.S., federal law comes before the FTA," the Cheong Wa Dae official told reporters while speaking on condition of anonymity.
"It is an old belief (Moon) has had," the official added.
Moon's remarks came after the U.S. slapped a punitive import tariff of up to 50 percent on large washing machines from South Korea, one of its key allies, while also moving to take similar measures against South Korean steel.
The Cheong Wa Dae official was apparently implying South Korea would not be able to take such measures under the Korea-U.S. FTA.
"President Moon seeks to separate the trade issue from other issues concerning the alliance," the official said.
The allies are already in negotiations to revise their FTA, a move initiated by Washington.
The Cheong Wa Dae official's remarks apparently hinted at possible efforts to change the FTA so it may carry equal weight in both countries.
---