More than 400 NGOs sign petition against FTA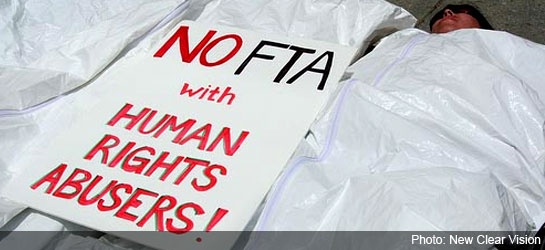 Colombia Reports | Thursday, 23 June 2011
More than 400 NGOs sign petition against FTA
Stephen Manker
431 NGOs from Colombia and the U.S. signed a petition against the pending Free Trade Agreement (FTA), reported Caracol Radio Thursday.
The coalition of NGOs argued that the FTA would have a negative impact on small entrepreneurs, farmers, and other members of Colombia's private sector.
"Despite the changes promised on paper, Colombia remains one of the most dangerous countries for trade unionists, 51 of them were killed in 2010," read the petition. Small and medium agricultural enterpises would be devastated "by the implementation of an FTA, forcing the Colombian agricultural products to compete without protection of the subsidized goods that come from the U.S."
Figures presented by economic research organization Oxfam show that "almost 400,000 farmers would lose between 48 and 70 percent of their income, and they're already working below minimum wage."
The president of U.S. Steelworkers Union (USW) explained in the letter that FTAs with South Korea, Panama, and Colombia would "undermine our economic recovery, further decimate American manufacturing and jobs, and deepen the economic insecurity." In regards to the trade relationship between the U.S. and Colombia, the president said the FTA "puts in jeopardy America's moral leadership by sacrificing the lives and livelihoods, the worker and human rights of the Colombian people at the altar of free trade."
He added that, "international trade and the consequences of accelerated globalization are matters of long-standing and deep concern to the USW, as an overwhelming portion of our members work in import-sensitive manufacturing sectors and all too often have lost their jobs due to bad trade deals and unfair and predatory trade practices."
NGO representatives also expressed skepticism about the Labor Action Plan, which was signed by the U.S. and Colombian governments in April to protect labor unionists and promote labor rights programs.
"The Action Plan makes a call for the protection of trade unionists without mandating that there is a reduction of violence between them."
Because the Action Plan is not legally linked to the FTA, unions also question whether Colombia will respect the plan after the FTA agreement is signed.
---