NZers raise concerns over free trade with China at global rights event
Epoch Times | Dec 30, 2007
NZers Raise Concerns Over Free Trade With China at Global Rights Event
By Sarah Matheson
Epoch Times Staff in Christchurch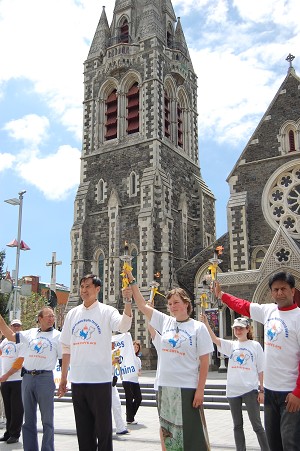 Christchurch supporters of the Human Rights Torch Relay are asking how New Zealand can consider a Free Trade Agreement (FTA) with China — a regime facing allegations of large-scale genocide and organ harvesting.
Members of the Green Party and Amnesty International supported the event.
Helen Tiller, from Amnesty International, questioned the New Zealand Government's involvement with the Chinese regime, when so many groups of people were being persecuted.
"Human rights in China are just appalling," she said.
She said over 10,000 people are executed every year in China. There are mobile execution buses, journalists are detained and there is no freedom of the press.
Ms Tiller was concerned about the speed that the New Zealand Government was trying to push through a Free Trade Agreement (FTA) with China.
"New Zealand is in the final stages of a free trade agreement with China and they are not even taking these human rights violations into account," she said.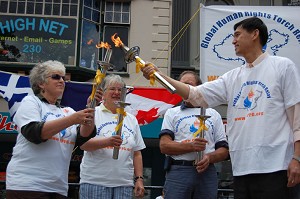 The Human Rights Torch is travelling to 130 cities across five contintents, calling for a boycott of the Beijing Olympics if human rights do not improve in China.
The relay made its way through the streets of Christchurch, in New Zealand's South Island, on Friday.
Green Party member Lois Grifith was also concerned about the FTA because the labour conditions in China were apalling, especially for female factory workers from rural China.
"We, as enlightened westerners, are completely opposed to slave labour,"she said.
Radio India broadcaster Amrit Singh Masuta said the Torch Relay signified solidarity with China's Christians, Buddhists, Falun Gong practitioners, and the 1.5 million people who had been evicted from their homes to make way for Olympic stadiums.
"We have to shine a light for the millions of Chinese people suffering under the Chinese regime - including Falun Gong practitioners who are the most severely persecuted group in China today," he said.
He said you could not have Falun Gong practitioner's organs harvested in one part of Beijing, while the Olympics are held in another.
The Torch is travelling to 16 New Zealand towns and cities before it leaves for Los Angeles from Gisborne on December 31.
---