Pacific Alliance, associate members enter fourth negotiating round, look to clinch deal by July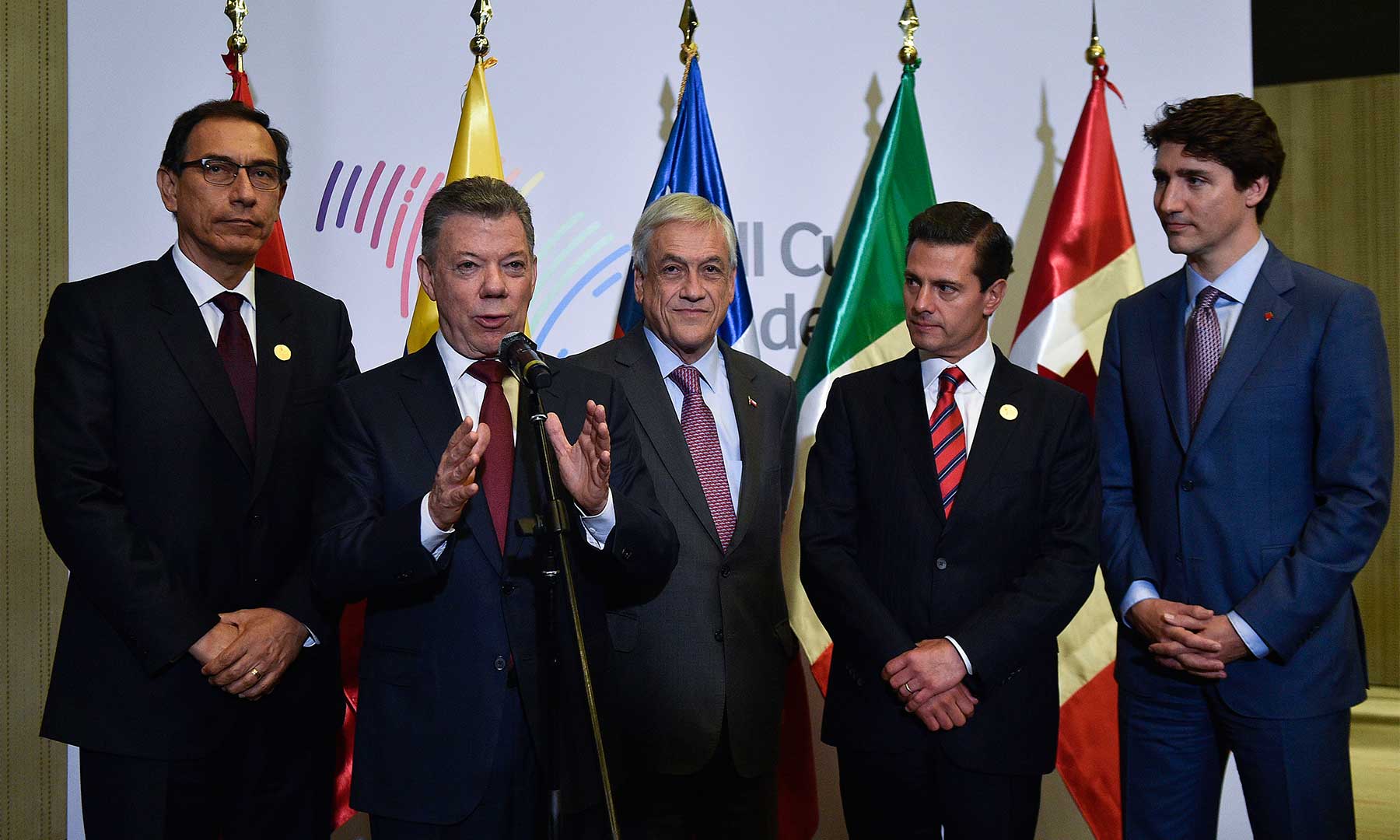 ICTSD | 17 May 2018
Pacific Alliance, associate members enter fourth negotiating round, look to clinch deal by July
The fourth round of negotiations between the Pacific Alliance and its "associate members" kicked off on Saturday 12 May, in Ottawa, Canada and will wrap on Friday 18 May, as officials aim to bring the trade talks to a close later this year.
According to Colombia's Minister of Commerce, Industry, and Tourism, María Lorena Gutiérrez, the parties aim to conclude negotiations on 23 technical roundtable topics ahead of the 13th Presidential Summit of the Pacific Alliance. The trade bloc's annual leaders' meeting will take place in the Mexican state of Jalisco in late July.
The four-country Pacific Alliance consists of Chile, Colombia, Mexico, and Peru. The coalition aims to achieve the goal, launched nearly a year ago, of conferring a new associate member status to Australia, Canada, New Zealand, and Singapore. Broadly, the negotiations for the new status will seek to open and integrate markets among the nations involved, while creating new trade rules in various subject areas. (See Bridges Weekly, 6 July 2017)
The third round of negotiations, which took place in Santiago, Chile, finished on 9 March. At that meeting, the countries finalised negotiations on three of 23 technical areas, namely cooperation, small and medium-sized enterprises (SMEs), and regulatory improvement, while making progress on others.
During the negotiations in Ottawa, the countries will work towards finalising negotiations for the remaining 20 technical roundtables.
These include various aspects of goods trade, such as market access and rules of origin. Other topics include trade facilitation, sanitary and phytosanitary (SPS) measures, and technical barriers to trade (TBT). The planned deal will also tackle public procurement and cross-border trade in services, including sectors such as financial, maritime, and telecoms, as well as investment and temporary entry of business people.
Additionally, negotiators aim to include provisions on electronic commerce and intellectual property rights, as well as environment and labour protections. Other topics include competition policy and state-owned enterprises, as well as gender in relation to trade, for example.
More partnerships possible
As the Pacific Alliance works to finalise the status of its new associate members, it is also looking forward to other possible partnerships, both within South America and further afield.
South Korea has expressed interest in becoming an associate member, and some Pacific Alliance officials have indicated that they are receptive to the idea. Colombian President Juan Manuel Santos has said that the trading bloc hopes to include South Korea in future negotiations, according to comments reported in Finance Colombia.
The South Korean Ministry of Trade, Industry & Energy said earlier this year that Seoul hopes to become an associate member of the Pacific Alliance by 2019, according to comments reported by Business Korea. South Korea already has free trade agreements (FTAs) with all of the Pacific Alliance's full members, except for Mexico.
Proponents say that the addition of new associate members has the potential to enhance trading relationships further, both regionally and globally.
"For Colombia it will mean a direct bridge with Asia Pacific, a region with great opportunities for our products, which will give us the opportunity to increase foreign investment and achieve a greater insertion in global value chains," said Minister Gutiérrez.
Among Pacific Alliance members, the Asia-Pacific connection is particularly important for Colombia, since it is not a member of the new Comprehensive and Progressive Agreement for Trans-Pacific Partnership (CPTPP). The deal among 11 Pacific Rim countries was signed in March and is at the ratification stage. (See Bridges Weekly, 15 March 2018)
Closer to home, the Pacific Alliance has also been eyeing the possibility of developing deeper ties with Mercosur, the South American trade bloc comprised of Argentina, Brazil, Paraguay, and Uruguay. (See Bridges Weekly, 13 April 2017)
Chilean President Sebastián Piñera and Argentine President Mauricio Macri met last month, reaffirming their desire to work collaboratively toward an agreement between the Pacific Alliance and Mercosur.Piñera returned to office in March, marking his second term as president, though these terms were not consecutive.
"[Macri and Piñera] committed to engage in deeper dialogue aimed at bringing Mercosur and the Pacific Alliance closer together, aiming to make the relationship between these mechanisms more dynamic," said a joint communiqué issued afterward and published by the Argentine Foreign Affairs Ministry.
As part of this cooperation, leaders committed to advance on a year-old roadmap that describes shared work on regional value chains, "single windows" for cross-border trading, customs cooperation, trade promotion, small and medium-sized enterprises, non-tariff barriers, and trade facilitation in services.
"President Piñera expressed interest in having Argentina expand its participation in the Pacific Alliance, with a view to advance from its current 'observer status' to a higher category," the communiqué said.
Celebrating progress, preparing for the future
On 28 April, member countries also celebrated seven years of the Pacific Alliance during an event in Bogotá, Colombia, which included video messages from the countries' leaders. Looking ahead to the Presidential Summit on 24-25 July, the countries are working on finalising negotiations with the new associate members and moving forward on the Alliance's strategic vision for 2030.
The goals under this 2030 plan include increased productivity and competitiveness, along with increased regional integration. By 2030, the four countries also plan to have fully liberalised tariffs on goods. Additionally, in recent meetings of the Pacific Alliance's high-level group (GPN), the countries' ministers emphasised the ongoing importance of establishing concrete and achievable goals based on the United Nations Sustainable Development Goals (SDGs).
ICTSD reporting; "Colombian President: Pacific Alliance Slated to Begin Welcoming Associate Member Nations in July," FINANCE COLOMBIA, 24 April 2018; "S. Korea Expected to Become Associate Member of Pacific Alliance," BUSINESS KOREA, 12 January 2018; "ARGENTINA: Country And Chile Seeks To Liberalize Bilateral Trade," INSTAFOREX COMPANY, 27 April 2018.
---