PM pushes ministry to improve regional trade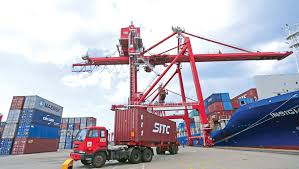 Khmer Times - 08 September 2020
PM pushes ministry to improve regional trade
By Sok Chan and Harrison White
Cambodia, as well as other Asean members, have yet to maximise the benefits of its regional trade framework, according to comments made by Prime Minister Hun Sen during his most recent cabinet meeting.
Mr Hun Sen added they must be further improved to gain an advantage in upcoming trade deals with China, South Korea, Japan and other nations.
"We have only done a little concerning the regional trade frameworks. We have not yet done enough," Mr Hun Sen said.
"I have suggested to the visiting Japanese Foreign Minister Motegi Toshimitsu recently that both our countries should push for a free-trade agreement [FTA]," he added.
Mr Hun Sen also called for a speedy process of negotiations in the context of the Regional Comprehensive Economic Partnership (RCEP) even without India. Given the fact that the RCEP market is already large enough because it includes South Korea, New Zealand and others, he said.
"We must work to take advantage of such a large market. I am asking the minister of commerce to speed up the process so that we can export more Cambodian products to overseas markets," Mr Hun Sen said.
RCEP is a proposed free-trade agreement in the Asia-Pacific region between the 10 member states of the Association of Southeast Asian Nations (Asean), and five of Asean's FTA partners – Australia, China, Japan, New Zealand, and South Korea.
A spokesperson for the Ministry of Commerce, Seang Thay, said that the negotiations of free-trade deals, either bilaterally or regionally, is to diversify the market because this is a prioritised task of his ministry.
"To take real advantages from these free-trade agreements, relevant stakeholders must put in much effort to ensure that Cambodia has a good business environment to attract foreign investors and Cambodia must have diversified products for exports," Thay added.
Cambodia and China's bilateral free-trade talks have been concluded and will be signed "soon" and are expected to be implemented early next year because both nations are in agreement over technical aspects and the legal framework.
Cambodia and South Korea have also finalised their second round of trade talks as both nations look to diversify their trade portfolio.
The negotiations have been going well with second-round talks discussing matters concerning market access. Future negotiations are scheduled to undergo two more rounds of talks and the aim is to complete them by the end of the year.
Cambodia and the US, which is the largest market for Cambodian exports, have also been outlining bilateral trade.
During an event held between the US embassy and Cambodia's Ministry of Commerce, US Ambassador to Cambodia Patrick Murphy said that US products represented the "gold standard" for international products, highlighting brands such as Ford and Jack Daniels that have proved popular in Cambodia.
He also noted that the US is assisting Cambodian exports through its Generalised System of Preferences, which include travel goods (including handbags, backpacks and luggage) and milled-rice.
---