Riot police break up protest in Seoul
The Associated Press | Saturday, March 10, 2007
Riot Police Break Up Protest in Seoul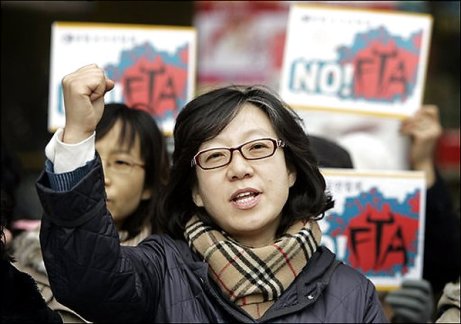 By KELLY OLSEN
SEOUL, South Korea — Riot police used a water cannon Saturday to break up a noisy but peaceful street protest in downtown Seoul against a proposed free trade agreement between South Korea and the United States.
Police armed with shields and truncheons fired several bursts from a water cannon into the crowd of about 2,000 protesters, mostly farmers, workers and students, after they ignored a warning to disperse.
Some scuffles broke out as police pushed the demonstrators back, but there appeared to be no major injuries on either side. Some in the crowd began to disperse, while others eventually marched away.
The rally came as negotiators met for a third day at a hilltop hotel across town to hammer out a deal to slash tariffs and other trade barriers. The talks are to end Monday.
The two countries hope to conclude an agreement by the end of this month, though the negotiations, which began in June, have failed to bridge gaps in key sectors such as automobiles.
If successful, it would be the biggest such deal for Washington since the North American Free Trade Agreement in 1993.
The protest followed a march by about 3,000 people against the free trade talks earlier in the day. That demonstration, held on a street near several universities, broke up peacefully after police issued a dispersal warning.
Some demonstrators gathered later at other points in the capital, including the downtown rally.
The government and police have taken a hard line against anti-free trade protests, declaring them illegal.
South Korea and the U.S. say an agreement would boost economic growth and trade, but opponents say it would harm the livelihoods of farmers and workers.
Security around Seoul was heavy all day in anticipation of the protests.
A National Police Agency official, who spoke on condition of anonymity citing protocol, said 18,000 riot police were being mobilized across the city. He said 12,000 were to be positioned around the negotiating venue.
---