Second round of China FTA talks close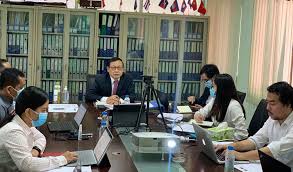 The Star - 13 April 2020
Second round of China FTA talks close
The second round of negotiations for a Cambodia-China Free Trade Agreement (FTA) highlighted the potential for expanding trade, investment, services, and strengthening cooperation between the two countries in the upcoming years, Ministry of Commerce secretary of state Sok Sopheak said in a press release.
The second round of negotiations was held via a video conference on Thursday and was presided by Sopheak and Yang Zhengwei, deputy director-general of the Department of International Trade and Economic Affairs under China's commerce ministry, said the release.
"The two countries' negotiation teams agreed on several chapters in the second round, including investment cooperation, economic and technical cooperation as well as cooperation on the Belt and Road Initiative and e-commerce.
"The free trade agreement [FTA] between Cambodia and China will aid in the recovery of both countries' Covid-19-hit economies.
"The two sides have agreed to resolve the remaining issues no later than mid-May before the third round of negotiations, which is scheduled for June this year, " it said.
Cambodia Rice Federation (CRF) secretary-general Lun Yeng told The Post that the FTA with China will help the Kingdom achieve its goal of exporting one million tonnes of rice to international markets – originally set in August 2010 for 2015.
"An FTA with China would help all exporters expand their rice exports to China, " he said.
CRF data shows that the Kingdom exported 387,000 tonnes of rice in 2014,538,396 tonnes in 2015,542,144 tonnes in 2016,635,679 tonnes in 2017,626,225 tonnes in 2018 and 620,106 tonnes last year.
Cambodia Chamber of Commerce vice-president Lim Heng told The Post on Sunday that significant progress has been made on the FTA.
"The two governments plan to finalise the FTA this year. The results [of the second round of negotiations] are a good sign of [our countries] reaching the goal, " Heng said.
He said the FTA will attract more investors to Cambodia as the Sino-US trade war prompts foreign companies to look to ASEAN for investment opportunities.
"If both parties reach this agreement, Cambodia will be able to attract more foreign investors to set up factories here for exports to the US and China, " he said.
Ministry spokesman Seang Thay told The Post on Friday that the Kingdom is also currently negotiating FTAs with South Korea and Russia and is conducting a feasibility and impact studies of FTAs with India, the UK and Japan.
Cambodia attracted $3.588 billion in foreign direct investment last year, an increase of 11.7 per cent over 2018's $3.212 billion, thanks in part to Chinese investors who accounted for half of the investments, said the National Bank of Cambodia's Macroeconomic and Banking Progress 2019 Report and 2020 Outlook.
---