Thai-US FTA negotiations no impact on essential drugs
Thai-US FTA negotiations no impact on essential drugs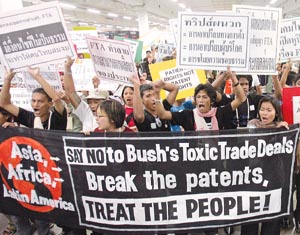 BANGKOK, Jan 6 (TNA) - The Head of the Thai negotiating team for the bilateral Free Trade Agreement with the US reassured the public that the upcoming sixth round of negotiation will not bring about any agreement that will affect the pricing of essential medicine in Thailand. The civil society representatives meanwhile reiterate their opposition against the US demand for intellectual property rights and against tariffs reduction for farm goods.
These views emerged from a public hearing Friday on "Thai-US FTA: Benefits and Impact," organised by the National Economic and Social Advisory Council, ahead of the sixth round of negotiations for this agreement slated to begin on Monday in the northern province of Chiang Mai.
Chief negotiator Nitya Pibulsongkram told the forum that the Thai side has made it clear to the US that the outcome of this round of talks must not have any impact on Thailand's list of essential medicine, and that the US acknowledged Thai concerns about pharmaceutical patent protection.
"The past five rounds of talks held to date dealt with 22 topics, and negotiators have not agreed or committed to anything to date. The negotiations have made significant progress in certain sectors, such as market access for agricultural product, textile and garment, co-operation in science and development of SMEs. Regarding pharmaceutical patent, the negotiating team reaffirms that the FTA negotiations will not have any impact on access to Thai medicines by the Thai public," said Mr Nitya.
Pointing to the positive side, he said the US obliges all its FTA negotiating partners to adopt strict labour and environment codes and this should prompt Thailand to give higher priority to law enforcement in this area. The US has proposed to set up a fund of 15 million dollars to improve labour conditions and the environment in Thailand.
The Thai negotiators, he claimed, have come up with counterproposal for the US to protect and guarantee the Thai rights to traditional knowledge and Geographical Indications as these two branches of intellectual property rights benefit Thailand.
Meanwhile representatives of a network of ten civic organisations presented their proposal concerning the Thai-US FTA negotiations to Dr. Gothom Areeya, Chairman of the National Economic and Social Advisory Council.
The civil society sector demanded the Thai government not give in on reduction of tariffs for US agricultural product because this will affect Thai farmers, because the heavy subsidy the US government extends to its agricultural sector distorts the fair trade.
They also demanded the Thai government not ratify the United Nations treaty on plant varieties protection, and not recognise patenting of biological resources. In addition, they said the Thai government must resist the US demand to extend protection of pharmaceutical patent to more than 20 years or to protect data exclusivity. The terms of these US demand for FTA exceed what's prescribed in the Agreement on Trade-related Aspects of Intellectual Property Rights Protection of the World Trade Organisation. (TNA)-E007
---