Trump pushes Abe for 'free, fair and reciprocal' trade
All the versions of this article: [English] [français]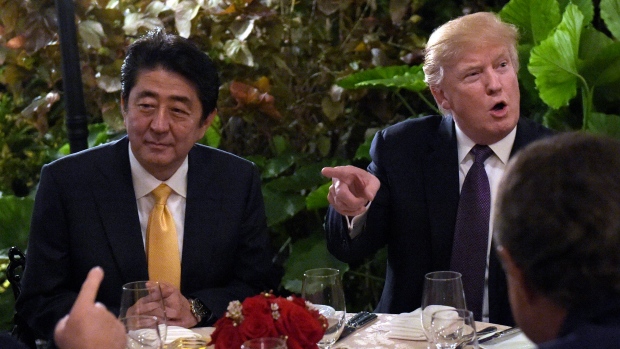 Nikkei | 19 April 2018
Trump pushes Abe for 'free, fair and reciprocal' trade
par GAKU SHIMADA and YASUO TAKEUCHI
After devoting their first day of talks to North Korea, U.S. President Donald Trump and Japanese Prime Minister Shinzo Abe discussed trade on Wednesday as they continued their summit over lunch at Trump's Mar-a-Lago resort.
"We have a massive deficit with Japan," Trump said as he opened the meeting. He pushed Japan to reduce its roughly 7 trillion yen ($65.3 billion) annual trade surplus with the U.S., telling Abe that they should aim for a situation that is "free, fair and reciprocal."
Blaming past U.S. presidents and representatives for creating the deficit, he spoke in more positive terms about his relationship with Abe. "The relationship has been so good with all of us," he said, but added, "Let's see how we do now with the trade deficit."
He expressed hope for certain things to be done "in a very short period of time," noting that "I know they're ordering large numbers of airplanes ... in the tens of billions of dollars."
Abe was expected to propose a new framework for trade talks in hopes of drawing Washington back into the Trans-Pacific Partnership trade pact.
The lunch followed a full round of golf at a Trump-owned course nearby.
Tokyo envisions a separate arrangement from the existing economic dialogue, to be handled by Economic and Fiscal Policy Minister Toshimitsu Motegi — Japan's TPP point man — and U.S. Trade Representative Robert Lighthizer.
Trump had expressed interest in rejoining the Pacific Rim trade deal, from which he withdrew the U.S. almost immediately after taking office in January 2017. The 11 remaining member countries reworked the pact into the Comprehensive and Progressive Agreement for Trans-Pacific Partnership, which was signed last month in Chile.
But the president seemed to back off from the idea Tuesday. "While Japan and South Korea would like us to go back into TPP, I don't like the deal for the United States," he tweeted, adding that "bilateral deals are far more efficient, profitable and better for OUR workers."
A two-way free trade agreement would let Washington more easily leverage its stronger position in security and other areas to set the terms of trade. Tokyo worries that a bilateral deal would require major concessions in politically sensitive areas such as autos and agricultural products.
Washington is keen to boost exports in those industries, hoping to score political points ahead of midterm elections in November. Ranchers have been lobbying for action on American beef, which will become less competitive in Japan when the revamped TPP cuts tariffs on beef from other member countries.
Abe plans to make clear that Japan has no intention of lowering agricultural duties beyond the levels stipulated in the TPP.
The prime minister will also urge Trump to exempt Japan from aluminum and steel tariffs, arguing that the national security concerns on which the duties are based should not apply to a staunch U.S. ally.
Trump may respond by demanding a bilateral trade deal in return. Many Japanese government insiders see the country's inclusion in the duties as a way to push Tokyo to the negotiating table. South Korea received an exemption in exchange for accepting a quota on steel exports to the U.S. as part of revisions to a bilateral free trade agreement.
Japan will point to its purchases of defense equipment and liquefied natural gas, which contribute to the U.S. economy. But this argument is unlikely to sway Trump, who is focused on the far larger trade imbalance.
During the first day of talks, Abe and Trump agreed to maintain maximum pressure on North Korea in pursuit of complete, verifiable and irreversible denuclearization of the Korean Peninsula and an end to the North's missile development. The talks lasted two hours, with a meeting between just the two leaders stretching to nearly double the scheduled 30 minutes.
Abe said after the initial group meeting that he and Trump held a "very in-depth" discussion beforehand about North Korea and economic issues, adding that they "successfully forged a mutual understanding."
"Shinzo and I have developed a very close relationship," the U.S. president said.
Abe is stressing cooperation with Trump in hopes of keeping Japan from being left by the wayside amid rapid developments on the North Korea front. North Korean leader Kim Jong Un in March visited Chinese President Xi Jinping and is slated to meet this month with South Korean President Moon Jae-in. Kim and Trump are expected to hold talks as well.
If Abe can convince Trump to see Japan as an important player in the North Korea situation, Tokyo can consider the meeting a success, a Japanese government insider said.
The president promised at Abe's request to discuss with Kim the issue of Japanese nationals abducted by the North, stressing that he will do his best for Japan. But whether the prime minister's efforts actually bear fruit will remain unclear until Trump and Kim actually meet.
Tokyo worries that Trump may move to ease sanctions on North Korea if he receives assurances from Kim that Pyongyang will work to scrap its nuclear program. The North has broken such pledges in the past. Abe warned Trump that actually achieving denuclearization will not be easy.
---