TTIP talks : What's cooking ?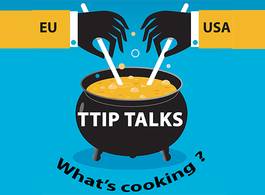 Greens/EFA Group in the European Parliament
TTIP Talks : What's Cooking ?
10 December 2014 - 15.00h - 18.00h in EP (PHS 3 C 50)
A Greens-EFA Group conference in cooperation with ARC2020, Compassion in World Farming, Corporate Europe Observatory, Euro Coop, European Milk Board, Friends of the Earth Europe, Slow Food & European Coordination Via Campesina.
Welcome by MEP Ska Keller
Key note speech by Robert Weissman, President of Public Citizen (USA)
Panel 1 : TTIP – trading away good food and farming ?
moderated by MEP José Bové
– Magda Stoczkiewicz, director Friends of the Earth Europe (FoEE) (precautionary principle, food safety differences EU-US)
– Karen Hansen-Kuhn, Director International Strategies at Institute for Agriculture and Trade Policy (IATP) (on US-EU perspective, via video connection from Washington).
– Todor Ivanov, Secretary General EuroCoop (consumers rights and food safety standards)
Response from Ignacio Garcia Bercero, DG Trade director and TTIP chief negotiator (tbc) and Elena Bryan Senior Trade Representative at the US Mission to the EU
Panel 2 : Harmonizing rules and standards – a race to the bottom ?
moderated by MEP Bart Staes
– Olga Kikou, Compassion in World Farming, (animal welfare)
– Vito Buonsante, Client Earth (pesticides and chemicals in food)
– Robert Weissman, President of Public Citizen (US perspective consumer protection)
– Michael Scannell, Director of the Food and Veterinary Office FVO (controls and inspections)
Response from Ladislav Miko, Deputy Director General SANCO
Panel 3 : TTIP : Socioeconomic Impact on Food and Farming
moderated by MEP Benedek Javor
– Hanny van Geel, Via Campesina European Coordination (consequences for farmers of free trade agreements)
– Sieta van Keimpema, Vice-Chair European Milk Board( Standards and politics in dairy business)
– Robert Marshall Pederson, Food Policy expert Aalborg University and Arc2020 (nutrition and dietary transition, sustainable food and agriculture systems)
Response from Monique Pariat deputy director-general DG AGRI and Jim Higginston, Minister Counselor for FAS (foreign agriculture service) US Mission to the EU
Concluding remarks by MEP Philippe Lamberts, vice-president Greens/EFA Group in European Parliament
You can register here :
http://www.greens-efa.eu/events/registrations/657-ttip-talks-what-s-cooking.html
---