Union calls for equal recognition for healthcare workers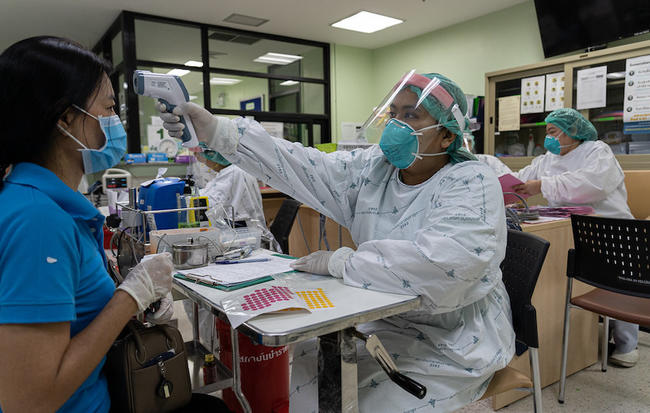 Bangkok Post | 12 May 2020
Union calls for equal recognition for healthcare workers
by Mongkol Bangprapa
The Government Pharmaceutical Organisation (GPO) workers union is calling on the state to redesignate about 150,000 temporary medical employees nationwide as permanent staff in recognition of their hard work battling the Covid-19 pandemic.
The union, supported by the State Enterprises Workers' Relations Confederation (SERC) and other activist groups, presented a letter conveying their request to Prime Minister Prayut Chan-o-cha at Government House on Tuesday.
The letter said approximately 150,000 people employed as temporary workers by the Public Health Ministry deserved recognition and better employment conditions. They had also worked hard to help contain coronavirus pandemic.
The union said temporary workers are poorly paid and lack job security because their employment contracts are for only short periods.
GPO urged the government to give these mostly unskilled workers permanent employment status. This comes with longer contracts and welfare benefits.
The letter said the request would also be submitted to provincial offices nationwide.
Last month, the government upgraded about 40,000 skilled medical workers on temporary employment contracts to the category of civil servant for their invaluable contributions during the Covid-19 crisis.
On Tuesday, the GPO union said unskilled workers should be equally recognised, and elevating their status would be a morale booster for them.
The union and its allies also asked the government not to join the Comprehensive and Progressive Agreement for Trans-Pacific Partnership. The union shared critics' views that the restriction of rights to access medicine under the CPTPP would put the country's public health system in danger.
The CPTPP is a trade agreement involving a newly formed bloc of 11 Pacific Rim nations - Australia, Brunei, Canada, Chile, Japan, Malaysia, Mexico, New Zealand, Peru, Singapore and Vietnam.
The US withdrew from an earlier version of the pact, then known as the Trans-Pacific Partnership.
A major point of contention was Washington's demand that companies be able to sue national governments for intellectual rights infringements.
This was rejected, but the CPTPP still includes extremely detailed standards for protection of intellectual property, including pharmaceutical products.
---