US opts for quick agreement with Japan on agriculture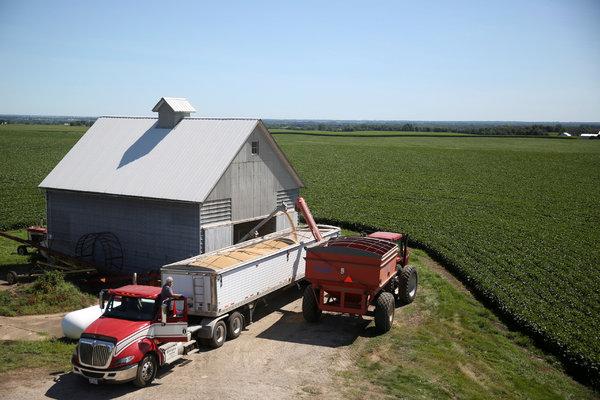 Nikkei Asian Review - 17 April 2019
US opts for quick agreement with Japan on agriculture
Rintaro Tobita
Japan's tariff reductions on American farm products under a bilateral trade pact will be kept to levels set by the Trans-Pacific Partnership, negotiators have decided, as the Trump administration seeks an agreement on agriculture soon as it loses business to the multilateral TPP.
The broad agreement was reached during the first round of bilateral trade talks that concluded Tuesday. Japanese Economic and Fiscal Policy Minister Toshimitsu Motegi and U.S. Trade Representative Robert Lighthizer were among the participants.
Some in the U.S. administration had called for deeper cuts, but negotiators decided to prioritize producing quick results that can be touted to American voters. The two sides will now hammer out specific details ahead of the summit between Japanese Prime Minister Shinzo Abe and U.S. President Donald Trump.
But the latest trade figures show that the trade imbalance persists. The U.S. Commerce Department on Wednesday reported a $6.67 billion goods trade deficit with Japan for February on a seasonally adjusted census basis. This marked a 24.7% rise from January and was the third-largest for the month, trailing only China and Mexico.
The joint statement following the September summit said Washington would respect Japan's position that it would not lower tariffs on agricultural imports below levels set in international agreements reached in the past, including the TPP and the Japan-European Union Economic Partnership Agreement. During Tuesday's talks, Motegi reiterated Tokyo's stance, and Lighthizer signaled that he understood.
With the TPP and the EPA with the EU taking effect, American farmers are at a competitive disadvantage in Japan because their products face higher tariffs. They called for an early agreement with Japan, even if it meant that the duties would not be lowered below TPP levels. "Washington wants to eliminate its disadvantageous situation," Motegi said.
Under the TPP, Japan's tariffs on beef imports are scheduled to fall from the current 38.5% to 9.5% on the 16th year, and levies on many vegetables and wine are also slated to go down.
"By implementing these agreements before addressing our bilateral trade relationship, Japan is effectively redistributing market share away from its strongest ally," U.S. Ambassador to Japan William Hagerty told Nikkei on Wednesday.
"We seek terms of trade no less favorable than Japan's other trading partners," he said.
The American side also seemed to prioritize speed in talks on autos and other industrial products, avoiding such potentially contentious demands as a limit on Japanese vehicle exports to the U.S.
As Tokyo sees it, Trump wants an agreement in hand before next year's presidential election. The Midwestern battleground states that put him over the line in 2016 are home to many voters employed in the agricultural and auto industries, and these states are likely to prove pivotal in 2020 as well.
The Trump administration's lack of progress elsewhere may be adding to the sense of urgency. The U.S. has yet to reach an agreement to end its trade war with China after months of talks, and the United States-Mexico-Canada Agreement intended to replace the North American Free Trade Agreement is expected to face an uphill battle for ratification.
Sticking with Trump's main areas of interest also lets Japan delay dealing with other issues, including a proposed provision to prevent active devaluation of the yen, which Washington had pushed for until just before the talks but has essentially shelved for now.
Tokyo worries that if the scope of the negotiations broadens to include such topics as currency, drug prices and services, its reliance on the U.S. for national security would leave it vulnerable to American pressure.
The two sides agreed to include digital trade in the negotiations, a nod to the Trump administration's calls for free international data flows in the face of China's efforts to keep data within its borders. This addition is seen as unlikely to stand in the way of a speedy deal, given that the U.S. and Japan are largely in accord already.
Tokyo and Washington are expected to consider rules to promote digital trade, a category that covers e-commerce as well as streaming services, electronic manufacturing designs and other intangibles. They will likely agree not to impose tariffs on digital products, restrict overseas data transfers or demand disclosure of software design documentation.
---