US- South Korea trade pact revision is full of holes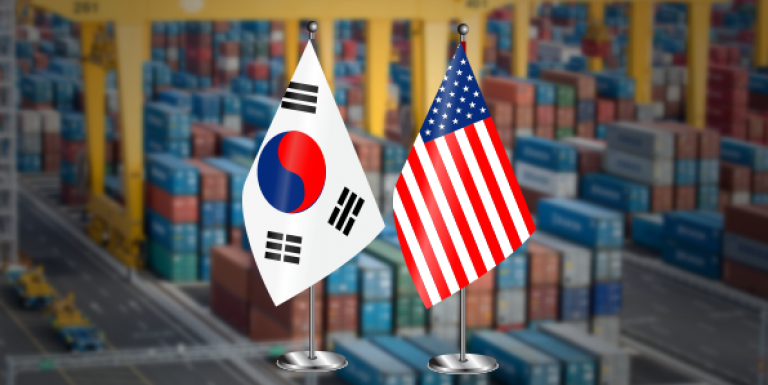 Forbes | 27 March 2018
US- South Korea trade pact revision is full of holes
by John Brinkley
Amidst all the hoopla about President Trump's plan to impose punitive tariffs on China, his administration has reached a deal with South Korea on a revision of the Korea-US Free Trade Agreement, known as KORUS.
The Koreans gave the United States two concessions in exchange for being exempted from Trump's dreaded global steel tariff. One will have little, if any, effect and the other could be found to violate WTO rules.
The Koreans agreed to allow US automakers to export 50,000 cars per year to Korea, up from 25,000. This is all but meaningless, because US automakers have never exported anything close to 25,000 cars to South Korea in any year since KORUS took effect in 2012. They exported 16,400 passenger vehicles there in 2016 and that included golf carts, according to the US Census Bureau. In 2017, they exported a little more than 7,000.
The Koreans also agreed to limit their annual steel exports to the US to 70% of their average over the last three years, then to export no steel to the US after hitting that ceiling. World Trade Organization rules expressly forbid voluntary export restraints (VERs), and it could be argued that this is one.
That can't be determined until the text of the agreement has been released, "but if it is a VER, then China, India and other countries will probably challenge Korea" in the WTO, said Jeffrey Schott, a trade economist with the Peterson Institute for International Economics.
In exchange for South Korea agreeing to limit its steel exports to the United States, the Trump administration added it to the growing list of countries exempted from Trump's global steel tariff of 25%. The tariff was supposedly based on the notion that steel imports threatened national security, but all the largest exporters of steel to the US – South Korea is No. 3 – have been granted exemptions, so the national security claim was obviously a red herring.
Trump demanded the renegotiation of KORUS because he was incensed about the growth of the US trade deficit with South Korea since it took effect – from $16.6 billion in 2012 to $22.9 billion in 2017 – although it has been dropping since 2015, when it was $28.3 billion.
It is "unlikely" that the renegotiation will have an appreciable effect on the trade deficit, Schott said. "Reduced steel exports will probably reduce it a little. . . The other provisions aren't going to affect the trade balance too much at all."
Another concession the Koreans made was to agree to an extension of the 25% US tariff on pick-up trucks from 2021 to 2041. No Korean car companies export pickup trucks to the US. If Hyundai wants to break into the US pickup market, it will have to build them in North America, as Toyota and Nissan do.
That should not be a chilling prospect for Hyundai, because industrial real estate in South Korea is horribly expensive and manufacturers are offered no incentives to build plants there to create jobs. South Korea's unemployment rate was 3.7% in the fourth quarter of 2017, according to OECD data. American mayors, governors and legislators bend over backwards to lure foreign car manufacturers to the United States and Hyundai CEO Won-Hee Lee's phone is no doubt ringing non-stop right now.
As of this writing, neither Trump nor US Trade Representative Robert Lighthizer had said anything about the renegotiation. They are waiting for the deal to be signed.
South Korean Trade Minister Kim Hyun-chong held a press conference in Seoul and said, "We participated in the negotiations more with the aim of defending the national interest than of protecting the KORUS FTA. We gave ground where appropriate while securing our interests."
---