Abe, Trump seek Indian-Pacific strategy to counter China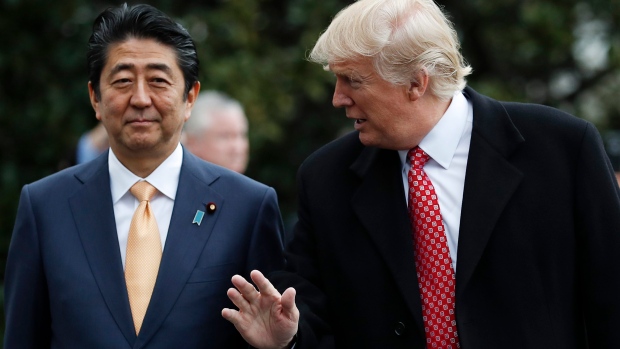 Asahi | 2 November 2017
Abe, Trump seek Indian-Pacific strategy to counter China
By KOTARO ONO
Japan and the United States are sailing toward a joint strategy focused on the Indian-Pacific region as one way of containing the maritime advances being made by China into the East China Sea and South China Sea.
The diplomatic initiative is expected to be announced when Prime Minister Shinzo Abe meets with visiting U.S. President Donald Trump on Nov. 6.
Several government sources said the two leaders would look into expanding the strategy to also include India and Australia, with which they share common values, such as a market economy and democracy.
Abe has pushed for a free and open Indian-Pacific region since August 2016. Speaking at a conference on African development held in Kenya, Abe proposed the new strategy to ensure that the area from the Pacific to the Persian Gulf was one where freedom, the rule of law and market economies were emphasized. The diplomatic strategy would involve infrastructure construction as well as trade and investment based on established rules and would also promote cooperation in ensuring maritime security.
In the background to the strategy is the "One Belt, One Road" initiative being pushed by Chinese President Xi Jinping. Under that program, Beijing is seeking to use massive funding to expand its national security influence by providing investment and supporting harbor construction to create a modern-day maritime "Silk Road," which would link Europe with Asia and Africa.
During their meeting, Abe and Trump are expected to establish a stance of having their respective nations play the leading role in creating a stable order in the Asia-Pacific region. They will likely discuss specific steps for the region, such as holding strategic summit meetings that would also include the leaders of Australia and India.
---