Agricultural bodies file suit over US-SK trade agenda
Hankyoreh, 21 June 2006
Agricultural bodies file suit over U.S.-S.K. trade agenda
Trade ministry witholding information, charges allege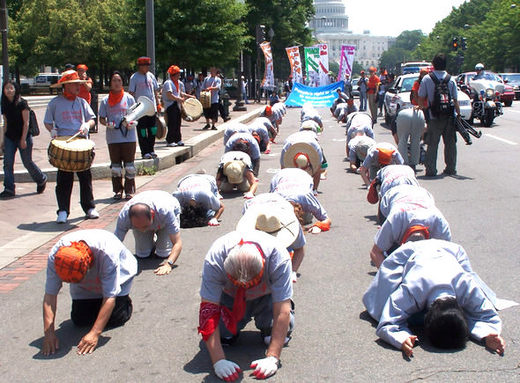 According to the Seoul Administrative Court, on June 13 the Korean Peasants League and the Korea Dairy & Beef Farmers Association filed a lawsuit against the Ministry of Foreign Affairs and Trade over the ministry's reluctance to share information with them related to the first round of South Korean-U.S. free trade talks that concluded in Washington last week. The two agricultural groups said the ministry should disclose whether certain important issues were on the agenda at the negotiations.
In their letter of complaint, the two groups said, "The rice issue and a U.S. measure to ban the import of Korean livestock products will certainly have an enormous influence on the domestic agricultural market. Nevertheless, the Foreign Ministry has not informed the livestock and agriculture industries whether these issues were adopted as agenda items."
The ministry did not react to the groups' prior request for the information, leading them file their suit against the Foreign Ministry.
---