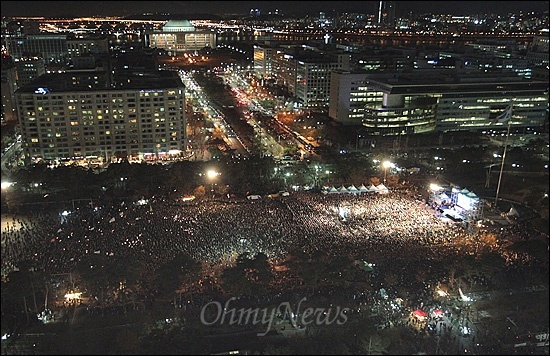 The Hankyoreh | 1 Dec 2011
Anti- FTA rallies swell
Internet Podcast "I am a Sneak" hosts hold a special event to protest against the ruling Grand National Party's railroading of the South Korea-U.S. Free Trade Agreement (KORUS FTA) ratification in Seoul's Yeouido Park, Nov. 30.
The open broadcasting show began as they collectively called out the names of all 151 lawmakers who voted for the bill, saying, "Don't be scared, call their names!" Around 50,000 citizens reportedly attended the show that lasted two and a half hours.
On Saturday afternoon, an anti-KORUS FTA rally will be held at Gwanghwamun Square with an estimated attendance of 100 thousand individuals.
---