As Pacific trade deal is signed pharma holds key to US ratification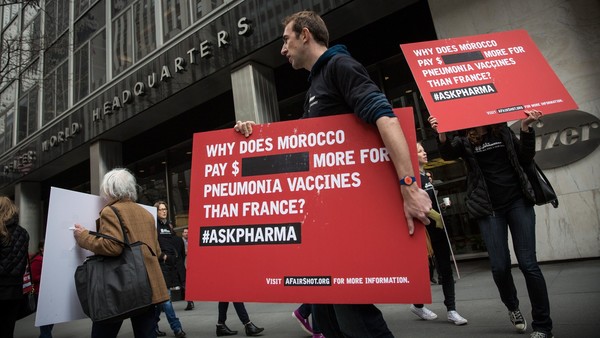 Financial Times | February 4, 2016
As Pacific trade deal is signed pharma holds key to US ratification
Shawn Donnan in Gaithersburg
US President Barack Obama's plan to get a vast Pacific Rim trade deal through Congress this year is taking flak from the presidential campaign trail, where disdain for the pact appears to be one of the rare unifying themes for almost everyone from Donald Trump to Hillary Clinton.
But a more immediate obstacle to the Trans-Pacific Partnership signed by the US, Japan and 10 other countries on Thursday lives in Jan Kemper's laboratory an hour's drive from the White House. It can be found in the finicky Chinese hamster ovary cells in the glucose-rich sludge at the bottom of bioreactor BRX-099 — part of a biological assembly line for a new generation of drugs to fight everything from asthma to cancer.
"Cells get very cranky when they don't get enough sugar," says Ms Kempner, a researcher. "Just like people."
The cells are part of biotech company Medimmune's research and development programme for medicines known as biologics — complex molecules built out of biological material rather than chemicals, like most traditional drugs. They represent the cutting edge of treatment for all manner of diseases and a future that the pharmaceuticals industry is betting on. Biologics now make up half the pipeline of medicines being developed by parent AstraZeneca, which bought Maryland-based Medimmune in 2007.
What makes them a threat to Mr Obama's efforts to get the TPP, which covers 40 per cent of the global economy, through a Republican-controlled Congress is that key GOP leaders such as Utah Senator Orrin Hatch, chairman of the Senate Finance Committee, do not like the intellectual property protections his administration negotiated for biologics in the TPP. They have vowed to block ratification until something changes.
US law calls for 12 years of exclusivity for biologics, something Washington sought to have replicated in the TPP. But, backed by campaign groups such as Médecins Sans Frontières who argue that such long periods help inflate drug prices by preventing generic competitors, Australia, Peru and other countries pushed for a five-year period. Under a fudge reached at the end of marathon negotiations in Atlanta in October, the deal eventually called for a period of either five or eight years depending on circumstances.
The compromise drew the ire of the pharmaceuticals industry, which has been lobbying heavily since for a change. It managed to have a caveat added to endorsements of the TPP from major business groups in recent weeks, who have urged the administration to resolve "outstanding issues" with Congress.
Bahija Jallal, Medimmune's top executive, says it takes an average of 10 years to bring a biologic to the market, and without intellectual property protections the incentives to pour millions into research are not there.
"Someone didn't just wake up and say 12 years," she says. "There is solid research behind that."
Administration officials insist they will not renegotiate the TPP, which took five years of discussions to get done. But they have begun talks with members of Congress that are set to intensify in the coming weeks.
"I'm confident at the end of the day because of the strong benefits to the US economy . . . that members of Congress will see the benefits for their constituents, and we'll have the necessary bipartisan support to be approved," Mike Froman, the US trade representative, told reporters at the TPP signing ceremony in New Zealand on Thursday.
The goal, officials say, is to find another compromise with Congress in the coming weeks that would allow the TPP to be presented for ratification as soon as May or June, a plan already complicated by the fact that Mitch McConnell, the Republican leader who controls the Senate, does not think the trade deal should be voted on until after November's presidential elections.
Possible solutions suggested by administration officials range from a promise that future trade deals would include a longer exclusivity period to a simple promise not to pursue any change in the 12-year period now in US law.
Any pledges the Obama administration makes now are complicated by the fact that the president has less than a year left in office and both Democrats and Republicans running to succeed him are sceptical of the TPP.
"Trade is a good thing. But trade has got to be fair. And the TPP is anything but fair," says Bernie Sanders, the Vermont Senator challenging Mrs Clinton from the left for the Democratic Party's presidential nomination. Among the reasons for his opposition: "Skyrocketing drug prices".
US business groups insist a deal will be done and that the TPP is more likely than not to be ratified before Mr Obama leaves office in January 2017. "I'm very confident that they are going to work this out," says John Engler, who heads the Business Roundtable.
But for Mr Obama, his economic legacy, the TPP and the Chinese hamster cells in Medimmune's bioreactors there are still significant hurdles to get over in the months ahead.
---