Free trade deals bait Indian fishermen
All the versions of this article: [English] [Español]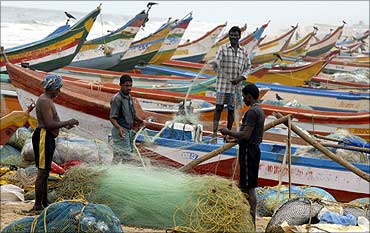 Inter Press Service | 2 November 2010
Free trade deals bait Indian fishermen
Analysis by Ranjit Devraj
NEW DELHI, Nov 2, 2010 (IPS) — A series of bilateral free trade agreements (FTAs) is threatening the livelihoods of India's fishermen on the 8,000 km peninsular coastline — among the longest in the world — and the diets of millions of Indians for whom fish is a cheap source of protein.
On Oct. 25 Indian Prime Minister Manmohan Singh and his Japanese counterpart Naota Kan announced in Tokyo the completion of negotiations for a Comprehensive Economic Partnership Agreement (CEPA), covering trade in goods and services, investment, movement of workers, intellectual property and bilateral cooperation.
When the CEPA is signed it is expected to impact fishermen in the same way as the Indo-Thailand FTA which did away with tariffs for fish imports from January 2007.
According to Lal Koyiparambil, president of the Kerala Independent Fishworkers Federation, the Indo-Thai FTA resulted in a sharp drop in fish prices as importers flooded the market with Thai marine harvests.
''Consumers were happy with the drop in prices but complained that the imports were not fresh and that fish species that people were accustomed to, such as oily sardine and mackerel, disappeared from local markets,'' Lal told IPS.
Kerala, which accounts for 20 percent of landings and is the most important of India's nine coastal states as producer, consumer and exporter of marine products, was the state affected most by the Indo-Thai FTA.
''This year saw a jump in sardine exports from Kerala thanks to depletion of Southeast Asian stocks, but this benefited the big export firms rather than artisanal fishers or small trawler operators,'' Lal said. ''And then this is likely to be a temporary phenomenon.''
Secretary of the powerful National Fishworkers Forum (NFF) T. Peter, said the Indo-Japan CEPA poses a further threat since it may allow Japanese fishing fleets to bypass current restrictions on foreign operators that require them to give majority stakes to Indian collaborators in mandatory joint ventures.
''Japanese industrial fishing vessels are far better equipped than Indian craft and have sophisticated sonar and satellite-based equipment for detecting shoals and have a reputation for not respecting sustainable fishing practices,'' Peter said.
Going by coast guard seizures India's Exclusive Economic Zone (EEZ) is a happy hunting ground for poachers from countries like Taiwan using industrial vessels capable of electronically tracking down and rapidly freezing catches of highly-prized species like the yellow fin tuna to meet the standards of buyers in Japan, the European Union and the United States.
According to figures available with India's Marine Products Export Development Authority (MPEDA) close to 30 million dollars worth of yellow fin tuna was exported from India's EEZ in 2007 and another 50 million dollars worth in 2008.
However, a drop to 30 million dollars worth of tuna catches in 2009 led to suspicions of increased poaching activity — though other factors such as overfishing of this migratory fish may be responsible. India's total marine exports in 2009 exceeded 2 billion dollars.
''Owners of small trawlers have taken to selling their catch mid-sea to foreign industrial vessels at throwaway prices, and red meat tuna end up as sashimi on dinner plates in Europe, China, Japan and the U.S.,'' said Lal. ''This practice is short-changing the country of valuable foreign exchange while denying Indian consumers access to a popular, protein-rich variety of fish caught along their own coasts.''
Lal blames the situation on unhelpful central government policies that are geared around economic liberalisation and ignore the plight of artisanal fishermen or small trawler owners. ''Just look at the draft Marine Fisheries Regulation and Management Bill (MFRMB).''
The MFRMB has triggered protests from affected state governments that complain that they were not consulted and agitations by the NFF which, in a formal statement dated Jan. 14, 2010, criticised the bill for failing to define or even mention the word 'fishermen'.
''If passed in the present form the MFRMB will only empower centralised bureaucracy, while negatively impacting the fisher people and adversely affecting any genuine protection of sea,'' the NFF said. ''The draft Bill does not satisfy the aspirations of the India's 1.1 million marine fishermen and a community of 3.5 million coastal people.''
The MFRMB contradicts the recommendations of a central government committee in 1997 that opposed foreign vessels fishing in Indian waters — but that was before a slew of FTAs were signed with maritime countries such as Thailand, South Korea, Singapore and now Japan.
''It appears that the MFRMB is aimed at opening up Indian waters to foreign fishing while requiring traditional fishermen to obtain licences from the central government to venture beyond 12 nautical miles,'' said NFF's Peter.
One of the main drivers of the MFRMB, K.V. Thomas, who is union minister of state for agriculture, defends the bill as necessary for ''maximising export-oriented fisheries and regulating fishing by foreign trawlers in the EEZ.''
The MFRMB deals with the EEZ which covers two million square kilometres on the Arabian Sea, Indian Ocean and Bay of Bengal while the jurisdiction of the coastal states of Gujarat, Maharashtra, Karnataka, Goa, Kerala, Tamil Nadu, Andhra Pradesh, Orissa and West Bengal is limited to 12 nautical miles of coastal sea.
''It is unfair to ask impoverished coastal people to seek central government licenses in distant New Delhi,'' said Lal. ''Such factors as corruption in granting licences and most coastal people not understanding English or Hindi (spoken in landlocked northern and central India) need to be taken into account.''
The NFF campaigned for decades against foreign vessels fishing in Indian waters, with or without licences, and demanded legislation to protect the rights of local fishermen. ''Now that there is finally a draft bill (MFRMB) we find that it discourages locals from entering the deeper part of the EEZ, where stocks of tuna exist.
''On the other hand the MFRMB talks about providing docking facilities for foreign fishing vessels,'' Peter said.
The NFF gained international prominence at the Food and Agriculture Organisation's 1984 World Fisheries Conference in Rome where it successfully led a parallel meeting for artisanal fishermen from 34 countries.
---