Japan should think twice on RCEP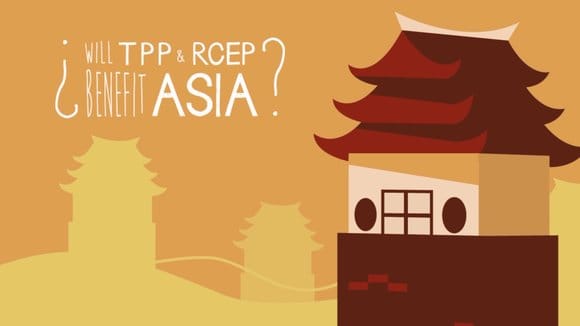 CGTN - 02 December 2019
Japan should think twice on RCEP
By Ji Xianbai
In an interview on November 29, Japan's Deputy Minister for Economy, Trade and Industry Hideki Makihara indicated that Japan may refrain from signing an India-less Regional Comprehensive Economic Partnership (RCEP). This ostensibly shocking statement in fact surprised few who are familiar with the history of RCEP and that of East Asian regionalism more generally – Japan has consistently been wary of China-led integration endeavors.
Back in 2001, China championed a trade pact known as the East Asian Free Trade Area (EAFTA) on the basis of the Association of Southeast Asian Nations (ASEAN) plus Three (China, Japan and the ROK) institutional structure. Attempting to keep Chinese influence in check, Japan in 2006 counter-proposed a rival pact called the Comprehensive Economic Partnership in East Asia (CEPEA) involving ASEAN Plus Six countries (with the addition of India, Australia and New Zealand).
For a long time, Tokyo refused to endorse Beijing's proposal. Japan's accession into the Trans-Pacific Partnership (TPP) broke the deadlock and a political merger between the EAFTA and CEPEA templates eventually led to the introduction of RCEP in 2012. Formal negotiations kicked off in 2013 and reached a substantive conclusion in November this year at the third RCEP summit thanks to some six years of hard bargaining by negotiators including the Japanese.
Yet, Tokyo seems more than willing to upend all the progress made. It is clear that, instead of RCEP per se, what Japan really objects is China's economic leadership and geopolitical clout embodied by the RCEP agreement, as it did when refusing to sign onto then China-backed EAFTA. Again, Japan is holding the entire East Asian economic integration process hostage to its geo-economic interest.
This is deeply disappointing, not only from the perspective of the other 14 RCEP members expecting a grandiose signing ceremony early next year to celebrate their collective achievement, but also from the perspective of Japan itself. Japan may risk relinquishing a golden opportunity to position itself as a global trade leader.
Make no mistake, Japan's trade policy record in the past few years has been commendable. Japan overcame tremendous domestic protectionist pressure to join the TPP talks and subsequently helped broker an 11-nation Comprehensive and Progressive Agreement for TPP (CPTPP) following America's disruptive withdrawal.
Japan unveiled a Japan-European Union Economic Partnership (JEEPA) ahead of the 2017 G20 Hamburg Summit to signal its support of trade openness and economic cooperation. In October 2019, Japan also managed to pull off a trade agreement on goods (TAG) with the U.S. Trump administration.
As such, with RCEP, Japan will enjoy simultaneous preferential market access to all its key trading partners and emerge naturally as a linchpin of mega-scale regional trade initiatives for its concurrent participation in the CPTPP, RCEP, JEEPA and TAG. But if Japan decides to take RCEP out of its free trade agreement portfolio in the end, Japan's trade diplomacy would be dealt with a heavy blow and the credibility of Tokyo's professed commitment to free trade will be questioned.
More profoundly, Japan's unfavorable posturing towards RCEP took place at an inopportune time for global trade governance. The Appellate Body (AB) of the World Trade Organization (WTO) – the supreme court of the rules-based multilateral trading system – is set to cease operations on December 10 when the terms of two of the three remaining judges expire.
In such a scenario, regional trade agreements with dispute settlement provisions such as RCEP will provide for a short-term alternative venue for countries to solve trade disputes in an orderly fashion. For example, potential trade disputes that arise between China and Japan could be heard and ruled under RCEP's legal procedures when the WTO option is not available. But supposing Japan kept out of RCEP, how would China and Japan adjudicate their potential trade disputes and manage trade tensions?
TPP survived the U.S. exit and it was almost certain that RCEP would continue in the absence of India. But if Japan also changed its position and turned its back on RCEP, the fate of the RCEP agreement – which was on course to be the world's largest free trade agreement – looks more uncertain.
There is no guarantee that a watered-down RCEP-Minus India-Minus Japan is still viable in the eyes of the other participating countries. If RCEP fell through, it would represent a setback for East Asian economic integration as a whole, a mishap of Japan's trade diplomacy and a loss of venue to arbitrage inter-state trade disputes in Asia. Is Japan really ready to bear the responsibility for inducing such a damaging outcome?
---