Lametti on CETA: 'We'll get this deal to work'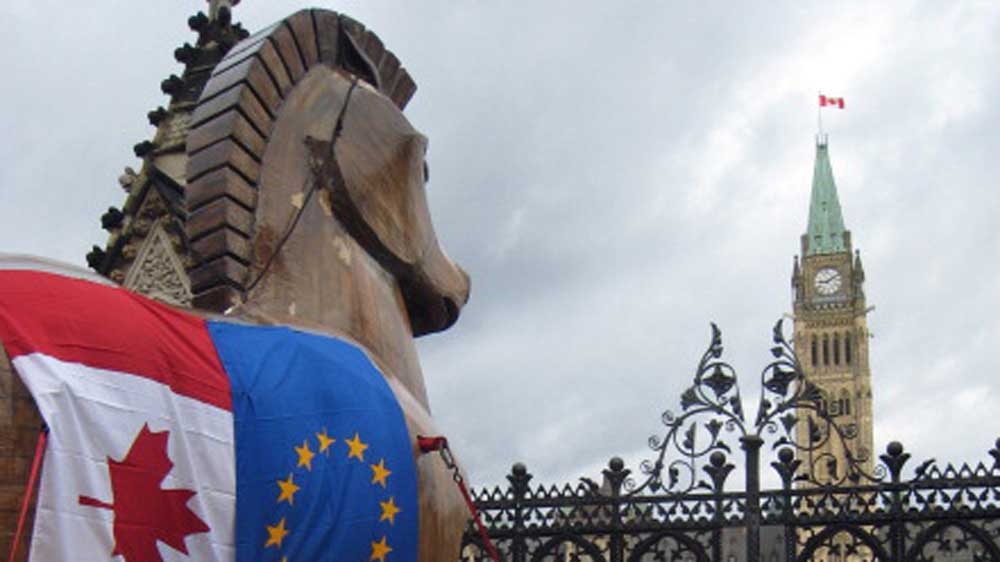 Embassy | 20 January 2016
Lametti on CETA: 'We'll get this deal to work'
by Peter Mazereeuw
Canada's new government is keeping an "open mind" when it comes to the controversial investor-state arbitration clauses in its proposed Comprehensive Economic and Trade Agreement with the European Union, says David Lametti, the Liberal parliamentary secretary for Trade Minister Chrystia Freeland.
CETA is among the government's top priorities in the trade file for 2016, said Mr. Lametti. That means getting the deal signed and ratified and "making sure the Europeans ratify too," he said.
Completion of the CETA has been held up for months by what Mr. Lametti described as "serious concerns" by politicians, advocacy groups and some members of the public in Europe over investor-state arbitration—also known as Investor State Dispute Settlement or ISDS—clauses in the negotiated text. Those clauses dictate the terms under which a corporation could sue a national government for what it considers discriminatory treatment, and how the suit would be decided.
Canada's government is "willing to address those concerns," said Mr. Lametti.
"We know that ISDS is an issue. We have, I think, a pretty reasonable approach, an open-minded approach to ISDS. So I think it's fair to say we like the agreement as is, but we'll continue to engage our European partners and we'll get this deal to work," he said.
The former Conservative government of Canada held firm that the deal should signed and ratified as agreed upon, including the ISDS clauses. Negotiations on the deal ended in August 2014, but it has not moved past the "legal review and translation" stage since that time.
Trade deal with China a 'good thing' if done right
Heading off another dispute with the United States over softwood lumber is another priority for the government, as is exploring free trade with China and pursuing Canada's stalled free trade talks with India, said Mr. Lametti.
"A trade agreement with China, could it be reached, would be a good thing" if it was "done right," he said, adding the government has already begun to explore the possibility of trade talks with China in "very concrete ways."
Canada's government never began a pair of "track two" studies by business and academia into the possibility of closer trade with China, after announcing it would do so following former prime minister Stephen Harper's visit to Beijing in November 2014. The new government is "looking at our own approach" to studying trade with China instead, said Mr. Lametti.
Chinese vice minister Han Jun told reporters in Ottawa Jan. 14 that Chinese state-owned enterprises should be given equal treatment in Canada to private sector companies, and that the issue could come up if the two sides enter into free trade talks.
When asked whether fewer restrictions for state-owned companies was on the table for negotiation, Mr. Lametti said it was an "ongoing question for discussion."
Signing TPP only a 'technical step'
The government's consultation process for the Trans-Pacific Partnership is another priority, said Mr. Lametti.
Ms. Freeland has already spoken with at least 80 groups and individuals about the deal, and other ministers have also discussed the deal with stakeholders, including Finance Minister Bill Morneau and Agriculture Minister Lawrence MacAulay, he said.
Mr. Lametti downplayed the importance of the signing ceremony for the deal, expected to take place Feb. 4 in New Zealand. The government still has not decided whether it will sign or ratify the agreement, he said.
Whether or not to ratify the TPP is the key decision, he said, adding, "signing really isn't all that important."
The TPP and CETA cover many of the same issues, with chapters ranging from competition policy to telecommunications and tariffs. The government is taking a more cautious approach to the TPP primarily because the Liberal politicians now in power have not had as much time to examine the deal, the text for which was only revealed to them during this summer's election campaign.
"We knew more about CETA early on," he said.
The Liberals made a long list of other promises related to international trade during the election campaign and in the early days of government. Those include working on "adjustment" plans for the auto, dairy and other sectors negatively affected by the pending trade deals, compensation for cost increases to public drug plans arising from the CETA, developing a trade and export strategy to help more businesses export their products, working with Mexico and the United States towards a North American clean energy strategy and reducing the "administrative burden" for foreign investors and Canadian companies engaged in international trade.
---