Morocco, UK sign post-Brexit association agreement
All the versions of this article: [English] [français]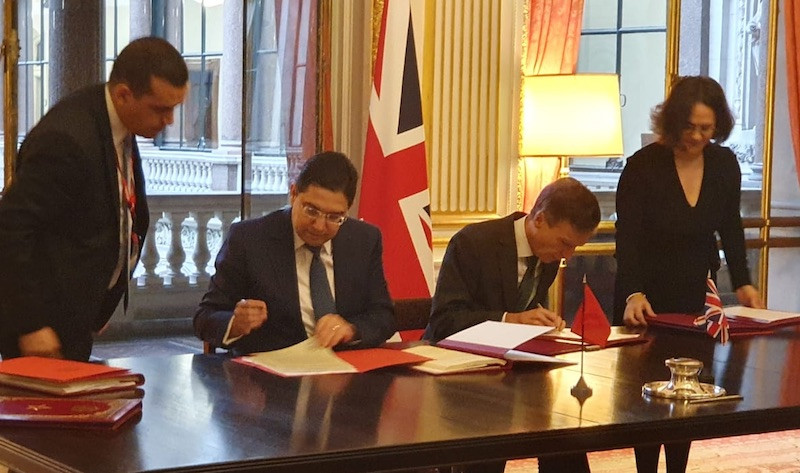 African Manager | 26 October 2019
Morocco, UK sign post-Brexit association agreement
By Tamba François Koundouno
Rabat – Morocco and the UK have signed an "Association Agreement" to ensure that the two countries maintain their relationships unscathed when the UK leaves the EU.
The agreement was signed earlier today in London by Morocco's Nasser Bourita and Andrew Murrison, the British State Minister for International Development and the Middle East. It stipulates that Brexit will not affect the "strategic relations" between Rabat and London signed under the broad umbrella of EU-Morocco relations.
In a tweet following the signature, Thomas Reilly, the British ambassador to Rabat, expressed satisfaction with the deal. "We have signed a bilateral agreement between Morocco and the UK which guarantees the continuity of our relations after Brexit," the ambassador said.
Trade between Morocco and the UK reached £1.5 billion in 2018, making the North African country the 7th destination for UK exports.
The new agreement, which entails a free-trade clause similar to the Deep and Comprehensive Free Trade Area (DCFTA) between Morocco and the EU, seeks to further consolidate the commercial relationship between the two countries and see bilateral trade volumes surpass the current figures.
In a political declaration accompanying the agreement, both countries pledged to preserve the "strategic relationship" binding them by preserving the political, economic, judicial, and territorial benefits as defined in the texts of the EU-Morocco relationship. The agreement means Moroccan and British products are guaranteed free access to each other's markets.
As far as Morocco is concerned, however, the deal's most significant aspect may be that it entails the resources in its southern provinces. The deal is set to come into force the day after the UN effectively leaves the EU.
---