Pitfalls in signing BIT with US
Dawn | Pakistan | 24 April 2006
Pitfalls in signing BIT with US
By Ashfak Bokhari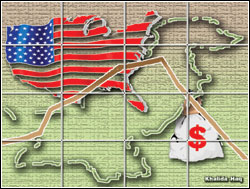 A bilateral investment treaty (BIT) with the United States, that has been under discussion for long, was billed to be signed on the eve of President Bush's visit to Islamabad last month as a mark of Washington's special favour to Pakistan, though no match to what it offered to India.
However, the signing ceremony was put off because the US draft contained some provisions, which President Musharraf later said were highly objectionable and, therefore, unacceptable, and needed to be renegotiated to both parties' satisfaction.
While little is known if the controversial provisions, which mostly related to security of investment and intellectual property rights, have been re-opened to a fresh round of discussion or not, commerce minister Humayun Akhtar has expressed eagerness for early conclusion of the proposed BIT in his meeting with assistant US trade representative, Douglas Alan Hartwick , who visited Islamabad mid-April.
He suggested that a meeting of Trade and Investment Facilitation Agreement (TIFA) council be held in Islamabad before June-end. The council last met in Washington in September 2004. Under the US policy, it is only under the good offices of the TIFA that negotiations can be held for a BIT and then an FTA. So, TIFAs set up a joint council to identify and discuss ways to remove regulatory barriers to trade and foreign investment.
A conspicuous feature of this exercise is the negotiating fatigue which is deliberately designed by the developed country partner.
This is especially acute for developing country governments holding talks with powerful countries like the US. Keeping pace with technical, complex and arcane legalistic negotiations puts a great strain on under-resourced officials and ministries of a government like ours, who often have little access to necessary information about these deals and can easily be pressured or bribed.
Pakistan thinks an FTA with the US will result in an enhanced volume of exports to that country and officials in Islamabad cite the example of Jordan whose exports to the US, after an FTA was signed, increased from $17 million to $1 billion. More than 85 per cent of Pakistan's exports to the US consist of textiles and apparel and other garment made-ups.
President Pervez Musharraf had himself been keen to see an early conclusion of a BIT and FTA with the US and had earlier raised the issue with President George Bush at a meeting in Washington in December 2004, and again in September 2005 in New York.
Last year, the US gave its 'final text' of the proposed BIT duly approved by various departments and insisted that it should be accepted by Islamabad without any amendment. The text included a "confidentiality agreement" which Pakistan argued needed to be changed and that it should be made open so that the investors should not have apprehensions about it.
Then, there was a clause about "pre-establishment phase of investment" which Pakistan wants to be deleted. According to this clause, if a US investor suffers a loss when he is still in the process of establishing his business in Pakistan, he would have to be compensated through a court of law.
Recent reports say that the World Bank and the Asian Development Bank are now putting pressure on Pakistan to adopt a dispute resolution mechanism in a manner as desired by the US and the corporate sector of the West, without much delay, if it was really serious to have foreign investment in a big way. So far, only non-West investors have shown interest in Pakistan and that too in the service sector or privatized units.
In many BITs, where a dispute cannot be settled amicably and procedures for settlement have not been agreed to within a specified period, they can be referred, for example, to the World Bank's International Centre for Settlement of Investment Disputes (ICSID) or the UN Commission on International Trade Law (UNCITRAL). Nafta lets unhappy investors choose between the two. Both recourses, however, represent the privatization of commercial justice. And Americans are unwilling to seek justice from Pakistani courts.
Pakistan is reluctant to accept the ICSID as a forum for dispute resolution or arbitration, which the US favours, but would agree to the UICITRAL for this purpose. Recently, the attorney-general of Pakistan and other legal experts had cautioned Islamabad against rushing into signing bilateral investment treaties (BITs) with foreign countries (the US in particular) for these can create 'painful' legal implications.
However, Pakistan has, of late, been itself inclined towards bilateral activism. Only recently its FTA with Sri Lanka has gone into operation. Another 14 FTAs are to be or already being negotiated. The countries are China, Malaysia, Singapore, Indonesia, Tunisia, Mauritius, Morocco, Laos, Saudi Arabia, Oman, Kuwait, the UAE, Bahrain and Qatar. With China, there already exists a preferential trade agreement for tariff concession on numerous items.
Another issue that disturbs American investors is the inadequacy of intellectual property rights protection in Pakistan which the US-Pakistan Business Council has also been pointing out. The US Trade Representative's annual report has been placing Pakistan each year, since 1989, on Priority Watch List or "Special 301" for piracy and counterfeit problems. The establishment of Pakistan Intellectual Property Organization (PIPRO), though admired, has not impressed the US authorities and the US copyright industry remains disappointed. However, American industry is now less angry (because of Pakistan's lead role in 'war on terror') and has asked the USTR for discontinuing further investigations into the rampant copyright violations.
The problem is that the US has always viewed WTO agreement on trade-related intellectual property rights (Trips) as being inadequate and wanted the WTO and World Intellectual Property Organization (WIPO) to set higher standards. The US attitude has largely been influenced by its failure to obtain an agreement on trade in counterfeit goods at the end of the Tokyo Round (1979) and later by resistance of the developing countries (led by India and Brazil) in the first half of the 1980s to include intellectual property as a negotiating item in a new Gatt round.
According to Aziz Chaudhry, an activist, Washington insists on both stiff intellectual property laws and settlement of outstanding investment disputes to be sorted out before negotiating a BIT. Progress on negotiations for a US-Pakistan bilateral investment treaty is being stalled by the US until it sees the introduction and better enforcement of IPR and the resolution of investment disputes, particularly in the energy sector.
Yet even more egregiously, in the draft US-Pakistan BIT, the US has been insisting that Pakistan pay damages to US companies for their "future" investment in case there was an infringement of IPRs and unilateral cancellation of licences. According to Pakistan's law ministry officials, US negotiators insist that either Islamabad pay immediate compensation to the affected US firms or the World Bank's ICSID should pay the compensation and treat the amount as a loan to Pakistan.
Chaudhry is of the view that it is because of the fact that the WTO negotiations have so far failed to deliver as much as many corporations would want, the US and other governments, under the pressure of big business lobbies, are increasingly turning to bilateral free trade and investment agreements.
With President Bush completing his second term, one can expect more aggressive US free trade and investment bilateralism. These negotiations are being used strategically to advance not only US corporate interests, but also the US administration's broader foreign policy and geopolitical goals.
At the start of talks on the US-Pakistan bilateral investment treaty in September 2004, the then USTR chief Robert Zoellick said: " Pakistan and the United States are partners in combating global terrorism.
A BIT based on high standards as contained in our model text can play an important role in strengthening Pakistan's economy, so as to create new opportunities for exporters and investors in both economies and assist in meeting the economic conditions to counter terrorism."
However, it is not the WTO's failure alone to reach an overall accord under Doha mandate that the US is trying to cash on. It is in fact a greedy attempt on its part to extract maximum concessions from weak developing countries by taking the route of bilateral or sub-regional agreements. And the experience of several developing countries tells us that there has been no impact of BITs on investment flows from the signatory developed countries.
Developing countries are usually eager to attract foreign investment, whatever the conditions, under the belief that this is the only way out to get rid of under-development.
A study conducted by Prof. Carlos M. Corea, an expert on IPR issues, says the BITs or free and regional trade agreements (FTAs, RTAs) actually allow developed countries to influence the domestic political economy of developing countries and advance the interests of their corporations in the latter's markets. The establishment of BITs has a strategic value for developed countries.
According to him, the BITs of American initiative often contain following concessions and guarantees on behalf of the developing country partner:
Every sector of the economy is to be opened to foreign investment. These include health, education, electricity, water and even prisons.
'National treatment' to be accorded to American companies. National treatment, a WTO term, means equal treatment.
US investors to enjoy same privileges as local or any other foreign companies.
Expectation of earnings by US businesses must be guaranteed.
Compensations to US firms when they do not earn what they expect.
US businesses to be protected against any kind of expropriation.
---